Most guys either let their girl do the laundry or they are still running home to mom. For those that take on the MANly responsibility of doing your on laundry, I would like to introduce you to The Laundress.
The Laundress is an eco-chic line of specialty detergents and fabric care committed to being green for their consumers, their clothing, and the environment. What's cool about the brand is their collection of detergents that may prove to be handy for the bachelor guy. The Laundress also offers a helpful guide to removing those unsightly yellow armpit stains.
The Laundress Denim Wash


This exclusive product blends detergent and fabric softener to clean and soften, giving denim that perfect worn in feeling. Keeps dark denim darker, longer.
The Laundress Stiffen Up


The Laundress developed Stiffen-Up with their classic scent for starching use. The Laundress Stiffen-Up will leave your perfectly pressed items smelling fresh, and feeling crisp.
The Laundress Sport Detergent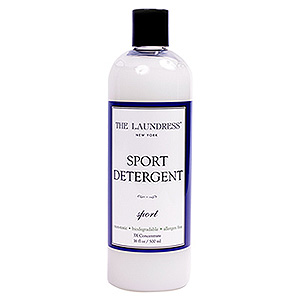 The Laundress Sport Detergent is formulated to remove bacteria in perspiration, body oils and odors. The Sport Detergent is designed for moisture wicking, breathable, insulated and water repellent fabrics. Use on cotton, nylon, spandex and more.
First, add Stain Solution & Bleach Alternative to pit stains:

Use the Stain Brush to work it in:

Soak in hot water for less than an hour and send through a regular load of wash
Yellow stains are gone!


For our complete recipe & washing video by The Laundress visit
www.thelaundress.com/LaundryTips/pits.asp
*recommend process for durable fibers such as cotton, linen and some synthetic materials