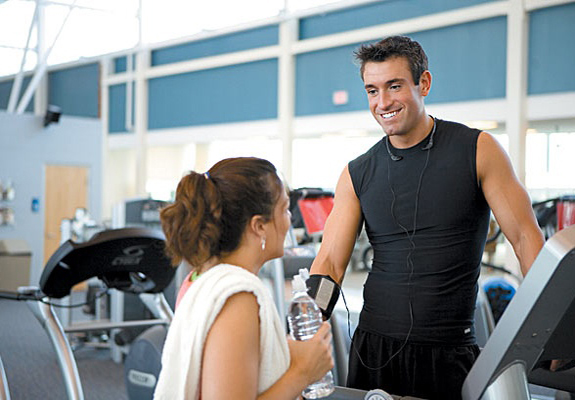 Are you having a hard time talking to women at the gym? Why not get some advice from a Sexpert's point of view? Below are a few pointers on what it takes to approach women at the gym from a girl's point of view who happens to be an expert in sex!
Meet Women at the Gym Now!
By Dr. Belisa Vranich for Men's Life Today


Regardless of whether your gym has an Olympic-size pool, it's sure to have a great dating pool. And let's face it: Unless you go there to sit outside the trampoline classes and stare at the leotarded (in which case … eww), you are at your buffest and best there. So don't blow it with an opening line that's so lame she shoots you down before you get anywhere near the part about her joining you for a smoothie and a protein bar.
Here are five common gym scenarios where you may find yourself weight belt to sports bra with a hot gymette. Follow this workout, and you might just meet a woman on your first set:
Location:
Stretching mats
Worst line:
"Wow, I see you're really flexible. Are you a dancer?"
She thinks:
"'Flexible?' I know where your dirty mind is going with that, you perv."
Best line:
"You seem like you know what you're doing. Got any suggestions to stretch my hamstrings? They're killing me – they're so tight."
The logic:
The second question seems more legitimate.
Location:
Water fountain
Worst line:
"Hey, leave some for the rest of us!"
She thinks:
"Wow, jerk. I've only heard that 50 million times."
Best line:
"I swear, they really do manage to keep the water nice and cold here."
The logic:
The first doesn't leave her any way to respond if she does want to talk to you. The second one could be a conversation starter, plus it's something everyone who's parched might actually be thinking. (Of course, if the water's a bit warm, you can comment on that instead — though you might come across as a bit of a whiner.)
Location:
Free weights
Worst line:
"Need some help? You should hold it from this angle."
She thinks:
"Just because I'm a girl using free weights, you assume I need help? You could use some help with your approach, tool."
Best line:
"Damn — 20 pounds. Not bad!"
The logic:
At last, an honest compliment from one fellow gym rat to another. That you noticed makes her feel strong.
Location:
The weights (machine or free). The situation: resting between sets
Worst line:
"I love this song," referring to the music playing. Alternative: "Who's winning?" referring to the game on TV.
She thinks:
"I'm wearing an iPod, dummy. I have no idea what you're talking about."
Best line:
"Do you mind if I work in?"
The logic:
This is the only direct question that makes any sense here. Any other directive breaks the gym cardinal rule, "Thou shalt never interrupt someone's flow with an irrelevant question" (unless she's screaming, "Drop dead, ref!" at the TV — then, by all means, comment on the score).
Location:
At the bikes, treadmill, Stairmaster or elliptical
Worst line:
"Can I buy you a drink when we get there?"
She thinks:
"Aren't you the same guy who used that stupid water fountain line before?"
Best line:
"Ugh cardio, it always feels so good to get it over with."
The logic:
It doesn't mean you love or hate cardio; it's just a general feeling about how good it feels to be able to check it off your list. If she wants to add to your comment, she can; otherwise, you give her the out of just panting and nodding yes in agreement.
In case you haven't figured it out after all this, when it comes to meeting women at the gym, the best lines don't make a girl feel trapped — or obligated to answer you. They also let you save face in case her boyfriend is the huge power lifter giving you the evil eye across the room.
Dr. Belisa Vranich is a clinical psychologist, author and public speaker specializing in relationships and sex. She is also a member of the Gold's Gym Fitness Institute and a sexpert at GoodInBed.com.
.
Tags advice Dating Gym Tips relationship