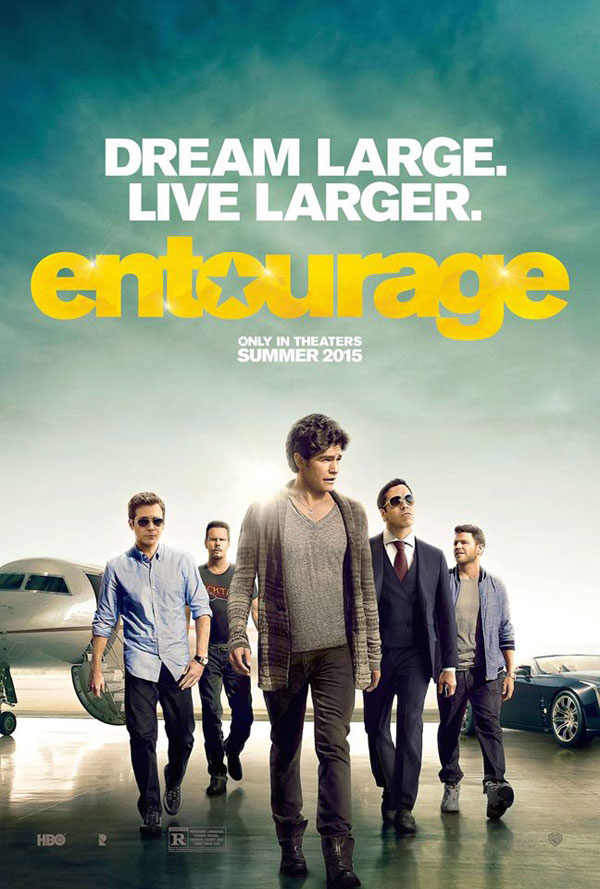 The boys are back in town! Yes, the crew of Entourage, the Emmy® Award-winning hit series have reunited for the big screen in what is sure to be a summer blockbuster movie. Some of their ambitions have changed, but the bond between Vincent Chase (Adrian Grenier), Eric (Kevin Connolly), Turtle (Jerry Ferrara), Johnny Drama (Kevin Dillon), and our boy Ari Gold (Jeremy Piven) remains strong as they navigate through Hollywood. The gang is back to their old tricks, but this time they have brought more than a few of their celebrity friends along for the ride.
New faces and celebrity cameo's in the movie Entourage include Emily Ratajkowski, rapper Scott Mescudi, budding action star Rhonda Rousey, DJ/Producer Calvin Harris, T.I., Jessica Alba, NFL QB Russell Wilson, Tom Brady, Ed O'Neil, Liam Neeson, Billy Bob Thornton, Haley Joel Osment, Star Trek's George Takei, Andrew Dice Clay, and the film's producer actor Mark Wahlberg. And fellas if you were wondering, yes, Sloan played by the beautiful Emmanuelle Chriqui is back.
Check out the trailer and let us know what you think. Will you be at your local theater opening weekend to check out your old entourage?
VIDEO: Entourage – Official Main Trailer

Did you catch that quick cameo of Rob "Gronk" Gronkowski doing what he does best, partying?
Entourage is set to open worldwide beginning on June 5, 2015. For more information on the movie, make sure to take the jump over to Facebook or the movie's official website, entouragemovie.com.
Tags Adrian Grenier Entourage Entourage The Movie Entourage the Movie Trailer hbo Jeremy Piven Jerry Ferrara Kevin Connolly Kevin Dillon Rhonda Rousey