Whether playing full-tackle football for the Lingerie Football League's (LFL) Philadelphia Passion on MTV2, or posing in Playboy, fashion model and holistic health pro Tanyka Renee is in control both on and off the field. An Ayuverdic Practitioner and Certified Holistic Nutritional Counselor, Tanyka's dedication to health and fitness along with her enthusiasm for the game of football is what many men dream of… that is, if you like a smart, athletic, intelligent, sexy, naturally curvy woman who happens to know a lot about sports. From talking about her choice for MVP, Mark Sanchez, to the violent streak she exhibits while playing football in her lingerie, our Tam-Star had a chance to sit down and learn more about Ms. Tanyka Renee's insatiable attitude towards living life to the fullest.
Tam-Star: I'm sure everybody is asking you about Playboy. Can you tell us a little bit about what made you decide to do Playboy?
Tanyka: I always wanted to do Playboy; it is the number one men's magazine. So when the league and Playboy got together and decided to do a spread, of course, I jumped on it. They chose one girl from each team and I was lucky enough to be chosen from the Philadelphia team.
Tam-Star: Now that you have done Playboy and you're a member of the Lingerie Football League, how do you think guys react to the combination?
Tanyka: They usually don't take the football seriously, especially if you're a guy and you have never seen the game, they're going to think oh, these girls are in Playboy, they're not really playing football. They're a bunch of models running around trying not to break nails. We're going in, we're hitting hard; we're trying to kill each other. We suffer the same injuries of the NFL.
Tam-Star: So how did you become interested in the Lingerie Football League (LFL)?
Tanyka: I've always been competitive. I played sports in high school and college. A friend of mine who played out in Miami told me about it and I had to find out how I could be a part of it. I started playing on the New York team as a corner back. And yeah, it was just something I had to do.
Tam-Star: Going back to the NFL for a minute — speaking of New York — who is your MVP Mark Sanchez or Tom Brady?
Tanyka: Mark Sanchez.
Tam-Star: And why? Most girls think he's hot, but why would you choose Mark as opposed to Tom?
Tanyka: You know what, to me, I feel as though Tom Brady is great, he's a great quarterback. But I still like Mark Sanchez, he has a little more character, meaning he still has room to grow. He's made a lot of mistakes, but he's still growing. And that's what I like. I always root for the underdog. And I'd love to see Mark Sanchez five years from now, you know, how he's out there playing. I think he'll do great.
"The NFL and NBA's groupies have nothing on our groupies… matter of fact there are lots of NBA and NFL players wwho are our groupies…" – Tanyka Renee, BlackMen Magazine
Tam-Star: Well, I've been a Jets fan since '98, so definitely Mark would be my choice. Who makes your Pro Bowl, would it be Peyton Manning or Michael Vick, and of course since you're playing for Philly I hope you would pick Michael Vick, but…
Tanyka: Vick, Vick, Vick, yeah, you know, Michael Vick is a great, great athlete. A lot of people are very, very hard on him, but he's a great, great athlete, he's good at what he does. He goes out there. I wish his offensive line did a better job, but he goes out there and he's running the ball. He runs the ball like he's not a quarterback. He runs the ball like he's a running back. He can take hits. He's just doing his thing out there.
Tam-Star: Definitely, definitely. Okay, so who's your favorite Lingerie Football player and why?
Tanyka: I would have to go with my teammate, Mary Rose Roach, she's the number one running back in the league — sweetheart, great athlete, and she is very, very down to earth. Even when she's hurt, she'll tell us that she's not hurt. She just wants to win. She's very, very humble. She's a role model for me.
Tam-Star: Guys definitely need a little help when it comes to on the field play. What dating moves would you suggest?
Tanyka: I'd say be themselves. A lot of guys nowadays are trying to become someone else, whether it's on TV or just some guy they know that's probably getting a bunch of girls. Just be yourselves. If a girl likes you she's going to like you for you.
Tam-Star: Yeah, that's true. So on that note, what would you consider the perfect date?
Tanyka: Something different, something spontaneous. I like a guy to be different; let's not just go to the movies or out to eat. Let's go bungee jumping or take a helicopter ride, or something crazy.
Tam-Star: Since you said bungee jumping, how do you spend your free time? Are you bungee jumping in your free time?
Tanyka: Well, I like to live life to the fullest. You know, I'm a holistic nutritionist so during my free time I like to travel a lot and travel to different countries and educate myself. Yes, I do sky dive, bungee jump, and I live my life to the fullest.
Tam-Star: You mentioned that you're a nutritionist, so what type of nutrition advice would you give? You have a great body so I'm sure a lot of men and women are looking at you like how can I achieve this body as well?
Tanyka: Thank you. My advice is stay away from soda and all the processed foods. Incorporate a lot of water in your diet, whole vegetables, fruits, ancient grains like quinao, kamut, spelt…definitely stay away from processed food.
Tam-Star: What is the best thing about playing in the Lingerie Football League?
Tanyka: The best thing about playing is actually playing; it's just a rush when you go out there and hit someone, it feels good to knock the wind out of someone; like that's the best feeling ever.
Tam-Star: Does it [Lingerie Football] bring out the violent streak in you?
Tanyka: Yeah, like I'm a very, very calm, very thoughtful. And football, again, it's almost like it brings out my alter ego; I'm very aggressive on the field, I get a little crazy, I talk down to my opponents. So yeah, I guess it does bring out my violent side. It allows me to release.
Tam-Star: What's the best thing about playing full contact sport with another woman? Think about [Tam-Star laughs] it before you answer that question.
Tanyka: It's great because you know when we're out there playing we forget that we're in lingerie. We totally, totally forget it. Yes, of course we might have wardrobe malfunctions, but we're not thinking about that, we get to knock another girl's head off.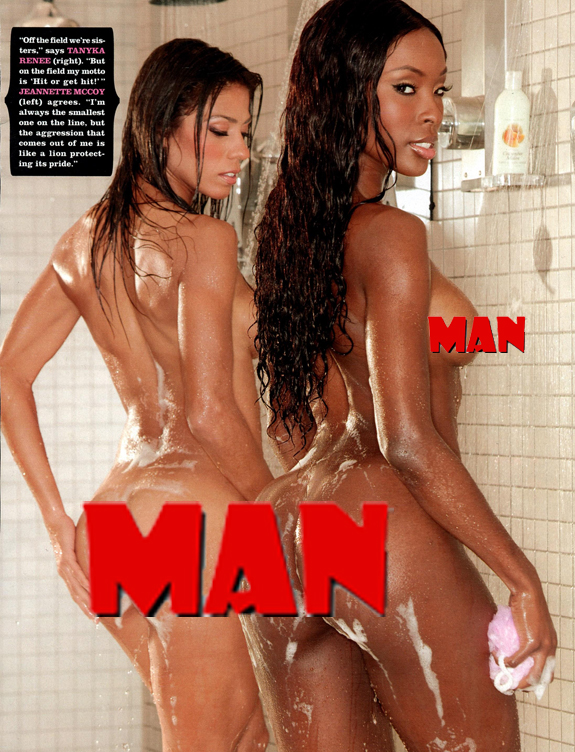 Tam-Star: The sex thing seems to be what people want to talk about as opposed to acknowledging these are girls that are really out there playing that have the skills to play football.
Tanyka: It's unfortunate you know, because we are athletes first before sex symbols.
Tam-Star: If you were stuck on an island, what NFL team would you choose to be stranded with and why?
Tanyka: Hm, the Jets.
Tam-Star: The Jets, and why is that? You like Rex Ryan?
Tanyka: They [New York Jets] have a great defense, safeties, corners…corners and safeties got the best bodies.
Tam-Star: Hey, great answer. Great answer.
Tam-Star: What would people be surprised to know about Tanyka?
Tanyka: I'm a big, big, big sci-fi fan. I like Star Wars, Star Trek, you know, I'm just a big sci-fi fan and a little nerdy. I'm into computer programming and all of that.
Tam-Star: Get out of here. I'm like a huge sci-fi fan too!
For more information about Tanyka make sure to check out her official website www.TanykaRenee.com. To follow Tanyka on Twitter go to Twitter.com/JockinTanyka.
VIDEO

[pro-player width='575′ height='348′ type='video']http://www.youtube.com/watch?v=dpcJi7_Shss[/pro-player]
Tags Hot Girls LFL Lingerie Football Lingerie Football League Lingerie Football Playboy Cover model Playboy Tanyka Renee WOMENkind