Biegert & Funk design agency revealed their latest design, the QLOCKTWO W. Build as "The time in words on your wrist," Biegert & Funk presents the world's first wristwatch in words at Baselworld.
A completely new kind of wristwatch, the QLOCKTWO W, does not show the time with hands or digits, but rather displays the time is indicated as readable text, turning it into a statement such as "It is half past nine." The square watch face has a uniform grid of 110 letters and when the stainless steel button is pressed, words light up in unexpected places which describe the time.
"It is operated by a single push button and could not be more simple: one push to display the time, two for the calendar day and three for the seconds" says designer Marco Biegert.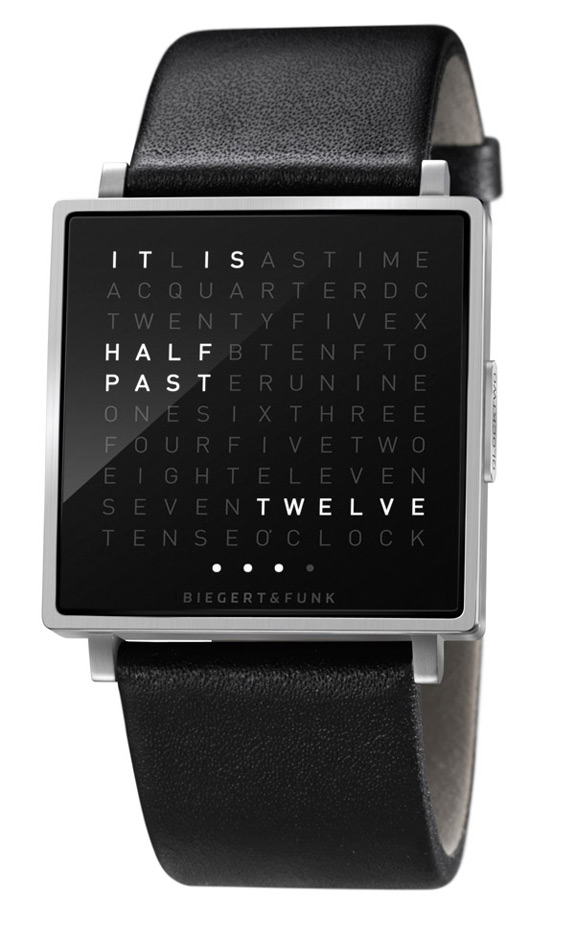 The basic shape of the QLOCKTWO W is like all QLOCKTWO® variations, a square. The design is minimalist and precision crafted, its form reduced to the essentials. The watch comes with either a rubber or leather strap. Together with the time, QLOCKTWO W also displays the calendar day or seconds. The QLOCKTWO W will be available autumn 2012 in two variants, natural stainless steel or black via www.qlocktwo.com. Retail $750 (550 Euros)
Tags Biegert & Funk Marco Biegert Men's Watches QLOCKTWO QLOCKTWO W QLOCKTWO W Watch QLOCKTWO Wristwatch