Recently the Jose Cuervo National Volleyball Championships took place in Huntington Beach. During the qualifying round, one player in particular stuck out, Jess Gysin. After watching a few rounds of her spiking the ball with partner Jennifer Snyder, I had one question, Who's That Girl? See, the thing about Jess, who just so happens to be a former All-American volleyballer and USC grad, she's not only beautiful, but the girl can play some beach volleyball! She and her partner put up an exciting challenge and proved why they made it to the qualifying rounds.
After ear hustling her interview with a local news outlet, I decided I had to interview Jess for myself to hear more of her interesting story. Thanks to the good folks at Taylor Strategy and Jose Cuervo, I got a few moments with Jess after the championships.
Jess and I talked about life as a blonde, her biggest turn offs, Jose Cuervo and her future plans, including her goal to be a 2016 Olympian. She also spilled the beans about what professional athlete she is dating. Below is a bit of our conversation.
Tam-Star: I read that both your parents were professional volleyball players, so I wanted to know was it a natural progression for you to become a professional volleyball player?
Jess: Yes, it was. I grew up in Santa Cruz watching both of my parents play professionally on the AVP. I pretty much started playing, as soon as I could walk I had a ball in my hands. I've basically played ever since, so it was a very natural progression for me.
Tam-Star: Did you ever consider doing something else or playing another sport?
Jess: Yes, when I was young I tried every sport. I played competitive soccer for many years, I played basketball, and I did track, but I always found myself coming back to volleyball because that's what I was most passionate about and had fun doing.
My mom coached me when I was young and I didn't like the contact sports, so basketball and soccer were out. It worked out perfect and I've just been playing volleyball ever since.
Tam-Star: What's been your most treasured accomplishment as a volleyball player?
Jess: I think winning four state championships in a row. We were the first high school team to win four state championships in a row, and then also the national championship, so I think that was a big accomplishment.
But, I think ultimately it would be earning a full ride to play at USC and then making it to the final four there and being captain of the team. Leading us to a couple final fours I think would be the biggest accomplishment.
Tam-Star: You appear to be a typical California girl; like you're a beautiful blonde, you're born and raised in California, you attended USC. You've pretty much been in California your entire life, so I have to ask you what are some misconceptions that people may have about you being a blonde girl from California?
Jess: Um, I mean obviously the biggest misconception about being a California girl that's blonde, that we're not smart. I have a masters degree from USC. I was at USC for six years and I got to earn my masters in the process, and had a 4.0 in my masters program.
Tam-Star: Wow.
Jess: I'm not a natural blonde either. So maybe that explains it.
Tam-Star: What, I don't believe you [laughs]. Question – if you could date a professional athlete, who would it be and why?
Jess: Oh, well my boyfriend is a professional athlete, so I would choose him.
Tam-Star: Would you care to shout out his name?
Jess: It's Jimmy Clausen [NFL Player].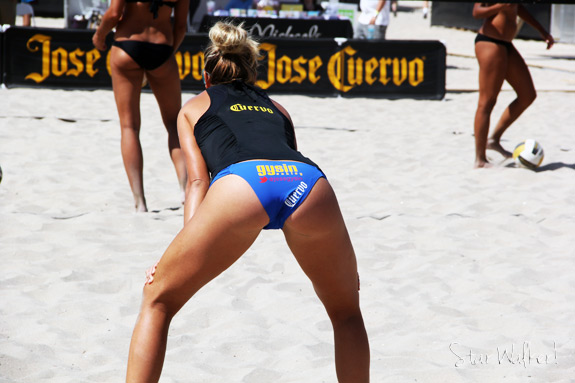 Tam-Star: Can you name 3 things that a man can do that would completely turn you off?
Jess: The biggest turnoff would have to be a guy that tries to act really cool around his friends and is not, you know, when you're around your girlfriends and with your buddies, and he is trying to put on a show. Also, if you're not attentive or you're not nice to your girlfriend, you're just like a guy's guy. I think that's a turnoff.
I also hate when a guy can't spell and now that text messages are like a main way that we communicate, I hate when they can't spell the there-their-they're and your-you're-yours. I get so irritated. it shows such a lack of intelligence if you can't spell. I like someone smart who can have good intellectual conversations and not just be some like jock that's like a meathead you know?
Tam-Star: I know you have traveled the world playing volleyball, so can you give me two places on your bucket list that you have yet to visit?
Jess: Yes, I have always wanted to go to Australia. I haven't been down there. I've seen pictures of their beaches and they look amazing. Just surfing down there I think would be so much fun.
I also really want to go to Paris. I love Europe, I love the lifestyle in Europe and I just think Paris is beautiful, so I would love to go there.
Tam-Star: I noticed during the championships this weekend in Huntington Beach you had on your Jose Cuervo shirt, so can you tell me a little bit about how you got involved with promoting for Jose Cuervo?
Jess: Definitely. A couple of years ago the AVP [Association of Volleyball Professionals], which was our main domestic tour went under. When they filed for bankruptcy, Cuervo came in and basically revived our entire sport. They have stood behind our sport since day one. Back when my parents played on the AVP, Cuervo was the title sponsor, so they've been really passionate about beach volleyball.
When it came back and started with a few events last year, I was lucky enough to be invited to Milwaukee, which was an invitational. My partner and I made it to the finals. We had a good tournament and just because the event was so intimate we got to really know the Cuervo people and kind of get a better feel of the brand and where they wanted to go.
We were just passionate about the brand and I think they saw that. We were willing to go out and we're not only like competing on the court, good athletes, but we also like to enjoy our time. And that's kind of what sums up their brand, you know, the motto is "Party Hard, Play Harder." So I think we kind of embodied the sidelines and we had fun.
Cuervo has been a sponsor since then. We did so many fun events with Cuervo and they've been so crucial in bringing our sport back to where it once was.
Tam-Star: Speaking of partying, if you were out with the girls what drink would you order? I should know the answer to this, but I have to ask anyway.
Jess: I like the light margarita mix, Authentic Light, just because it's lower calories and I try and order drinks that tend to be a little bit healthier, if possible. So a light margarita with either the Platino Jose Cuervo and I get it on the rocks with no salt.
Tam-Star: If you were giving your best guy friend advice on how to impress a girl on a first date, what would you tell him?
Jess: I think you need to listen more than you talk. Ask questions and be yourself. Even if you're not interested in what she's saying, just act like you are. Just be a gentleman, definitely pickup the tab.
Tam-Star: Yes, important.
Jess: I think just ask questions that show you want to know more about her, about her family, her friends, and what she likes to do. I think for a first date that's good. After that you can switch it up. It doesn't have to be about the girl, but for the first date I think be very attentive.
Tam-Star: If you had to choose one thing in a man would it be looks, brains or money?
Jess: Honestly, the first thing that attracts you is looks, but there has to be more than that, so I would go with looks and brains, it would be a combo.
Tam-Star: I'll give you that. So what's next for you? Where do you see yourself in five years?
Jess: Well in five years I hope to be a 2016 Olympian in beach volleyball. I hope to be on track to start a family. I also want to have a career outside of volleyball because I know that it's not going to last forever, so I'm going to work now and hopefully build something in the corporate world while I play volleyball so that when I'm done with volleyball I have something I'm a few years into instead of trying to start working at an older age.
So I think being an Olympian, having a career and then thinking about kids is where I wanna be in five years.
Tam-Star: What would people be surprised to know about you?
Jess: Gosh, I'm a really big snowboarder. I grew up snowboarding, going to Tahoe every winter. My whole family is really into the snow. My brother actually does snowboard competitions and stuff, so we are both really good snowboarders.
For more information on the the Jose Cuervo National Championships make sure to visit their official website www.josecuervoprobeachvolleyballseries.com. If you want to learn more about Jess visit www.JessGysin.com and follow her on Twitter @JessGysin.
Tags Beach Volleyball Beach Volleyball Player Jess Gysin Beach Volleyball Player Jess Gysinss Gysin JeJess Gysin Jess Gysin Photos Jimmy Clausen