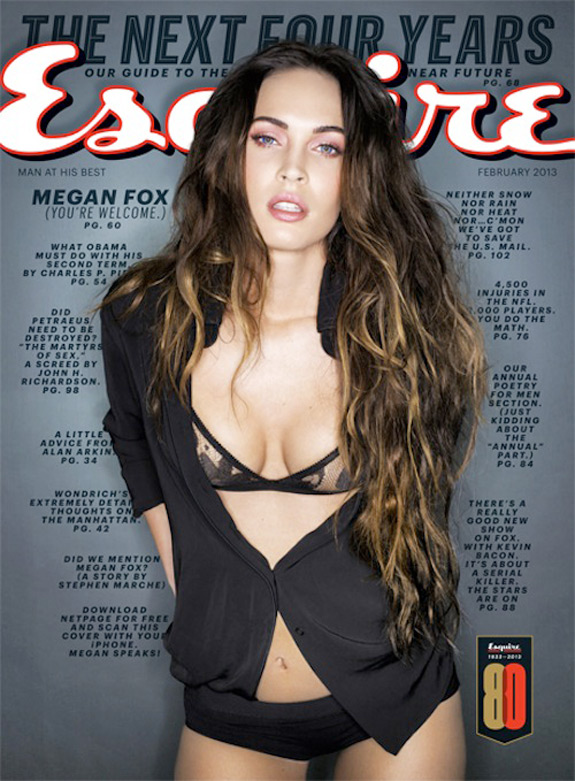 Megan Fox! She's hot, but let's be honest, you were just as happy NOT seeing her on the covers of magazines. She's like Beyoncé, when she is in full bloom she's a media whore. According to Esquire, rather than letting her sex appeal burn her out, she is trying to contain it, channel it, make it work for her, not others. Do you believe that is possible?
EXCERPT
The symmetry of her face, up close, is genuinely shocking. The lip on the left curves exactly the same way as the lip on the right. The eyes match exactly. The brow is in perfect balance, like a problem of logic, like a visual labyrinth. It's not really even that beautiful. It's closer to the sublime, a force of nature, the patterns of waves crisscrossing a lake, snow avalanching down the side of a mountain, an elaborately camouflaged butterfly. What she is is flawless. There is absolutely nothing wrong with her.
Megan Fox is a bombshell. To be a bombshell in 2013 is to be an antiquity, an old-world relic, like movie palaces or fountain pens or the muscle cars of the 1970s or the pinball machines in the basement. Bombshells once used to roam the cultural landscape like buffalo, and like buffalo they were edging toward extinction.
For the complete interview take the jump to Esquire.com.
Tags Esquire Magazine Megan Fox Megan Fox Esqure Photos Megan Fox Photos Megan Fox Pictures