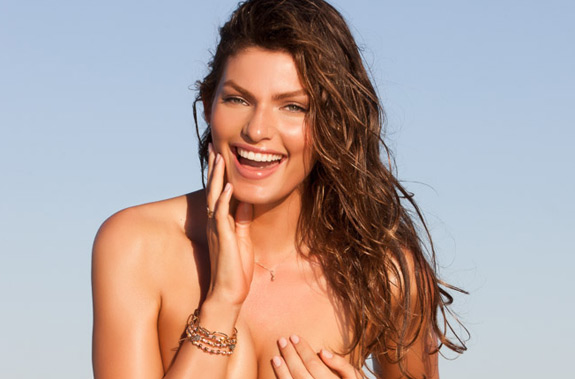 The much anticipated Sports Illustrated Swimsuit Model Issue has officially hit newsstands. The swimsuit edition became a stand-alone issue for Sports Illustrated in 1997 and has since gone on to be celebrated by men everywhere. Like in previous years, we decided to join in on the celebration and countdown our top 7 picks from the scantily clad issue that includes seventeen models photographed on seven continents.
Our top picks include some new and familiar faces. Kate Upton snagged the coveted cover for the second year in a row, but she isn't our top pick. Check out our top 7 picks below to see who we deemed worthy of the number one spot.
READ: Top 7 Sports Illustrated Swimsuit Models From The 2012 Issue
Chrissy has proven that she is more than John Legend's chick. Her campaigns include Gillette Venus, Olay, Nike, Skullcandy headphones, and many more. She has a recurring role as a guest host and contributor on E!, TMZ, MTV, FUSE/MSG, and Extra. Chrissy has appeared in editorials for top magazines including Vogue, Esquire, Glamour, and Cosmopolitan. If all that wasn't enough, Chrissy is probably the only SI model who can boast about appearing as a featured character in the 2011 EA Sports video game Need For Speed: The Run. Chrissy made her debut in the annual Sports Illustrated Swimsuit Issue in 2010 becoming Rookie of the Year.
Something you should know about Chrissy is that she is a big time foodie. Make sure to follow all her food adventures over at www.SoDelushious.com. To catch up on all the latest with Chrissy, take the jump to her Twitter page @chrissyteigen.
Alyssa Miller made her Sports Illustrated Swimsuit Issue debut in 2011 with Kate Upton. Like Kate, Alyssa has also worked as a model for Guess clothing. Born and raised in Los Angeles, it is said that Alyssa always imagined she would grace the pages of Sports Illustrated as a soccer player, not a model. Make sure to follow Alyssa on Twitter @luvalyssamiller.
Alyssa's official website: www.alyssamiller.com
This isn't Ariel's first appearance in SI's swimsuit issue, but it is her first time making our countdown. Last year Ariel traveled to Panama to shoot her SI swimsuit photos, this year her journey took her to Spain. If Meredith's face looks familiar it's because you may have seen her posing for campaigns with J.Crew, Ann Taylor Loft, H&M, David's Bridal, Fossil, Target, Garnier Fructis, Sephora, Levi's, or the Gap. Follow her on Twitter @Arielmeredith.
Cintia was our top pick in 2011 and our number two pick last year. She has "it" whatever it is. The red hair may fool you, but she was born and raised in Brazil. Her resume of advertisement campaigns includes some of the top brands in the world. She has also walked in fashion shows with some of the most coveted designers in fashion including Gucci, Dsquared, Lanvin, and Dolce & Gabbana, among others. Cintia doesn't appear to have an official website, but you can follow her on Twitter @DickerCintia.
READ: Top 7 Sports Illustrated Swimsuit Models From The 2012 Issue
Natasha is a model and wildlife photographer. Originally from South Africa, Natasha is making her debut in the Sports Illustrated Swimsuit Issue. She is one of four girls that you can now vote on for Rookie of the Year and she is the only rookie to make our top 7 countdown. She definitely gets our vote for Sports Illustrated Rookie of the Year. Natasha is on Twitter @Tash_TashB.
Natasha's official website: www.NatashaBarnard.com
Since making her rookie as the Sports Illustrated Swimsuit Rookie of the Year in 2011, Kate has been on an incredible ride. Magazine cover after cover, endorsements with Skull Candy, SoBe, Mercedes-Benz, Carl's Jr., Guess, MLB2k12, DirecTV and Sam Edelman shoes are just a few products Kate has lent her celebrity to. If you are wondering why the Beach Bunny model didn't make our top spot, it's simple; Kate is beautiful, but lets face it, she doesn't have a "swimsuit body." Before you go on a rant about her boobs, take a second at her body. Make sure to follow Kate on Twitter @KateUpton.
Kate's official website: www.KateUpton.com
READ: 10 Hours Of Kate Upton Bouncing Boobs [Video]
Irina! We love this girl. She originally appeared on the cover of the Sports Illustrate Swimsuit Issue in 2007 and snagged the cover in 2011. The Russian model snags our number one spot for one simple reason, she's been smoking hot for years. Google her resume if you need additional proof or look at the video below.
READ: Irina Shayk Covers Esquire UK [Photos]
Irina's official website: Theirinashayk.com
For the complete photo spreads of our top 7 and to see who didn't make out list visit SportsIllustrated.cnn.com. Are you curious to know who made our list last year? Take the jump to our 2012 Sports Illustrated Swimsuit Models list. Make sure to let us know what you think about our countdown by leaving a comment below.
Tags Alyssa Miller Ariel Meredith Bikini Model Chrissy Teigen Cintia Dicker Irina Shayk Kate Upton Natasha Barnard Sports Illustrated sports illustrated swimsuit issue