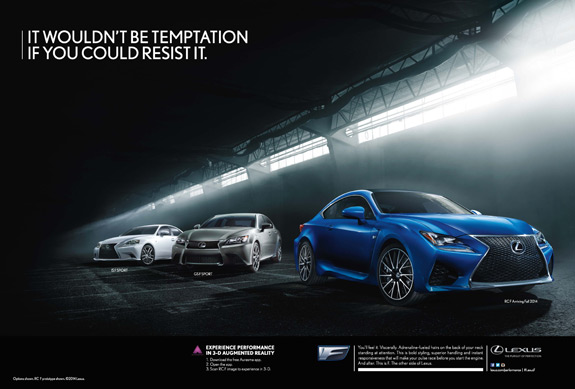 Born on the track and unleashed on the streets, the new Lexus F line of performance vehicles is considered the brands alter ego. The iconic nameplate is well known for first-class luxury, but Lexus also wants you to get familiar with the performance side of the brand by indulging in your desires.
To flaunt its performance-focused F line, Lexus recently launched a new marketing campaign that highlights a bold side of the brand. Their new commercial, which features the RC F, the powerful LFA, the IS F Sport, and the GS F Sport, tempts consumers by offering them a lustworthy driving experience. "Lexus has a provocative new attitude that is represented particularly well by the F line of vehicles," said Brian Smith, Lexus vice president of marketing. "This stylized spot showcases the performance-driven arm of the brand while introducing consumers to a different side of Lexus."
Lexus believes temptation comes in many heart-pounding forms, but only one letter: F. As they celebrate the alter ego of the iconic luxury brand, Lexus tries to provoke lust, unleash wrath, incite envy, and elicit pride with their new commercial. Will "Temptation" of these deadly sins show you a different side of the brand? Check out the spot and judge for yourself.
[jwplayer mediaid="21391″]
This is F. This is the other side of Lexus. For more information about Lexus visit their official website www.Lexus.com.