Put your hands up if you know how to put a ring on it. For most, buying diamonds is a new experience, but that doesn't mean it should be an overwhelming process. From shape, cut, color, carat weight, clarity, and diamond grading certifications, there is so much to consider when buying the perfect ring. Deciding to propose can be scary, but for the guy that knows nothing about engagement rings asking yourself a few simple questions can help you make a clear decision.
What's Your Budget?
Can you afford to put a ring on it? Budget is important and you should only buy a ring that won't break the bank. The ring is meant to last a lifetime, but that doesn't mean you need to spend the rest of your life paying it off. Ask yourself this question: Am I comfortable spending this amount of money on a ring?
Do You Know Her Style?
Before you buy something you like, you may want to ask her what type of jewelry she likes. You are shopping for her and not yourself. Keep in mind what you like she may not like. Whether you are looking for something vintage, traditional, or even contemporary, please realize it's all about what she wants. Most women would rather have a ring that suits their style than a big surprise.
Does She Like Platinum or Gold?
The most popular selections of rings are gold and platinum. You can chose a gold band plated with a silver finish around the stone or a platinum band. The purer the gold, the softer it will be which can lend to damage over the years. If you choose platinum remember that over the years it can lose its luster resulting in a dull finish. Depending on what type of girl she is a white gold or platinum ring may be your best options.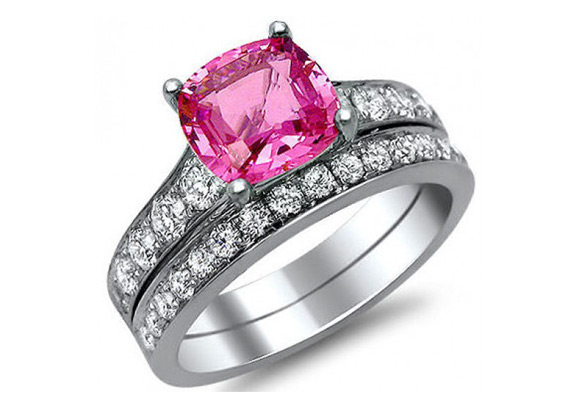 Girls Love Diamonds, But Does She?
Princess, cushion, round, baguette, emerald, oval, trilliant, pear, square, or marquise– and that's not even all of the cut options for the stone. You'll want to consider the famous 4 C's when shopping for your stone. Cut, carat, color, and clarity should all be considered for the diamond of your choice. These factors all determine how much light the diamond will reflect which gives it that "sparkle factor." If you think your girl wants something unique, consider opting for a less traditional stone. Black diamonds or pink sapphire rings can have a jaw-dropping effect and will let your fiancé know how important she is to you.
Should You Design A Ring Together?
If you want something distinctive you should consider a custom designed ring. This could be as simple as hand selecting a band and stone with her, or even designing the entire ring together. Some couples opt for individualized rings that include unique elements like visual displays of their fingerprints, heartbeats, or even a sound wave of something special. If you're not looking to be that different, you could always just talk about engraving a special inscription inside the band.
Purchasing an engagement ring is a hugely personal experience. Find a ring that will work for both of you and then start working on that unforgettable proposal to your fiancé-to-be.
Tags Diamond Ring Diamonds Engagement Rings How To Proposing