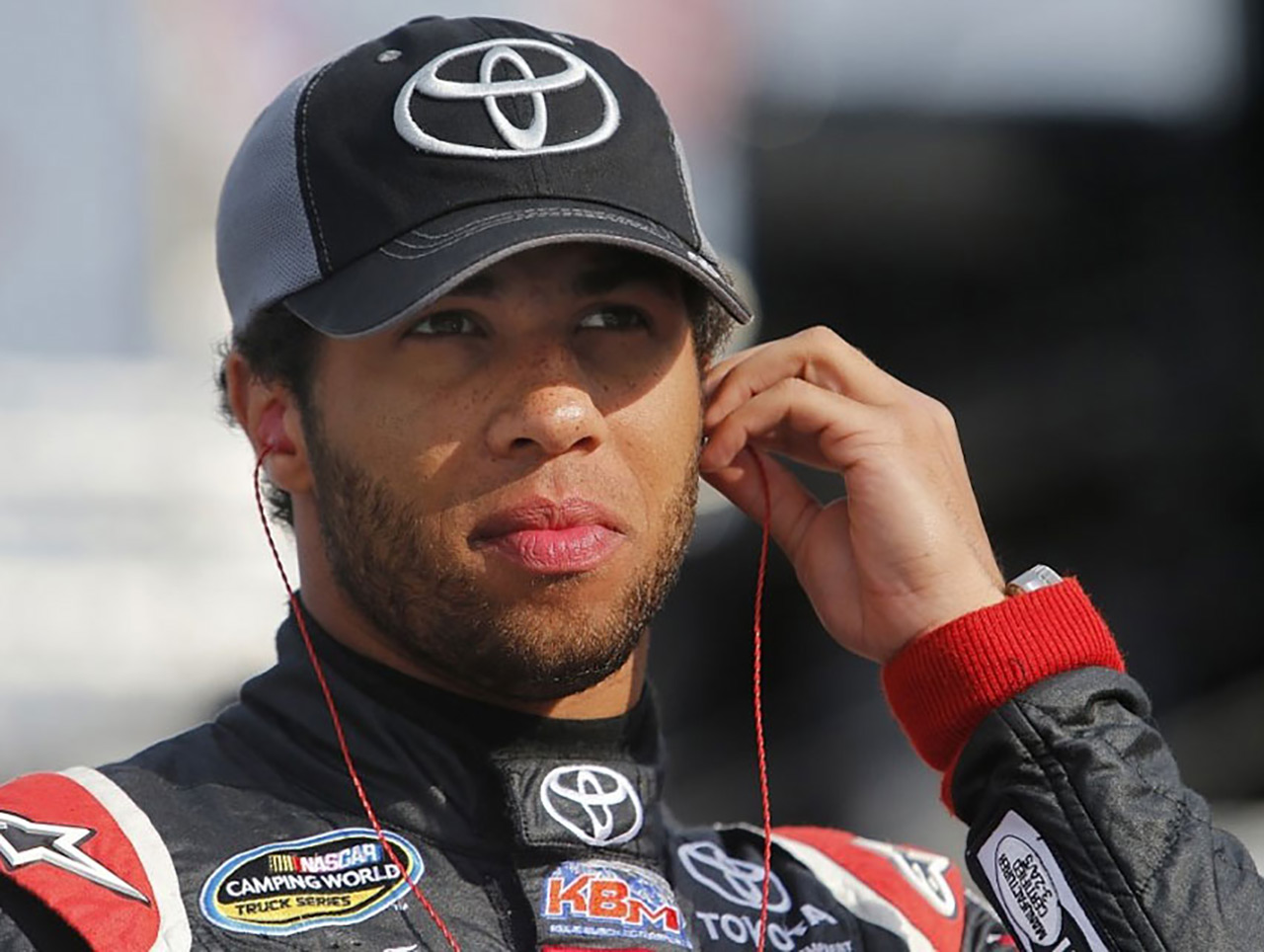 In 2013, Darrell "Bubba" Wallace Jr. raced into the history books to become the first African-American driver to win a national touring NASCAR race since 1963. No stranger to setting records, Bubba was also the NASCAR Pro Series East's youngest winner and the first African-American to win in that series. With his recent domination at the NASCAR Camping World Truck Series Mudsummer Classic, it's clear that he is more than a promising young rock star driver; he is what NASCAR needs.
Bubba, who began racing at age 9 in North Carolina is defying the odds. In an increasingly diverse and multi-cultural world, Bubba is a trailblazer who is handling the pressure like a pro. Some of Bubba's career highlights to date include being named the 2010 Rookie of the Year by NASCAR K&N Pro Series East, being named one of FoxSports' Drivers 25 and under to watch in 2012, as well as making the 2014 Forbes 30 Under 30 Sports list. He was also named one of five young drivers to watch in ESPN the Magazine's special NEXT issue. Not bad for a kid who hasn't turned 21 years of age yet!
At a very young age, Bubba Wallace Jr. is proving that he's ready to race at the next level and step up to Nationwide and Sprint Cup Series. We caught up with Bubba to talk about the pros and cons of being the only African-American driver in the sport, his relationship with Kyle Busch, future plans, and perhaps most importantly, the origin of his nickname.
Bubba is more than just a name; he's a racing up-and-comer that fans will talk about for many years to come! After all, this is just the beginning.
Tam: I'm sure you are asked this all the time, but where did the nickname "Bubba" come from?
Bubba: My sister gave it to me the day I was born. I don't really know why. It just kind of stuck with me ever since and at the race track my dad's name is Darrell also so it makes it a little easier to differentiate the two between us. If someone is trying to reach me they just yell 'Bubba' and I'll turn around before he does.
Tam: What is the most difficult thing about driving in the truck series?
Bubba: I'd say racing at the mile and a half tracks. We're holding a lot open and really what we have at the shop and what we brought to the race track is what we have at the track. Those races are tough from lap 1 to the end trying to put your truck and trying to find the clean air is the biggest thing on those races. It's not really racing, a lot of people say that, but when you do win one you feel like you've accomplished a lot. We're still trying to do that. I have two short track wins now so if we can add one of those mile and a half tracks to the resume it would be all right.
Tam: When I think of Kyle Busch, I always want to recite the song lyrics all he does is win win win no matter what. Do you feel extra pressure racing for a team owned by him?
Bubba: Yes and no. You want to go out there and win no matter who you're driving for. When he's doing it that just lets you know that you can do it too. You have the same equipment, close to the exact same setup and you just gotta figure it out. He has all these years of experience in the truck series and this is only my second year so we're capable of winning. He says he can jump in my truck and go out there and win just as many times as he can drive in 51 so it's just up to me to figure it out and I know it's gonna turn around for us here soon. I feel with this win it's back on our side and we can go out there and start learning and hopefully start winning some more races.
Tam: What's the best advice Kyle Busch has given you?
Bubba: To never give up throughout the race. You've got to figure out the best way to get around the guys in front of you and always put up a fight to go in there. Don't ever beat yourself up over one thing. Figure out how to get around it and do it.
Bubba: Yeah, it's a little different. I'm really contracted through Joe Gibb's Racing and I don't race against my owners over there versus Kyle. Kyle is more of a teammate than anything, but at the same time, he is the boss. Coach and JD are always checking up on me and calling me after races to see how the weekend went and it's cool to have that conjunction with Kyle Busch Motor Sports and Joe Gibbs Racing. It's a lot of fun to be able to race with those two organizations. I know I have a very high chance of winning the race I'm in every time I jump in one of their equipment, either in a Nationwide race or a truck race. Working with them and JD and Coach are more on the sponsorship side and Kyle's just out there for the fun of it, just out here racing with us and being on the race track.
Tam: What's the first thing you plan to do when you turn 21?
Bubba: When I turn 21? That's a good question. I'm not sure. I'm not a partier. Who knows if I'll go out. Probably not. I'll probably go have a good dinner with the family and friends and come back here. Maybe hang out with my girlfriend and watch tv or do something.
Tam: If you had your choice, would you take Beyonce, Rihanna, or Megan Fox on a date?

Bubba: Hmmm, that's tough. My girlfriend knows I've always had a Megan Fox crush so I'll have to go with Megan Fox.
Tam-Star: I've had this Bubba Wallace versus Danica Patrick discussion several times. When I have the conversation it is always about marketing and not about driving skills. Do you see it as a reoccurring topic among fans?
Bubba: No, actually I haven't. I've hardly heard that, but it's different. She's out there in the Cup series and she's obviously older and she's got more experience in racing in general. I'm only 20 and trying to get my name out there. It's gonna take a little bit of time. If I was joining in at that time and at her age, who knows if it would be the same. Timing will tell.
Tam: What is your most cherished piece of Bubba Wallace branded NASCAR gear?
Bubba: I'll probably have to say my hats. I'm a big hat wearer. We've come up with some cool ideas this year and we're gonna start making a new run of them with a new design. Definitely the hats I would say for sure.
Tam: Driving and skills are what really brought you to this point in your career, but do you feel a tremendous pressure as an African-American driver?
Bubba: Yes, it's there, but I don't feel the pressure. Anytime I go out there and win races it's gonna be big. That's just how much this sport is needing a change. It should be he's out there as another driver, winning another race. That's how it should be. Not another African-American driver winning only his second race. Time with that will also change that. Just being able to be the Ambassador for it right now and carrying on Wendell Scott's legacy is something I'm proud of and definitely using that to further my career.
Tam: Very good answer. How has NASCAR's Drive for Diversity program helped you? Do you think you would be where you are today without their support?
Bubba: No, I don't actually. It was on track and off-track success that we had. It was huge in 2010-11 finishing second in points, earning Rookie of the Year, doing a reality show on BET, doing multiple and tons and tons of media outlets every week and just getting my name out there and my brand built. That was huge. Without that, I really don't think I would be here today.
Tam: You mentioned your victories at Martinsville and Gateway in the truck series. Which one is the most memorable to you?
Bubba: I'd have to say Martinsville for sure. It was the first one. The first one is always the sweet one and to be able to do it at such a historic place and in the backyard of Wendell Scott with a couple of cup drivers in it is something to be proud of for sure. The unique trophy that I have to look at every morning when I wake up by the grandfather clock is pretty cool. The Gateway race was awesome too. I had to fight for that one. I got caught up on pit road early and had to fight back from that and got another unique trophy with the St. Louis Arch on it so it was pretty cool.
Tam: Do you keep your trophies at home on your mantle?
Bubba: I can't really put my grandfather clock on my mantle. It just sits on the floor, but they're all here with me.
Tam: I'm not sure if you remember meeting me and Tracy last year at dinner with Toyota and Rev Racing in Charlotte.
Bubba: I do
Tam: I specifically remember telling Tracy that you were not only down to earth, but that you would be a winner. You have that charisma. Now that you have won multiple races, how has it changed your life and career?
Bubba: It's changed it a lot. You're stepping into the sport and being recognized by more people. That's huge. That's what you want to do and get your name out there more and show people that you can do it. I guess that's what I'm trying to do. The first one was to show them that I can do it. The second one was for the doubters. I need another one just for the haters! I'm working on my third one now.
VIDEO: Wallace Jr.: 'Eldora, Really?'
Tam: Do you feel that a tremendous amount of weight has been lifted off your shoulders now that you've won, not once but twice?
Bubba: Oh yeah, for sure. It just reinstates that I'm in it for the long haul.
Tam: Since you know who I am, I didn't want to tell you. I just wanted to go through the interview so you wouldn't be biased, but do you remember about a month ago when I tweeted you and I said based on your marketing and branding expect to see Bubba Wallace move to nationwide or Sprint Cup soon. When do you anticipate you'll make the jump?
Bubba: Hopefully next year. We just have to see if I can go out here and rebound from the rough early start of the season that we've been having and show Coach Gibbs and JD Gibbs that I have what it takes to be in the nationwide series and run their equipment. You never know what's gonna happen. Hopefully, another year in the truck series to really show them that I'm ready to make the step up. Time will tell with that and I'm just thankful for every opportunity I've got right now. I'm trying to make the most of each and every one of them.
READ: Toyota Racing Reveals a Drive for Diversity in the Heart of NASCAR Country
Tam: You and Ryan Blaney seem to have this friendly ongoing battle on the track. Have you got him back for locking you in the portable toilet?
Bubba: No, not yet. I'm still working on something. I'm gonna let him forget about that and then get him with something good.
Tam: What's a typical off-day like for you?
Bubba: Yesterday, I woke up and started cleaning my apartment believe it or not. I had to run some errands and get a few things. My girlfriend actually comes in from London. She's been over there for 4-5 months. I had to pick up some stuff for her and just little things. I had to put up a shelf here in my apartment. I was actually being a handy man yesterday and having some fun.
Tam: Through your Instagram I've seen you on the greens as well as on the court. If you were playing a two-on-two pickup game of basketball, who would you pick to be on your team: Michael Jordan, Kobe Bryant or LeBron?
Bubba: I'd have to go with LeBron. I'm a huge LeBron fan. I don't know why everyone calls him a crybaby or whatever. The man is good and you can't take that away from him. He'll just stand there and look at your face and all of a sudden pop a three out of nowhere. It's insane! I try to do that and I just air ball it like thirty feet.
Tam: If you weren't driving, what would you be doing?
Bubba: If I wasn't driving I'd probably do something with photography.
Tam: I remember seeing a photo of you on the track with a camera.
Bubba: Yeah.
Tam: Your photos are amazing. My very last question: What would be people be surprised to know about Bubba Wallace Jr.?
Bubba: That I hate spiders. I'm terrified of spiders.
For more information on Bubba's career, make sure to visit his official website darrellwallacejr.com. To keep up with the latest NASCAR news on and off the track, upcoming schedules, and to learn more about other drivers, take the jump over to NASCAR.com.
Disclaimer: This post has been submitted to a NASCAR sponsored program
Tags Bubba Wallace Darrell "Bubba" Wallace Jr Darrell Wallace Jr. Nascar NASCAR Diversity X Black NASCAR Drivers