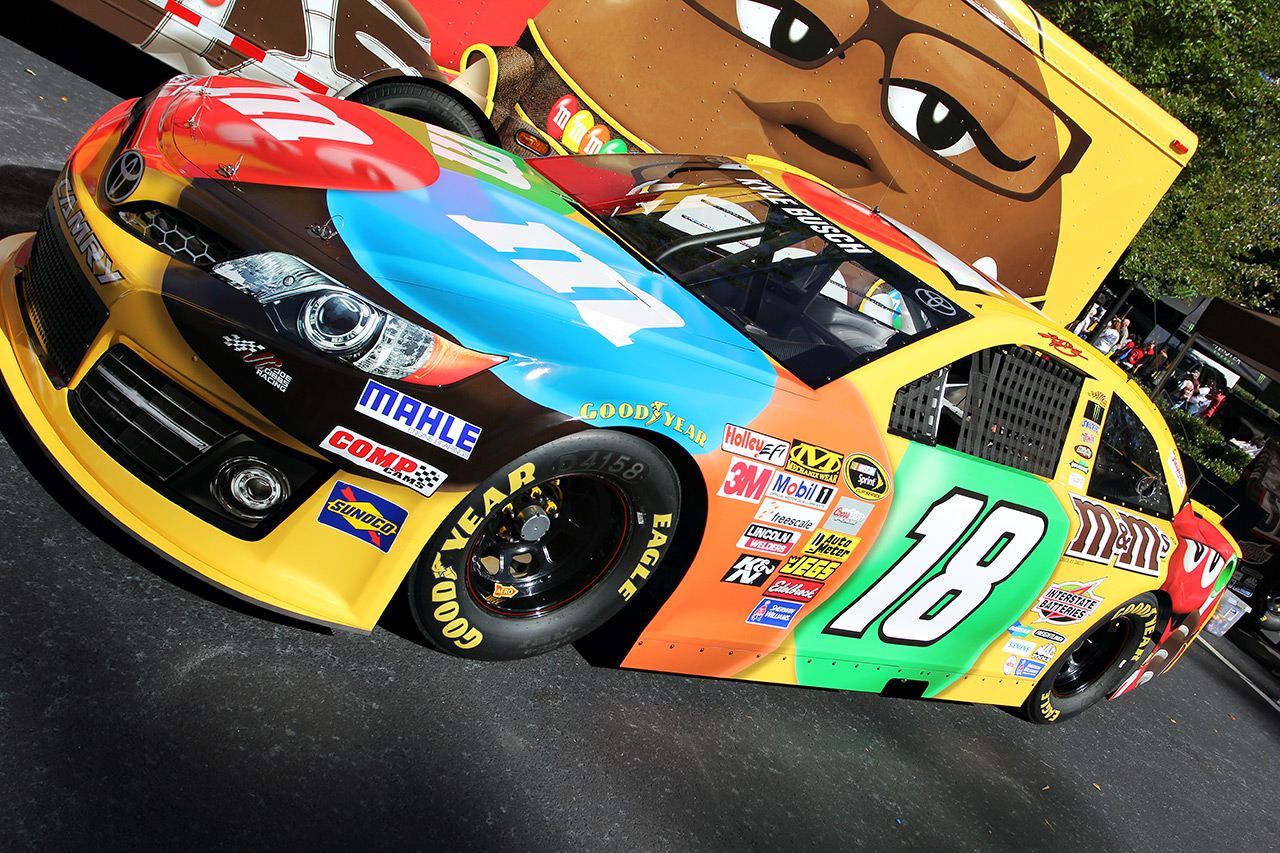 Toyota Racing invited select media in the U.S. to attend NASCAR's Sprint Cup and Nationwide Series races at the historic Charlotte Speedway. VIP guests in the heart of NASCAR country? We politely RSVP'd with a HELL YEAH!
We have been to other races, but as NASCAR fans, we knew that hitting the track in Charlotte is as good as it gets. With the help of the Toyota Racing family, we not only had an opportunity to rub elbows with some of NASCAR's elite drivers and team owners, we also were given an opportunity to check out Toyota's commitment to diversity. We are still in the honeymoon phase of love with NASCAR. We aren't quite experts, but we do consider ourselves knowledgeable with a couple of races under our belts.
Toyota's Diversity Efforts
One of three manufacturers currently competing across NASCAR's three national touring series (Sprint Cup, Nationwide, and Camping World Truck Series), Toyota Racing Development (TRD) has been instrumental in the overall push for diversity in NASCAR. Toyota is a proud supporter of the diversity efforts of Rev Racing, which trains aspiring pit crew athletes, minority, and female drivers through the Drive for Diversity program both on and off the track. This partnership with Rev Racing began in 2011, with engine development, engineering support, and research and development for Toyota teams in a variety of racing series. As an engine supplier to some of NASCAR's most revered teams, including Joe Gibbs Racing and Michael Waltrip Racing, Toyota has continued to make an impact since entering NASCAR competitions in 2004.
Our experience kicked off with a very intimate dinner that included Rev Racing head honcho Max Siegel, Derik Crotts (general Manager, Rev Racing), a host of drivers from the Drive for Diversity program, and the coolest guy we have met in a while, Les Unger, Toyota's National Motorsports Manager. To our delight some of the drivers at dinner included our favorite up-and-coming driver, Darrell "Bubba" Wallace, Jr., Ryan Gifford, Bryan Ortiz, and three-time NASCAR Mexico Series champion Germán Quiroga. We tried very hard to contain our excitement, but the opportunity to sit down and pick the brains of what many would claim to be NASCAR's future was incredible. We left dinner not only with a full belly, but a bit more educated about all things NASCAR, thanks to Derik and Bryan. We also left excited about the talent that is sure to emerge from the 10th annual Drive for Diversity Combine taking place October 21–23, 2013 at Langley Speedway in Hampton, Virginia.
READ: Capturing The Crown With Crown Royal At NASCAR's Samuel Deeds 400 At The Brickyard
Meeting NASCAR's Best
After a lovely evening at dinner, it was time to get ready to meet with some of the legends of the sport. Thanks to Toyota Racing, we woke up bright and early revved up for the racetrack. Not only were we going to attend the Dollar General 300 NASCAR Nationwide race, we also were stopping by Joe Gibbs Racing for their 2013 Fan Fest and Car Show.
At Joe Gibbs Racing, we had a chance to meet some of the drivers – including Denny Hamlin, Kyle Busch, Matt Kenseth, Elliott Sadler, Brian Vickers, Darrell Wallace Jr. and Drew Herring. Three-time Super Bowl champ Joe Gibbs and his oldest son JD Gibbs gave us a VIP tour of their facility and a cool behind-the-scenes look at how they built their race- winning cars.
A highlight of our visit was sitting down with the legend himself, Joe Gibbs. Joe shared a touching story about how he and the late NFL great Reggie White created a successful development/diversity racing program to identify and assist minorities with a desire for a career in motorsports. Did we mention Joe also shared his Super Bowl ring? Yes, he let us try it on for size.
Lunch With "Jaws"
Just when we thought our day couldn't get any better, we stopped by the shop of NASCAR Hall of Famer and current TV broadcaster Darrell Waltrip for a good ol' southern lunch. As we sat down to the full spread of fried fish, chicken, and hush puppies, we quickly learned why Darrell –a three-time NASCAR Sprint Cup Series (NSCS) champion – is nicknamed "Jaws." DW can talk!
Admittedly, we were all ears for everything he had to say, including a touching story he shared about his first day as a broadcaster, which just so happened to be the day his close friend, racing legend Dale Earnhardt, lost his life in a tragic accident. This was over a decade ago at Daytona International Speedway. As it so happened, DW's brother Michael Waltrip won the race, with Dale Earnhardt Jr. in second place. A most excellent spokesman for Toyota and NASCAR, DW previously owned a Toyota team in the NASCAR Camping World Truck Series, Darrell Waltrip Motorsports (2004-2007).
Dollar General 300
In fitting form, our first evening concluded in the winner's circle as Kyle "Rowdy" Busch drove his #54 Nationwide Monster Energy Toyota Camry to the winners circle. The win was Kyle's 11th in 23 starts this year for Joe Gibbs Racing. To date, his Nationwide Series-record is 62 wins in 267 starts. As we have said on many occasions, Kyle Busch is a racer. He has 124 combined NASCAR wins: 62 Nationwide, 34 Camping World Truck Series, and 28 in Sprint Cup. With this proven winning streak, he also gave Toyota their first Cup win in 2008.
Bank of America 500
After wrapping up the Nationwide Series, it was time for the main event – the NASCAR Sprint Cup Series. Although we were at the track the day before, the energy and excitement was palpable at the pulsing Charlotte Motor Speedway for the Bank of America 500. We arrived bright and early with our Hot Passes and VIP tickets to hang out in the Toyota Suite. Still riding the high of attending the Nationwide driver's meeting the day before and hanging out in the winners circle with Rowdy Busch, we weren't sure if our experience could get any better.
We took a thrilling ride around the Charlotte Motor Speedway in a Toyota pace car and then headed over to the Rev Racing shop, which was a short drive away from the track. There, we would have the opportunity to hang out with some of the elite drivers chosen to participate in the Drive for Diversity program, learn more about NASCAR's diversity initiatives, and actually get behind the wheel… of a simulator. Driving on the simulator while receiving instructions from NASCAR K&N Pro Series East, Bryan Ortiz proved to be more challenging than getting behind the wheel of a real car. The ride may have been simulated, but the adrenaline was totally real.
Our trip with Toyota Racing held a number of other high points. We enjoyed lunch at Charlotte Motor Speedway overlooking the racetrack. We walked around the Toyota PitPass, complete with a photo op with Kyle Busch. Touring the garage and hauler areas, we got to see where the pit crews hang out before the races start.
NASCAR Personality
We also got an exclusive tour of Clint Bowyer's 5-Hour Energy Hauler. When we met Clint on the track, his entertaining personality was a show all on its own. After a day of sights, scenes, and new introductions, we sat down to dinner at the Toyota suite to watch the rest of the race. Even though a Toyota driver didn't win, we were thrilled to root for Brad Keselowski, the 2013 defending Sprint Cup Champion who finally got his first win of the season.
Diversity Is The Right Direction For NASCAR
We were already big NASCAR fans, and now we're slowly working our way toward expert status. We had a great time, plus we learned a lot about Toyota Racing Development while we were there. For us, the major takeaway is that NASCAR is paving a path toward greater diversity, fueling the interest of more fans than ever before. We're excited for the future of NASCAR, driven forward by great people with big personalities and a vision for variety.
For more information on Toyota and Toyota Racing Development, visit www.ToyotaRacing.com. To learn more about NASCAR's diversity efforts, we urge you to visit RevRacing.com and NascarDiversity.com. And don't forget to tune and watch The Chase for the NASCAR Sprint Cup.
Disclaimer: This post has been submitted to a NASCAR sponsored program.
Tags Bubba Wallace Drive for Diversity German Quiroga Joe Gibbs Racing Nascar NASCAR Diversity Rev Racing Toyota Toyota Racing