At the age of 24 and already in his 7th season of NASCAR's Sprint Cup series, phenom driver Joey Logano has already built a stellar reputation. Once dubbed "the greatest thing since sliced bread" by NASCAR great Mark Martin, the always smiling Joey Logano is living up to the hype. Logano, a veteran driver, has been behind the wheel since the age of 6, and he shows no signs of letting up. He was the youngest Nationwide Series winner at the age of 18, the youngest Sprint Cup Series winner at 19 and the 2009 Sprint Cup Series Rookie of the Year. Currently contending for The Chase for the Sprint Cup and the coveted Sprint Cup title for the second time in his career, Tam-Star caught up with Joey to discuss what it's like to be a NASCAR driver, why he would never give himself a nickname, his relationship with teammate Brad Keselowski, and why he is so passionate about giving back through his foundation.
Tam-Star: Considering that you are only 24, it's kind of wild to think you have been driving for almost 20 years. At what age did you realize you wanted to pursue driving professionally or did you always know?
Joey: I think I kind of always knew that that's what I wanted to do. As soon as I got my first go-kart, it was like I loved it. I was able to keep following my dream and be successful at it here and today, so it wasn't ever an actual moment of, "I think I might want to do this"; it was kind of like I always wanted to, you know?
Tam-Star: What track would you like to win at that you haven't won at yet?
Joey: All of them!
Tam-Star: All of them!
Joey: I don't care where I win. I want to win them all – Indy, Daytona. Those are the big ones, but yeah. Maybe Darlington? That would be a really cool place to win. There are a lot of really cool racetracks, but really, to win anywhere is special.
Tam-Star: For a young driver, you have already had some intense feuds. Most notably with Smoke and Hamlin. Looking back at all the legendary rivals and feuds in NASCAR history, what driver would not want to have issues with on the track?
Joey: I don't think I'm ever looking for someone to have issues with on the racetrack, but you need to stand your ground. We're all like that. We're all very competitive. We all want to win really badly, and we all think we're right. That's why you have the – for lack of better words, you could call it a "feud", but overall, you don't look for it; you look to win a race. Every now and again, they happen.
Tam-Star: If you were a team owner, and you had your pick of drivers, who would you take? Would you pick Kyle Petty, Dale Earnhardt, Sr., Rusty Wallace, or Jimmie Johnson?
Joey: If I had my pick of just one of them?
Tam-Star: Yes.
Joey: I'd probably pick Jimmie.
Tam-Star: Speaking of legendary drivers, Mark Martin once called you, "The greatest thing since sliced bread." If you had to give yourself a nickname at this point in your career, what would you choose?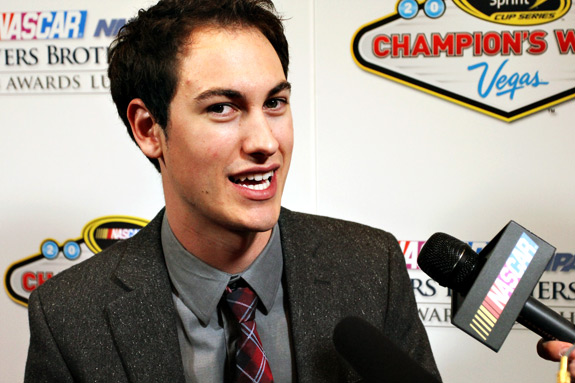 Joey: I think it's weird when people give themselves their own nicknames. I don't really know what it would be. I think you have to kind of earn a nickname, or have someone give it to you. I wouldn't be the person who gives one to myself.
Tam-Star: What was the biggest transition from starting your career with Joe Gibbs racing and switching to Penske?
Joey: I went through a lot of transitions there. When I first started racing cup, I was 18 years old, and I had a lot of growing up still left to do and kind of figuring out what I wanted in a racecar and how to lead a team and all that. I get to drive for Penske now. I'm able to take what I learned over there and be a grown-up now. Take what you learned and use that your advantage now. I feel like I'm surrounded by some great people over there at Penske Racing and we're able to use that to our advantage, and we're able to voice our opinion a lot, and it's valued a lot. We're able to put all that together and put some fast cars on the track.
Tam-Star: Cool. What's it like having Brad Keselowski as a teammate?
Joey: Brad's a great teammate! We're similar in age. I think he's one of the younger guys out there, so we're able to get along in that way. We both have the passion to win, that's for sure, and we both get it. We both know that I'd rather finish 2nd to Brad than beat him and finish 20th. That's the idea we have – we want to work together to make Team Penske as good of a team as we can make it, and make sure we're out there winning the race to each other, like we're doing right now. We're both up there, both racing for the win, and we've got to keep that going. I'd say we're competitive; we want to beat each other. In time, we kind of understand how that works. I think that's very valuable in a teammate.
Tam-Star: If you could trade places with one driver for a day, what driver would it be, and why?
Joey: I don't think I'd want to. I'm happy with my team. I think my team's where I want to be. I wouldn't really want to trade it. Those are my guys! We work together. We win as a team; we lose as a team. I wouldn't trade them.
Tam-Star: Here's an offbeat question – if you were forced to take a road trip with Clint Bowyer, Dale, Jr., or Michael Waltrip, who would you want to leave on the side of the road for talking too much?
Joey: Dale, Jr. doesn't talk that much.
Tam-Star: As of late, he's been talking a lot, more than before.
Joey: I don't know. You pick.
Tam-Star: I'd have to go with Michael.
As NASCAR drivers, you guys do a ton of interviews and answer a bunch of repetitive questions. What's the one question you have been asked the most, beside the bathroom question?
Joey: That is the most common question, there, for sure. One of the other most common ones is, "What do you drive on the street?" Actually, my foundation puts the Racer's Dream Garage calendar out with a bunch of drivers and what they have on the street. I've taken pictures with them and stuff like that, and it's actually really cool stuff. That's probably one of the most common questions also.
READ: Joey Logano Foundation Releases "Honor Your Military Hero Program"
Tam-Star: Speaking of your foundation, could you tell us a little bit about how you got involved, and why you're so passionate about the organizations that you choose to work with?
Joey: Yeah. As a racecar driver, you understand that there are a lot of people who would like to be in my shoes. I get to drive a racecar for a living – that's really cool. Obviously, you want to give back any way you can. What our foundation is of all about is just giving people a second chance, basically a restart. We look at our races and you get that caution late in the race, and you have another shot at going for the win. That's kind of the way we've modeled our foundation about – if you're in a storm or disaster relief, and someone is working really hard and something like that happens, it kind of blows your life away. They [foundation] go in there and give them that restart, give them that caution and four tires to go at it again. That's kind of the way we modeled it.
Tam-Star: Just a few more questions. This one, you probably get all the time – what's the craziest thing a NASCAR fan has ever done or said to you?
Joey: Craziest thing a NASCAR fan has ever done or said to me? Ooh. That's tough. What do you think, Jeremy? What's the craziest? I've got my PR guy in the back here. He's in on it, too. Oh, yeah, the prosthetic leg, yeah. I signed someone's leg before, a prosthetic leg. He took it off, and I signed it, and he put it back on. It was kind of interesting.
Tam-Star: What would you be doing if you weren't racing?
Joey: What would I be doing if I wasn't racing? I'd be in big trouble, because I kind of put all my eggs in one basket when it comes to being a professional racecar driver. That's what you have to do to be the best at something. I also think I learned a lot of traits that can help me in real life outside of racing. If something was to happen here, you learn a lot on how to become a leader, how to lead the team, and a lot of things about racecars, obviously, and cars in general. Somewhere in that area, I guess.
Tam-Star: What would people be surprised to know about you?
Joey: What would people be surprised to know about me? I think everyone knows a lot here, right? With social media these days and everything, there's a lot that everyone knows about, I guess. Jeremy, what would someone be surprised to know about me? I hate scary movies! That is true. I do hate scary movies a lot.
Tam-Star: Scary movies! Now, that's an interesting situation, as someone who drives for a living. Most of us would consider that to be scary, driving at 200MPH, but you're scared of or don't like scary movies. That's interesting.
Joey: It's different to drive a racecar.
For more information on Joey and his foundation, please visit his official website JoeyLogano.com or the foundation's website JoeyLoganoFoundation.com. To learn more about Joey's racing stats as he contends for the Sprint Cup Series championship at NASCAR.com.
Disclaimer: This post has been submitted to a NASCAR sponsored program
Tags Brad Keselowski Joey Logano Joey Logano Interview Nascar NASCAR Driver NASCAR Driver Joey Logano