READY
When you get an email from Volkswagen the world's leading automobile manufacturers inviting you to preview their full 2015 line of cars, your fingers quickly leave their keyboard stance and instead, they're curled around that steering wheel in your mind, fully ready to take on your imagination's anticipation of such an opportunity. When Volkswagen presented their 2015 models at a memorable event in Virginia, we were on hand with other media members to be among the first to get a good look at these impressive automobiles. Lucky for us, the venue was also a wonderful choice, the beautiful Salamander Resort and Spa in Middleburg, Virginia, a must-see for any visit to the area.
The resort offers the refined sophistication of a luxurious country estate in Virginia's exclusive horse and wine country, 40 miles from Washington, D.C. It was the perfect spot for the presentation of Volkswagen's namesake lineup of cars and an exciting opportunity to spend an afternoon test driving the newest models on the rolling hills of the Virginia countryside as part of the Full-Line Drive event.
The Volkswagen group is comprised of 12 brands including Audi, Bentley, Bugatti, Lamborghini and Porsche (our personal favorite in ultimate sports cars), just to name a few. In good company with some of the worlds most beloved cars, we quickly learned why the Volkswagen has affordable "sophistication" with character and charm.
SET
In such an ideal setting, you forget your minutes from our nation's capital. The Salamander Resort and Spa is beautiful and peaceful. Set in the shadows of the Bull Run Mountains, the manicured lawns, equestrian center and green meadows seem days from the commotion and whirlwind just 40 miles away in Washington, DC.
The resort proved to be an awesome place to learn more about Volkswagen and what to expect from the 2015 fleet of cars, including their first-ever electric vehicle, the 2015 e-Golf. On our first day, we explored the resort, overlooked the countryside from the Middleburg Terrace, then moved inside for a tasteful dinner reception, mingling and conversing with some of the executives, product managers and marketing folks behind Volkswagen's cleaver ads.
Later, we were treated to some late night outdoor hospitality. Complete with a campfire, s'mores and roasting marshmallows, we felt like we had taken the Volkswagen e-Golf parked nearby to a weekend getaway camping trip. The crowd reflected Volkswagen's diverse set of drivers, accommodating a variety of driving preferences and lifestyle needs of everyone from auto guys, to mommy bloggers, men's lifestyle writers, and many others in between. We felt proud to be included and enjoyed the evening, but of course, we were anxious to get behind the wheels the next morning.
DRIVE
After spending the night in our charming room with picturesque views, it was finally time to take in the views of Middleburg and Loudoun, VA from behind the wheel of choice picks from the 2015 product line. Volkswagen gave us a very informative product presentation, then it was time to hit the road. We drove VW's new 2015 Jetta to our first stop, the beautiful Great Country Farms, where we picked some peaches and learned all about how wine is made. That test-drive quickly proved to us why the Jetta is Volkswagen's best-selling sedan.
We "jetted" a bit further in the Jetta to lunch in Purcellville at Magnolias at the Mill, aka "Maggies", for a delicious lunch under the impressive timbers and interior of the much loved restaurant. After lunch, we received a brief overview of other VW models before we hopped into are next test drive, the VW e-Golf. We absolutely loved everything about this car. It was such a fun ride, we even lost track and got lost for a short time, but thanks to the handy navigation system, we got to our destination without further delay. We loved how the e-Golf handled on the scenic route beyond Purcellville.
2015 JETTA: VOLKSWAGEN'S BEST-SELLING SEDAN, REFINED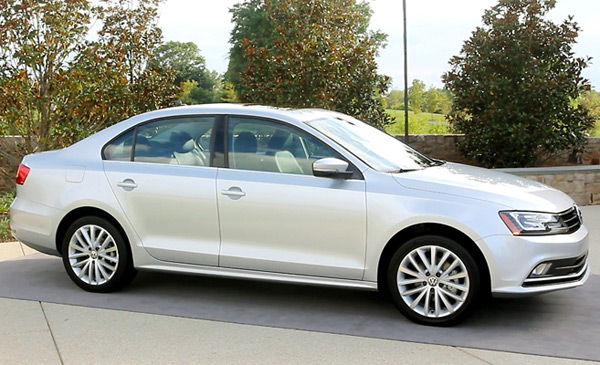 The Jetta holds the crown as Volkswagen's current best-selling car, a title that owes some thanks to the success of the sixth-generation model, released in 2011. Now for 2015, Volkswagen presents its refined, redesigned Jetta. The 2015 Jetta is offered in three trim levels—Base, S, SE, and SEL—with a total of 12 equipment levels starting and a starting Manufacturer's Suggested Retail Price (MSRP) of just $16,215. New styling, enhanced content, driver assistance systems, and improved fuel efficiency head the updates for the 2015 model year.
2015 E-GOLF: VERSATILE, FUN-TO-DRIVE, AND WITH ZERO TAILPIPE EMISSIONS


The 2015 e-Golf is Volkswagen's first fully electric vehicle for the U.S. market and joins the burgeoning Golf family of multifaceted, sporty hatchbacks, starting at $35,445. The most versatile Electric Vehicle in its class, the e-Golf is the first zero tailpipe emissions, fully electric version of Volkswagen's Golf. The e-Golf SEL Premium features will include, 115 hp, 199 lb-ft electric motor, 1-speed transmission, 24.2 kWh lithium-ion battery, 7.2kW onboard charger, keyless access, touchscreen radio/navigation system w/8 speakers, CD, MDI with iPod® integration, Bluetooth® connectivity, SiriusXM® Satellite Radio; VW Car-Net® connected services, front and rear Park Distance Control, a rearview camera, and more.
DRIVE A 2015 VOLKSWAGEN
They say Virginia is for lovers and we know now that it's true. We fell in love with the Volkswagen e-Golf and truly enjoyed our time learning about the full line of 2015 Volkswagen automobiles while taking a few of them for a spin on the scenic roads between the Blue Ridge Mountains and the Chesapeake Bay. Although we weren't able to drive every car, those we did had great handling, provided a smooth ride, and maybe most importantly, looked great in any setting — at a lush resort, a great American hotspot for lunch, or providing an exciting ride through the Virginia countryside.
Volkswagen certainly continued their reputation for providing top-notch quality in everything they do and we appreciated the opportunity to be a part of all the excitement. To learn more about Volkswagen's 2015 full line up, make sure you visit Volkswagen.com. Stay a part of all the action on Twitter and Instagram by following the hashtag #VWDrive. It's a drive you won't soon forget!
Tags e-Golf Golf Salamander Resort Volkswagen Volkswagen Golf Volkswagen Jetta VW