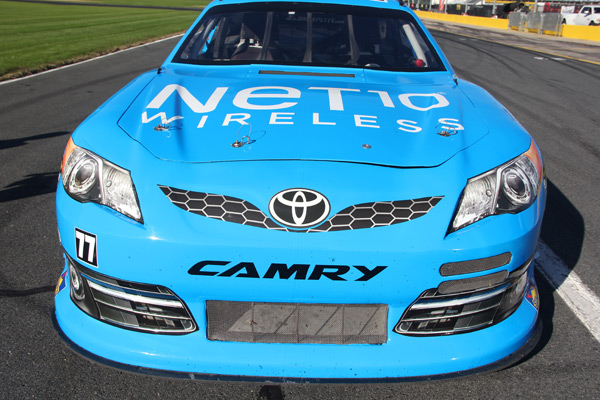 We all want to be freed for speed, right? While we can't drive our everyday cars at 100 mph+, we can get our speed fix with high-speed talk, text, and data plans. That's where Net10 Wireless comes in. They were kind enough to get us freed for speed on our devices and in the driver's seat of a NASCAR race car.
Imagine how we felt when we received an invite to Charlotte, North Carolina to learn more about NET10 Wireless and their winning partnership with Red Horse Racing. Best of all, we were able to get behind the wheel of a NASCAR race car. In the great words of Ricky Bobby from the hit movie Talladega Nights, we responded to the invitation with, "I want to go fast." And just like that, NET10 whisked us away on a plane from Los Angles to get inside a 600HP NASCAR race car at the Charlotte Motor Speedway in the heart of NASCAR country. What sums it up best is: anticipation, adrenaline, and our way? Yes, our way. (You'll see what we mean in a minute.)
Anticipation
As soon as we arrived in Charlotte, we knew we were in for one of the best NASCAR experiences we have ever had. What we didn't expect was to have the hook-up with cool gadgets thanks to NET10 Wireless. NET10 Wireless made it effortless for us to text, surf the net, and share our once-in-a-lifetime NASCAR experience. They provided us with not only a Samsung Galaxy but a Samsung Note – so we were fully connected and tapping away on two screens At the time, our own Tam-Star was still using a Blackberry, so this was a pleasant surprise. Let's just say NET10 upgraded her (Thanks Net10!). The steps to activate the phone were easy. Suppressing the adrenaline as we arrived at the Charlotte Motor Speedway for our Richard Petty Driving School safety briefing, well, proved to be a much bigger challenge.
A familiar face greeted us when we got there. Our old friend, NASCAR driver German Quiroga, gave us a few driving tips on the best way to go fast (faster!) before we put on our fire suits and headed to the track. Who better to offer us tips on maximizing our speed than the NASCAR Camping World Truck Series driver of the No. 77 NET10 Toyota for Red Horse Racing. German Quiroga became the first three-time NASCAR Corona Series champion in Mexico.
Armed with tips from the champ who's used to going 200 mph just 'cause, we started our Ride-Along Experience by riding shotgun in a NASCAR race car with the good folks at Richard Petty Driving School. If you don't know anything about NASCAR, know this: Champion and Hall of Fame NASCAR driver Richard Petty is known as "The King." So learning a thing or two about what it takes to drive a race car from his team was crucial before we actually stepped into the driver's seat for some adrenaline pumping laps.
Adrenaline
Getting behind the wheel to drive an actually NASCAR race car is indescribable. Let's just say that it's intense. As huge NASCAR fans, we have done more than most fans will ever do. We've interviewed established drivers like Dale Jr. and Joey Logano along with up-and-coming drivers like Kyle Larson and Bubba Wallace. We've had lunch with NASCAR Hall of Famer and current TV broadcaster Darrell Waltrip at his shop, hung out in the winners circle with Kyle Busch; and rubbed elbows with legendary three-time Super Bowl champ and NASCAR team owner Joe Gibbs. He let us hold his Super Bowl Ring while he told us how he got started in NASCAR.
We've done a lot, but to actually, physically get behind the wheel on the track where drivers like Dale Earnhardt burned rubber and put the pedal to the metal. WOW! Intense is an understatement. After our checklist of NASCAR encounters and experiences, this one would be toward the very top of our list.
We didn't go as fast as we thought we could, but we went fast! 125 mph isn't bad for our first time steering one of those bad boys. Believe it or not, we out-drove some of the men on the track. Guess those tips from NET10 driver German and all our NASCAR knowledge paid off. Once we settled down and the adrenaline flowed in a positive way, we handled all those left turns like a pro.
After handling the wheel on the track, the good folks over at NET10 sent us to school. And we didn't even want to pretend we were sick so we could ditch class! Even the best NASCAR drivers need an educated team and skillful communication to win the trophies. We learned this first hand at Pit School. Before we changed into our fire suits, we stopped at Red Horse Racing where we got a warm welcome from owner Tom DeLoach. He gave us a behind-the-scenes look at how they build German's trucks and prepare him for his race each week. Equipped with even more intel, we headed over to PIT Crew U where we were both physically and mentally prepared for the challenge of doing a NASCAR Pit Stop. We aren't too girly, but we admit we volunteered for the easiest job (see picture below).
For our PIT Road experience, we competed in teams of four and, of course, named our crew after our favorite NASCAR driver, Tony "Smoke" Stewart. A full-blown pit stop consists of changing four tires, adding a full tank, wiping the grille clean and making minor adjustments to the car – all in 12 seconds. While we came up a bit short, the experience was an eye-opener. There's something to be said about collaborative partnership put into action. What a rush!
Our Way
We got some lessons and took what we learned right to the race track. And that's what we mean when we say "our way." After a day of driving around the Charlotte Motor Speedway in a NASCAR race car, we had a much better idea of what it takes to be a racing superstar (hint: a lot!). And drivers don't cross that finish line alone; they need a reliable network to help them go farther and faster.
Speaking of faster. We're grateful that Net10 Wireless not only gave us a chance to show off being #FreedForSpeed, but introduced us to a lightning-fast network on one of America's largest and most dependable networks. Since we have the need, the need for speed, we met our match with this mobile experience. Not to mention Net10 Wireless helps NASCAR fans like us keep up with the 5.1 million social media conversations happening daily about stock car racing. With no contracts or formal agreements, you're free to experience #WirelessYourWay with Net10 Wireless.
Tags cell phone German Quiroga Nascar NASCAR Sponsor NET10 NET10 Wireless Red Horse Racing