Hip Hop was definitely in the building (or amphitheater in this case) at the annual Paid Dues Independent Hip-Hop Festival presented by rapper Murs and promoters Guerilla Union in San Bernardino, California on Saturday. Thousands of fans attended the consummate Hip Hop festival that showcases the old, the upcoming, and the heavy weight standouts.
Whether you like conscious rap, gangster rap or trap music, Paid Dues offered something for everyone. The Hip-Hop marathon at San Manuel Amphitheater delivered 12 hours of music on 3 stages (Paid Dues, Dues Paid, and Monster Energy) with 40 plus acts including; Trinidad James, Juicy J, Mobb Deep, Flatbush Zombies, Hopsin, Problem, Souls of Mischief, Tech N9ne, Immortal Technique, Talib Kweli, Scarface, Dom Kennedy, WC, Joey Bad@$$, De La Soul, Killer Mike, Macklemore and Ryan Lewis to name a few.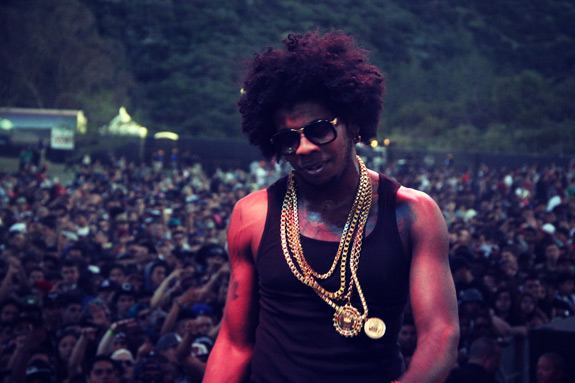 While Trinidad James, one of the most anticipated artists at the festival performed his hit singles "All Gold Everything" and "Female$ Welcomed" on the Dues Paid Stage, Harlem lyricist…
Read the full article over at StupidDope.com.
Tags Hip-Hop Joey Bad@$$ Juicy J Macklemore Music Festival Paid Dues Paid Dues Concert Paid Dues Festival Trinidad James