It's no secret that we are huge NASCAR fans who love everything about the scene. So naturally we jumped at the opportunity to attend NASCAR's annual celebration, Champion's Week. With one of the longest seasons of all sports, NASCAR's biggest stars barely ever get to catch their breath, so when they do what better way to celebrate than in glitzy, illuminated Las Vegas.
This year we kicked off Champion's Week with the Sports Business Journal Motorsports Marketing Forum presented by NASCAR Illustrated. Cleverly designed, the forum offers an opportunity for those in the motorsports community to learn about the current trends as well as what's in store for the upcoming season. This is the opportunity to skip the rumor mills and get the scoop straight from the source – industry colleagues, peers and professionals who know what's what.
The agenda included topics like "Differentiating Your Brand from the Competition," "A look at Toyota's 10 Years in NASCAR," and our favorite session, "Learn the Desires, Attitudes and Actions of Generation Y and Z presented by Jamie Gutfreund, Chief Marketing Officer at Noise. Jamie's presentation was compelling, informative, and interesting. And, as one of the few female panelists, she commanded the room. Other highlights of the forum included a featured one-on-one interview with Kevin Harvick, the 2014 NASCAR Sprint Cup Series Champion. We were also fortunate enough to hear 2013 champion Brad Keselowski share his advice on how to engage fans and create a long-lasting sports legacy for future generations.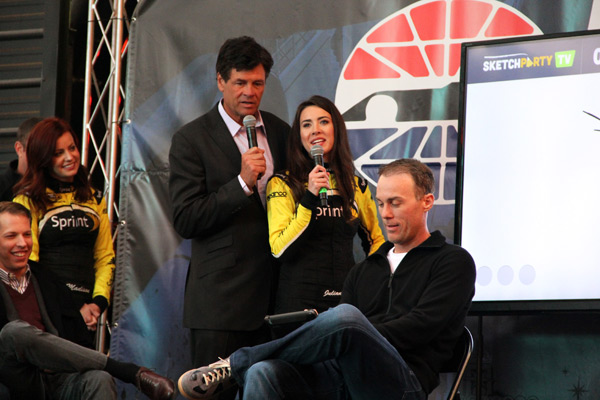 After getting down to business, it was time to have a little fun NASCAR-style! We made a beeline to where all the action was happening –the Wynn Las Vegas Hotel and Casino. While we were there, we rubbed elbows with some of our favorite drivers and NASCAR personalities. We even ran into NASCAR driver/Team Owner and Dancing with the Stars contestant Michael Waltrip. After a stimulating conversation with Michael about our cameo on TMZ earlier this season, we made our way to downtown Las Vegas for FanFest, which was presented by the Las Vegas Motor Speedway.
FanFest is truly one of the highlights of NASCAR Champion's Week as fans have a special chance to get up-close-and-personal with all 16 of the Chase drivers. The sixteen put on quite the show, competing in a friendly and playful competition off the track. This year the drivers competed in teams of four as they squared off in a little game of Win, Lose, or Draw. The drivers laughed, joked, and embarrassed themselves by showcasing some not-very-artistic talent. (Sorry guys, we'll say it was 5th grade drawing skills at best!) And the fans devoured every moment of the entertainment. You have to hand it to NASCAR because the sport allows tons of access for fans and media. You can't just walk up to LeBron James on the basketball court, but you can spend time with NASCAR's superstar racers.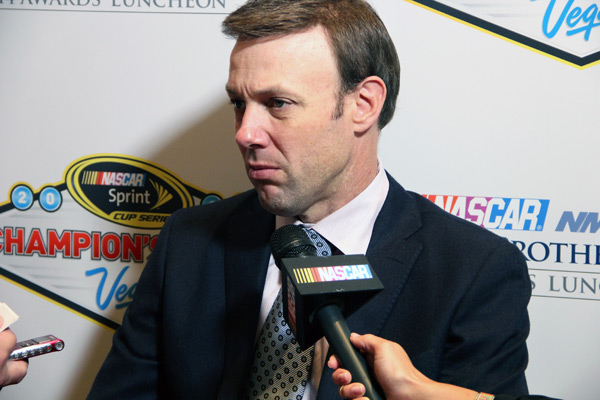 During the NASCAR NMPA Myers Brothers Awards Luncheon, Dale Earnhardht Jr. accepted the 2014 NMPA Myers Brothers Award for his outstanding achievements as a driver, team owner and philanthropist work. The most decorated winner at the lunch, Kevin Harvick, took home several awards, including the 3M Lap Leader Award, Goodyear Tires Award, Mobil 1 Driver of the Year Award, and Sunoco Diamond Performance Award. As we predicted, Kyle Larson snagged the Sunoco Rookie of the Year Award. Following the Luncheon, we were able to snap some photos and conduct private interviews with all 16 Chase drives and Kyle Larson where we reminded him of our prediction.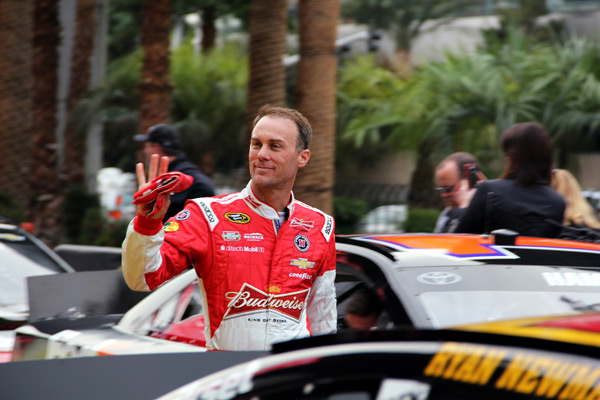 Afterwards, drivers descended on Las Vegas Blvd. for NASCAR's exuberant Victory Lap. This is the time when cheering fans watch as a convoy of 16 drivers cruise down the boulevard and do cool tricks like burnouts. After the Lap, fans and drivers headed over to The Palms Hotel and Pearl Concert Theater for the ultimate driver-tell-all event hosted by ESPN's Marty Smith.
NASCAR Takes Over Las Vegas For Champion's Week

The drivers' personalities were shining, as each shared candid stories and made the crowds laugh during the After the Lap event. Since we typically see these guys with their best game-faces on, it's a fun change of pace to see them relaxed and laid back. Each of the 16 Chase drivers were in rare form, and attendees got a better glimpse at the guys behind the wheel. In a memorable moment, Jeff Gordon comically recounted how Dale Jr. helped him get out of a parking ticket. Apparently Jeff handed his phone to the officer, Jr. said "Hi," and the officer said, "Have a nice day." When you're Dale Jr., it only takes one word.
Brad Keselowski surprised the crowd by informing everyone, "I'm on the phone with my girlfriend, who just sent me a picture of her in her bra." As the audience erupted in laughter, he continued, "Sorry. Priorities." Newcomer AJ Allmendinger told him to put his phone down, and the banter continued. AJ revealed himself to be an up-and-coming personality emerging in NASCAR. We were treated to a stellar performance from country artist Cassadee Pope. Another highlight was watching a hilarious parody music video with drivers lip-synching to Iggy Azalea's "Fancy," Katy Perry's "Roar," Taylor Swift's "Shake it Off," and the smash-hit single "Let it Go" from Disney's Frozen.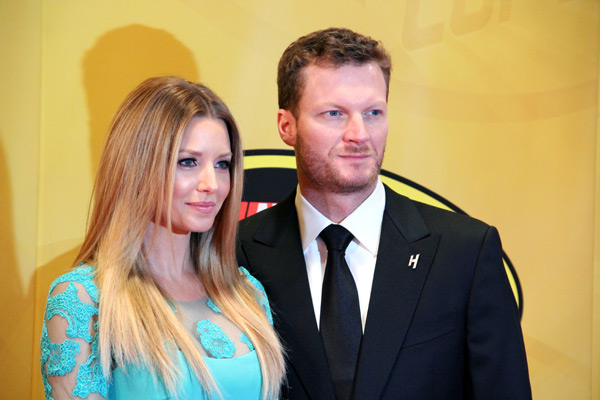 While the first few days of Champion's week is all about the fans, the final day is all about the stars of the sport. This is a time to celebrate the drivers as well as NASCAR's top brass, including team owners, the France family, and the Hollywood celebrities who come to Las Vegas to support the sport. NASCAR's Sprint Cup Series Champion's Week concludes with the NASCAR Sprint Cup Series Awards, where all 16 Sprint Cup drivers are honored and acknowledged. This year's star-studded event included special appearances on the red carpet by television host/personalities Courtney Hansen and Guy Fieri; filmmaker Morgan Spruluck; Mötley Crüe musician Vince Neil; comedian and show host Jay Mohr; former NFL linebacker Dhani Jones; TV host and actress Melissa Rivers; R&B singer Ashanti; rapper Flo Rida; and award-winning musical group Lady Antebellum. Perhaps the most unexpected star of the show was first-time champion Kevin Harvick's 2-year-old son Keelan, who was presented with his very own miniature NASCAR Championship trophy.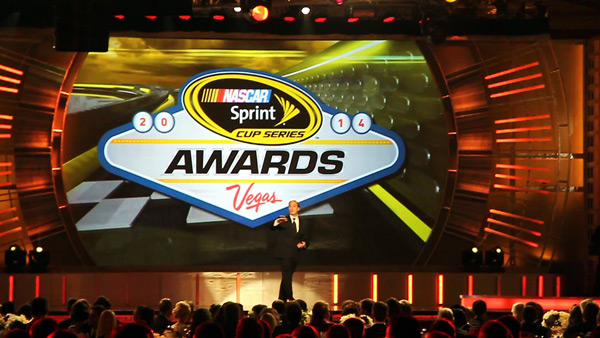 As usual, host Jay Mohr didn't disappoint. Although we don't think he could ever outdo his opening monologue from 2013 (which included some spot-on jokes and commentary about NASCAR's Danica Patrick), he did a great job. His 20-minute opening monologue included several shots at 43-year-old, four-time champion Jeff Gordon. Dubbing him the "old man of the bunch" was a real crowd-pleaser. As part of his routine, Mohr actually handed out stickers to the drivers during an especially hilarious segment. (See it for yourself below!)
The 2014 NASCAR season was truly memorable on and off the racetrack. Like every year, there were lots of highs as new champions were crowned and brand new talent crossed the finish lines. There were also some lows – including a whole lot of fighting during the especially dramatic moments. But all in all, especially thanks to the new Chase format, it was a stunning season. NASCAR's Champion's Week helped end the year on a high note, with a wowing entertainment factor and fan-pleasing fun that lit up the neon Las Vegas Strip with NASCAR style.
note: This post has been submitted to a NASCAR sponsored program.
Tags Champion's Week Dale Earnhardt Jr. Jay Mohr Las Vegas Nascar NASCAR Awards NASCAR Champion's Week