Let's face it, men can be extremely competitive. It's no secret that men go to extremes way more than women. There is nothing wrong with a bit of friendly man rivalry as long as you keep it classy. You know, be a gentleman. In the spirit of gentlemanly gratitude and healthy competition, the makers of Johnnie Walker Blue Label, the pinnacle of Blended Scotch Whisky, decided to share the story of two men who enter into a friendly wager for a priceless vintage car. It's not just any old car, it's a beautiful and rare Delahaye 135S classic racing car.
The 135S classic racing car is the ultimate trophy. A Walker heirloom having been owned by the family since the late 1930s, it is believed that no more than 16 Delahaye 135S cars were constructed. Like a bottle of Johnnie Walker, the rarity and craftsmanship of the Delahaye 135S is a game-changer. And to tell the tale of this "gentleman's wager," the world's most iconic Scotch whisky Johnnie Walker enlisted the help of Oscar-nominated actor Jude Law, Giancarlo Giannini and Zhao Wei. The film also features Formula One World Champion and McLaren Honda driver Jenson Button.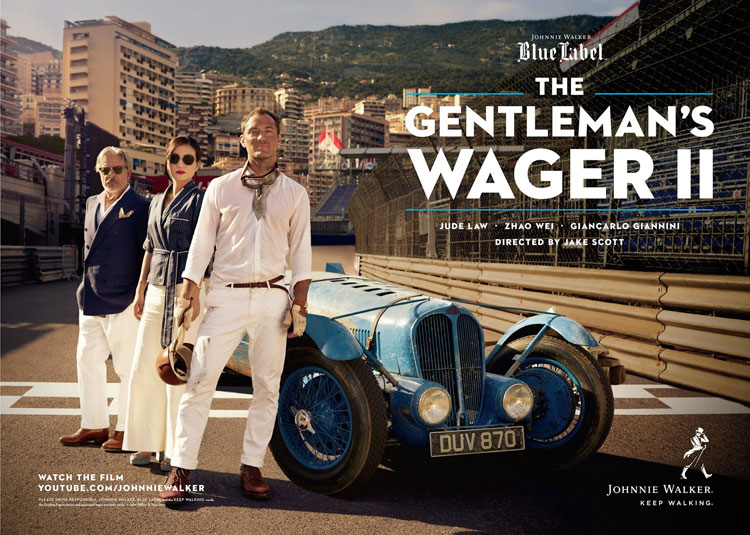 "I'm thrilled to be in the driving seat for the second Gentleman's Wager film. Being back on set with Giancarlo and also having the opportunity to work with the talented Zhao, was an absolute joy. That coupled with being behind the wheel of the Dela haye 135S racing car, driving through the rolling hills of Italy and out to Monaco, well… I consider myself a lucky man!"
– Jude Law, commenting on the film
VIDEO: Jude Law in 'The Gentleman's Wager II' | Extended Trailer

The Gentleman's Wager II film is a continuation of the internationally successful first Gentleman's Wager campaign launched in 2014 and debuts on the heels of Johnnie Walker's "Joy Will Take You Further" global campaign. During Jude Law's successful journey in The Gentleman's Wager II, it is the gratitude he shows people along the way who help him that brings him joy. Johnnie Walker Blue Label celebrates the belief that gratitude is the ultimate expression of joy that leads to success.
Tags Gentleman's Wager Johnnie Walker Johnnie Walker Blue Label Jude Law Sponsored Post