50 Years, 50 Moments, written by Randy O. Williams and Super Bowl MVP Jerry Rice, takes a look back at football's biggest and most anticipated event – the Super Bowl. Williams and Rice (the greatest wide receiver of all time) sat down together to create this fascinating book of their favorite Super Bowl moments. The hardcover book features 464 pages of Rice's favorite record-breaking moments in Super Bowl history.
Whether a fan of Hall of Fame wide receiver Jerry Rice or not, having this book alongside the coffee table is a great conversation starter when the guys (or the girls!) come over to watch a game or shoot the breeze. Do you agree with Rice's selection? Together with your friends you can agree to disagree. But not everything inside of this book can be argued. There's tons of statistics and facts about the games that have made it to the book.
There is a special Behind the Scenes section in this book that deserves props. This section has stories from players as well as coaches who are giving their thoughts about plays, players, games, and so much more.
The book also has lots of great photographs of these unforgettable moments, and that's a definite plus. Nothing brings the action to life more than photos, and each one inside of this books paints a vivid story.
Inside of 50 Years, 50 Moments, names such as Terry Bradshaw, Joe Montana, Vince Lombardi, Walter Payton and Joe Namath are all mentioned, as well as teams like the Miami Dolphins, the San Francisco 49ers, and the New York Giants. No matter what team you are a fan of, this book will definitely help you bring back lots of special memories of times past.
You'll enjoy reminiscing back on some of the greatest moments in Super Bowl history, the personal stories, and the awesome photographs in this must-read book. It is a book any football fan will enjoy. This book makes a great gift for any football fan in your life, and a great read for anyone who loves the greatest sport on earth!
BUY $19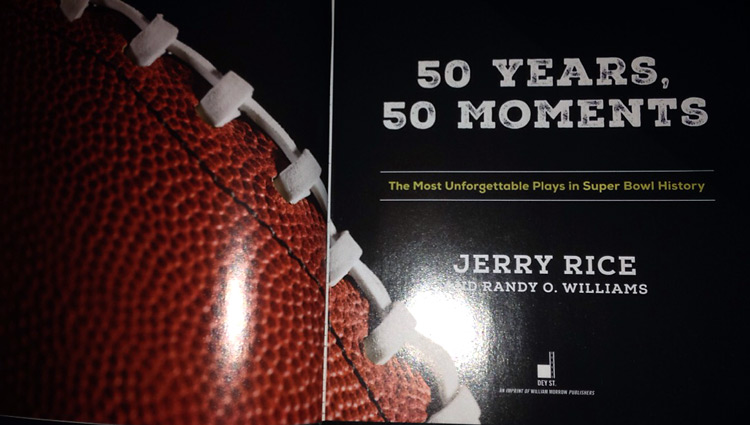 Tags Jerry Rice Randy O. Williams Super Bowl Super Bowl Book