Boots keep your feet warm when the weather outside is frightful, but they also add so much swag to your style. The ladies have voted, and the following 8 boots are the boots that she wants to see you in this fall and winter!
Rag & Bone Spencer Boots


This brown duck boot is ankle high and can be worn with a pair of jeans or a jogging suit when it's time to get comfortable. With the treated foam rubber insole, the Spencer boot is comfortable to wear, even for long periods of time. And, um, yes, you will get her attention. Retail $595
Visvim Serra Leather Hiking Boot


Even if you never set foot on a hiking trail, these boots are going to look good on your feet. Heel stabilizers, cork foot beds, Vibram outsoles and EVA python midsoles all contribute to the comfort of these boots. They're also made of leather! This boot features a round toe, red lacing, and hook fastening and tons of features for your comfort. Retail $860
Red Wing Classic Moc Toe Boot


For less than $300, this stylish pair of boots can accommodate your closet. These boots feature Oro legacy leather, nickel eyelets, and oil tanned leather. Buy $260
Visvim NCF Cap Suede Boots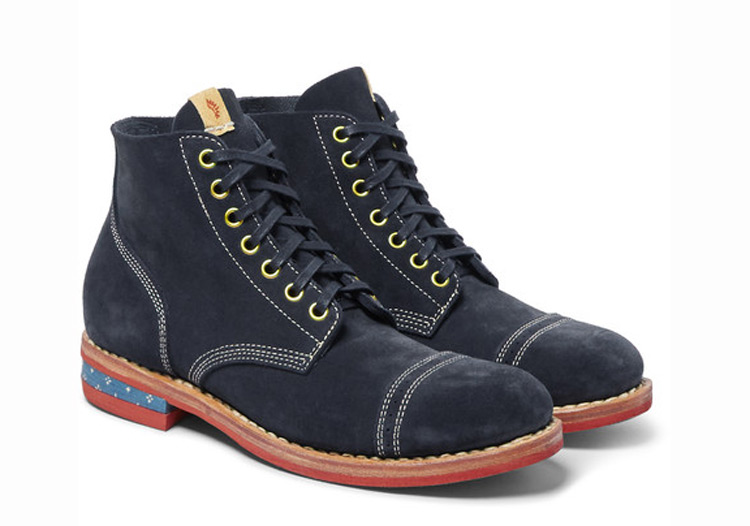 Japanese white and blue, along with a suede leather cover, make this stylish and unique boot one that many men will love to wear. Retail $1,060
Viberg


Sometimes you need to appeal to a different audience. For those times, these Viberg boots help you shine in style and stand out from a crowd. Made of chestnut brown leather, these 70s inspired boots add flair and fashion to the wardrobe. Retail $690
Vibram Sole Factor


The soul factor allows you to instantly transform any pair of boots into an exciting an colorful bottom. Send in your boots, and change it out for a blue, red, or your favorite color sole, made for comfort and style. Retail $75
Fieldsman Boot


The Fieldsman boot is the perfect boot for the rugged outdoorsman who doesn't want to sacrifice his style. Hand sewn material ensures that every stitch is accurate, while the rawhide laces add attention to your style. Retail $380
With these boots at your disposal, it would be impossible to not look great this season. Go get the boots and then get the girl. We love a man with great taste in footwear!
Tags Boots Rag & Bone Boots Stylish Boots Vibram Boots Visvim Boots Winter Boots