Three Olives Vodka brings color and character back into the world of fine spirits with more than 20 fun flavors to choose from.
Three Olives Vodka, the fun, quirky brand that's bringing color and character back into the world of fine spirits, recently made us an offer we couldn't refuse – a fun-fueled bus cruise from Los Angeles to Palm Springs on the eve of Coachella, the legendary annual music and arts festival. Here's how it went.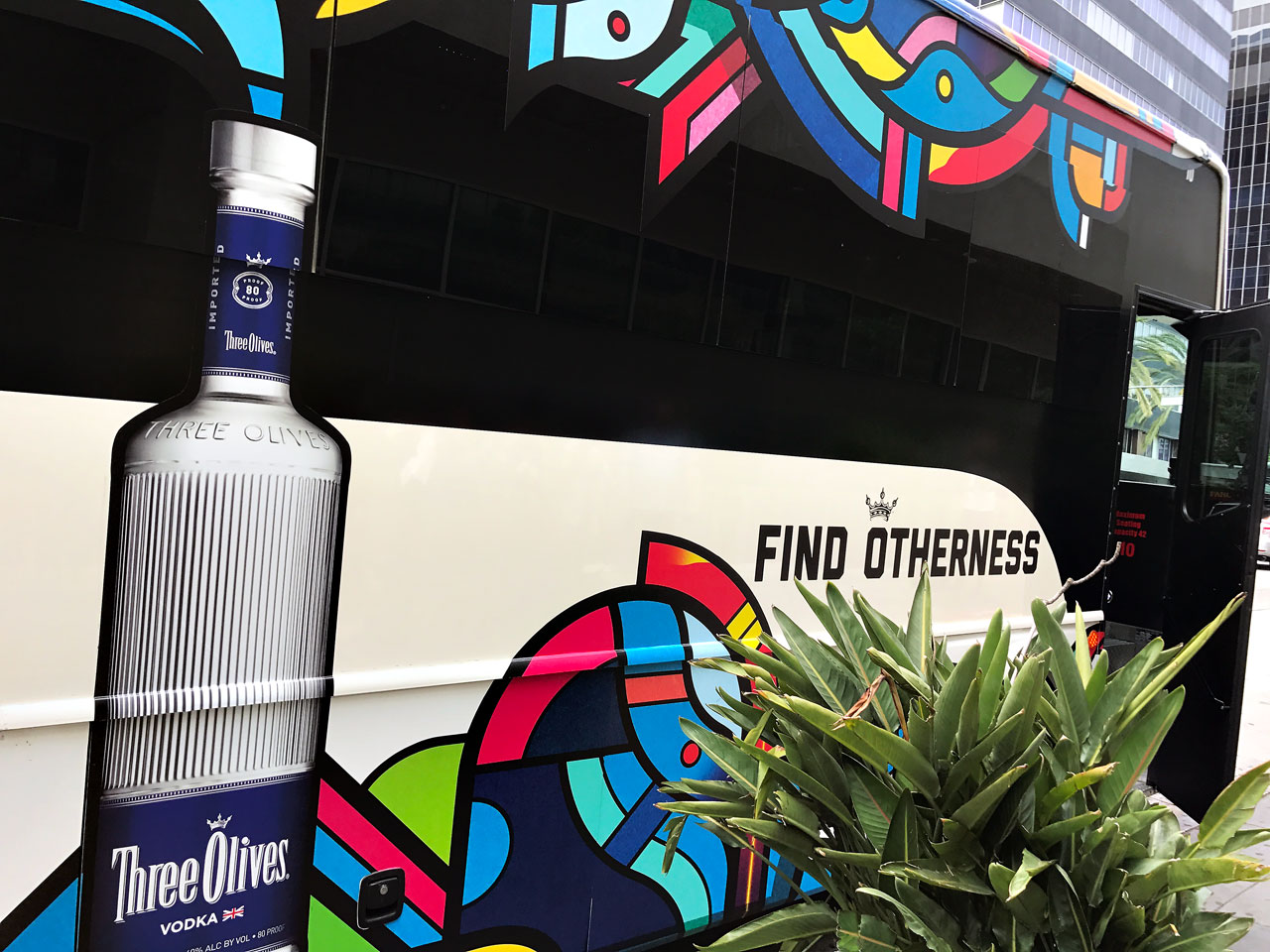 We Found the Otherness All Right
Three Olives' motto is "Find Otherness," and that's what we did starting bright and early at LA's Line Hotel for a delicious breakfast, complete with Three Olives style Bloody Marys, complete with the company's signature Fresh Watermelon flavored vodka. We found it a delicious, take on the good old-fashioned Bloody Mary, amping up the flavor and the fun by a major margin.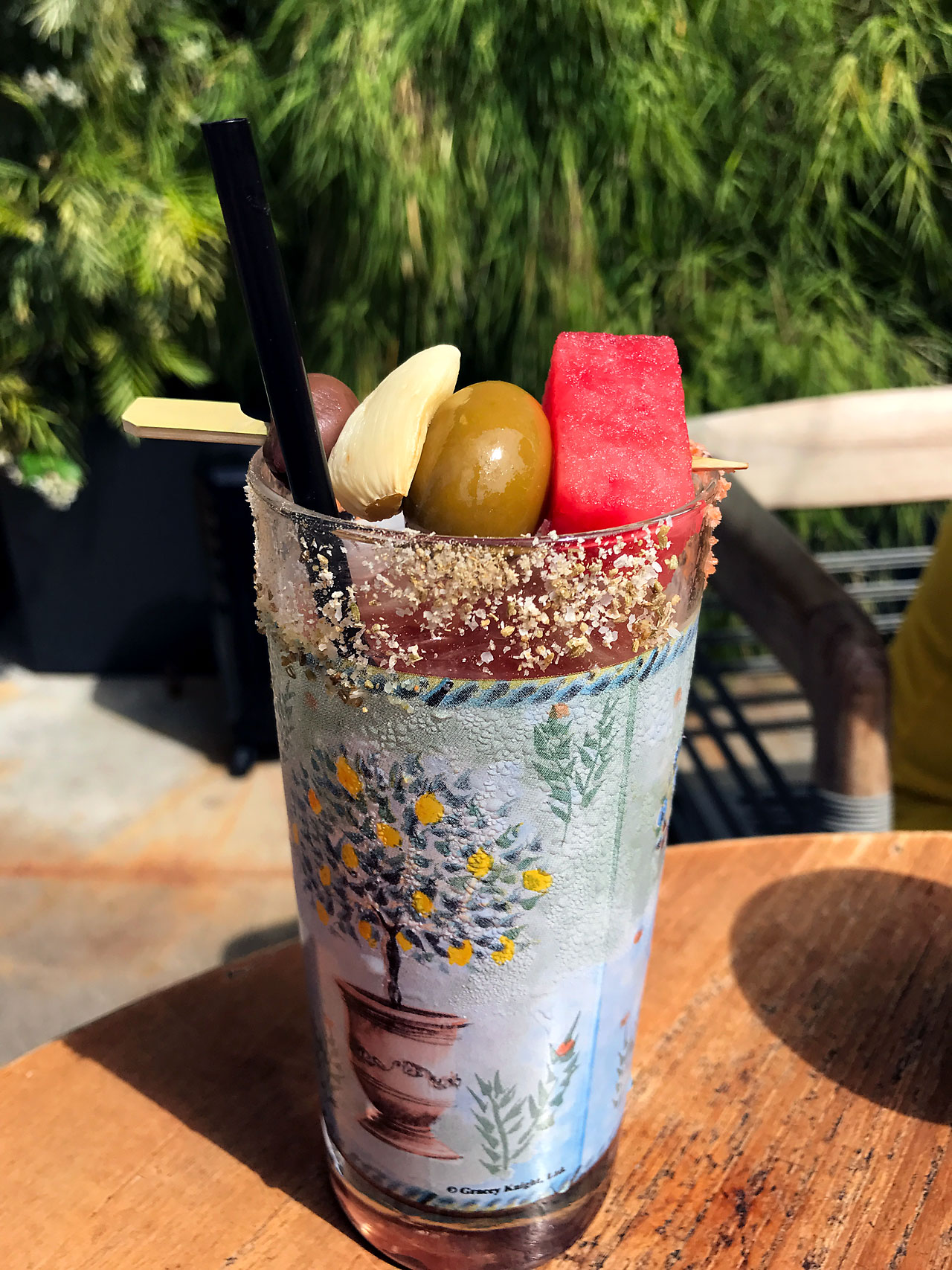 VIDEO: Find Style – Three Olives® Vodka
The Party Bus
After our Three Olives breakfast, it was time for the party bus. We had a great time rolling down the freeway thanks to our amazingly skilled DJ, who also happened to be an accomplished violinist. The included stripper pole was a source of great amusement to us, and kept us occupied until we made our mid-day stop.
Tacos and Cocktails
We unloaded for lunch at Tio's Tacos in downtown Riverside, a place as well-known for its delicious Tex-Mex as it is for its off-the-wall art. We definitely found our otherness as we enjoyed our lunch, complete with Three Olives specialty mix cocktails featuring even more tongue-tickling flavors like Cucumber Lime and Coconut Water, as we wandered the, uh, "eclectic" art installations at Tio's. Soon we were back on the road to our final destination: Palm Springs.
Color, Light, and Flavor
Three Olives has more than 20 fun flavors to choose from, and every single one of those colorful bottles seemed to have gone into the decor of The Saguaro, our Palm Springs hotel. The place was awash in mid-century modern decor, painted every single different color of the rainbow, and it was a light-hearted dazzling adventure, walking down the place's purple-carpeted hallways.
That wasn't the best part, though: waiting for us there at The Saguaro was Grammy-nominated singer-songwriter Halsey. We got to a sneak peek at her upcoming album, "heartless fountain kingdom" over Three Olives Cucumber Lime cocktails.
"Finding Otherness is really about celebrating the little differences and nuances in yourself and the people around you that make you unique and make this world so diverse.

Most of the amazing things that we have in this life, like art, like music, like fashion, they come from the mistakes and from the accidents and from the differences. If everybody wasn't as different and as amazing as they are, we wouldn't be able to Find Creativity, and Find Inspiration and Find Passion in any of these things.

Find Otherness to me, is about identifying those differences and celebrating the glory of them."
– Halsey
It's Never Over
Our exclusive Three Olives experience was the best way to start our time at the wildest annual music festival ever. With Three Olives, the fun never ends!
Tags Coachella Halsey Men's Lifestyle Three Olives Three Olives Vodka vodka