You never know what you'll see at Coachella. This year, we got a heck of a treat – Three Olives Vodka invited us to an exclusive event at the Saguaro Palm Springs. We were not prepared.
A Feast For the Eyes
The Saguaro Palm Springs was hands-down one of the most colorful and vibrant hotels we've ever seen. Featuring the charming Mid-Century Modern design elements Palm Springs is known for, it's a rainbow-colored oasis amidst the grey Sonoran Desert.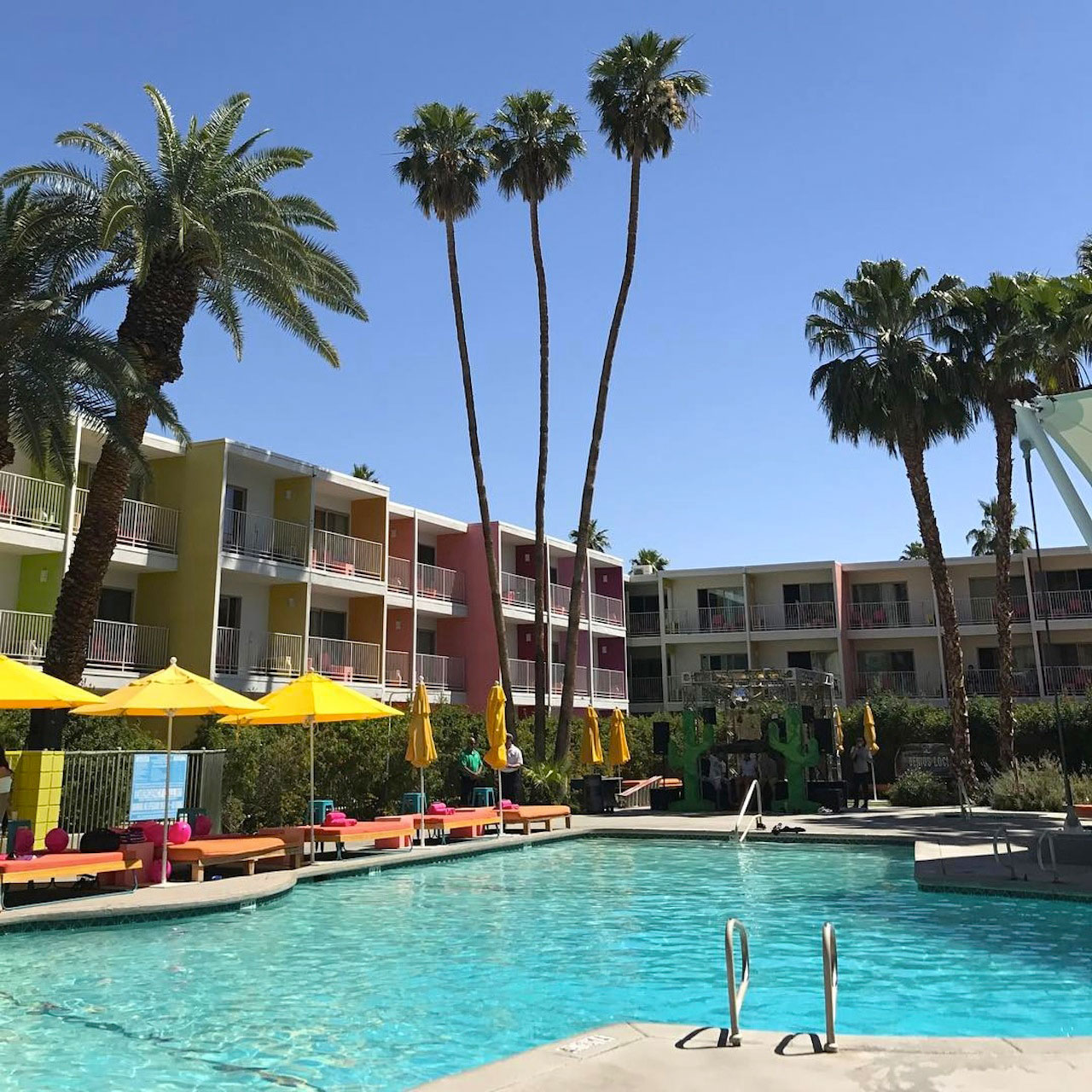 Pops of color are everywhere, in hues of pastels that are easy on the eyes with the hot California sun beating down on you. The central courtyard features a massive, sparkling blue swimming pool, ringed by banana-yellow umbrellas and hemmed in on three sides with hotel room balconies with accented lavender, pink, orange, and blue exterior walls.
Lush, green, desert-hardy shrubs and tall, willowy palm trees complete the ensemble, while the San Jacinto Mountains jut up from behind the hotel against the bright, deep blue Sonoran sky. And that's just the outside!
Interior Touches
We only stayed the night at the Saguaro, but we almost wished we had stayed a few more days. The color schemes started outside the hotel continued inside through the rooms. Comfort and simplicity in decor meant that colors popped, from the walls of the guest rooms to the iconic purple carpets in the hallways. It was like e walking through the insides of a giant box of crayons, and we couldn't help but smile as we went from one kitschy color to another.
That cheerfulness must rub off on the staff, because everywhere we went, all the Saguaro staff we met were just the most incredibly happy people. Nobody should be that happy working a hospitality job in the desert, but there they were – smiling, laughing, and just having a grand old time, from housekeeping to the front desk to even the pool lifeguards.
The Shining Desert Jewel
We didn't want to leave, but eventually the event ended and we had to depart. Still, Coachella is all about making amazing memories, and that's exactly what we did when Three Olives Vodka invited us out to the Saguaro. We're eager to go back and bask in the relaxing glow of the most colorful hotel we've ever visited.
Tags California Hotels Palm Springs The Saguaro Hotel Travel