Sound is life, and nobody knows sound like Harman Kardon. This renowned audio company knows more than just a thing or two about sound – and they proved it by inviting us to New York recently for the NYC ePrix, the first ever Formula E race in the five boroughs in modern history. Here's how it went.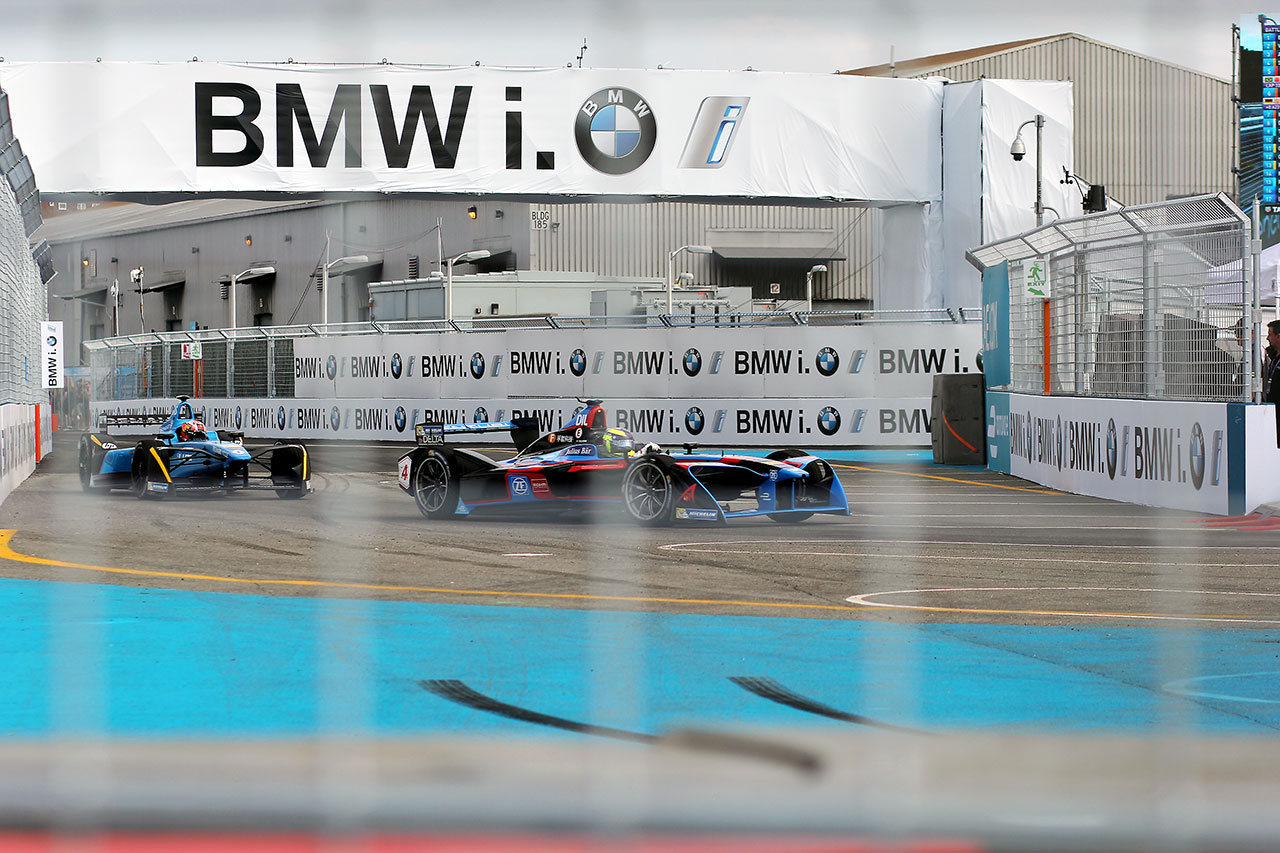 Harman Kardon and BMW

Harman Kardon is all about cutting-edge technology, so what's the company doing at a race track that weaves its way around Pier 11 and the Brooklyn Cruise Terminal and has Lower Manhattan and the Statue of Liberty as a backdrop? Simple – Formula E is all about technology. These all-electric vehicles feature cutting-edge tech making them capable of hitting top speeds of 225 kph/140 miles an hour, and thanks to Harman Kardon's partnership with the BMW i Formula E racing team, it's a match made in heaven.
BMW and Harman Kardon jointly sponsor the MS Amlin Andretti Racing Formula E team, one of 10 teams that competes in the FIA Formula E Championship. Yes, as in CART legend Michael Andretti, farther to IndyCar driver Marco Andretti and son of arguable the best driver in motorsports history Mario Andretti. In fact, we got some face time with Michael at Harman Kardon's flagship store on Madison Avenue in the heart of Manhattan during a VIP-only event.
READ: The Science of Sound: Mark Levinson, Lexus, and the Audio of Your Dreams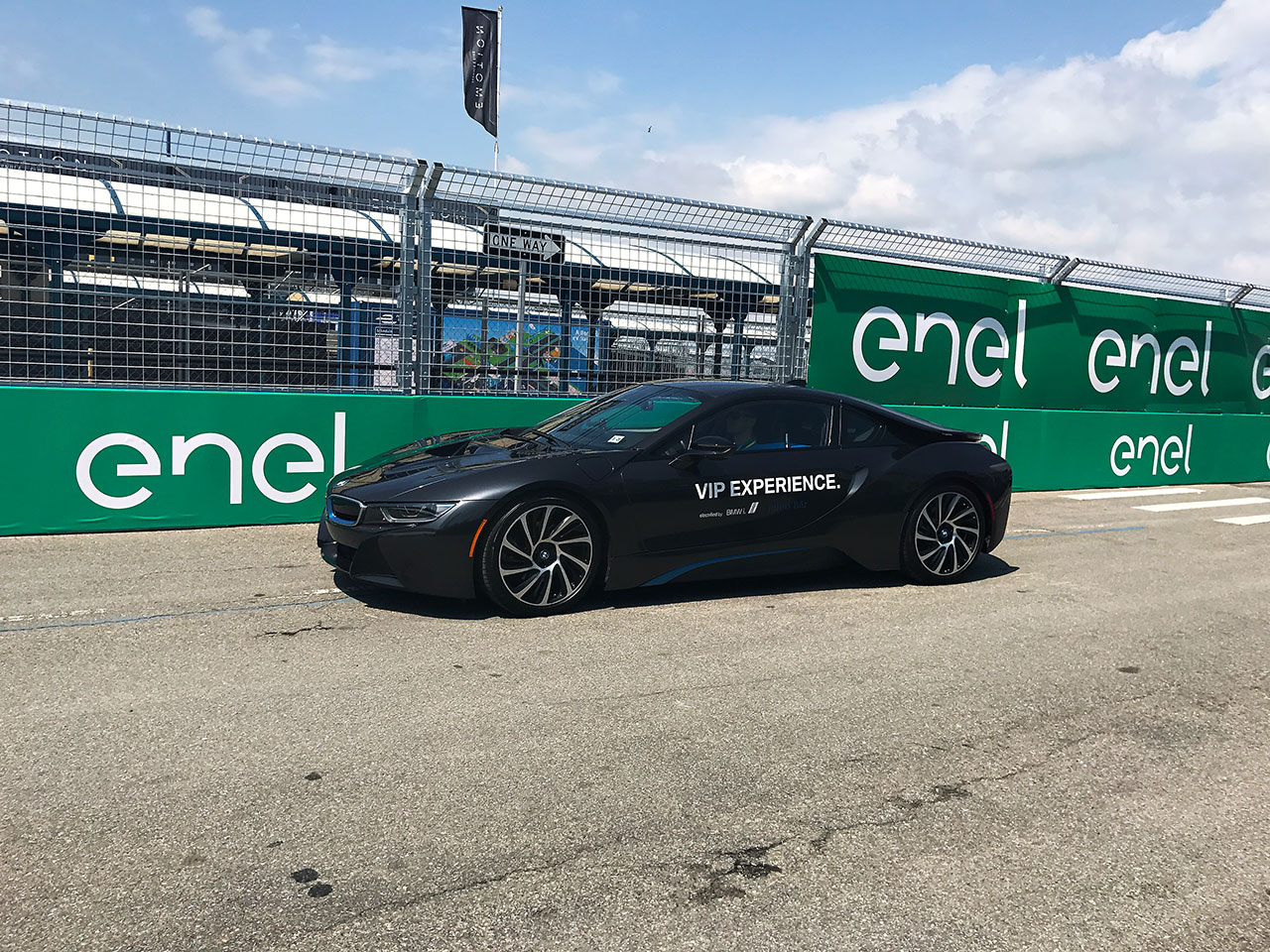 VIP Access

Rubbing shoulders with Michael Andretti wasn't the only thrill we had during the NYC ePrix courtesy Harman Kardon. Thanks to the audio manufacturer's partnership with BMW, the company has designed some incredible in-car audio systems that we got to experience firsthand. From an audio demo at the race's eVillage to discussions on electric racing technology and advances, there was no stone left unturned when it came to exploring the wonders of sound and Formula E racing.
A Hot Lap

There's one event that we experienced that stands head-and-shoulders above all others, though: the hot lap we ran in the BMW i8. Built using many of the same technologies as BMW's Formula E racers, the i8 is the gas-electric sports car of the future.
Long, low, and sleek with a wide, aggressive-looking wheelbase, the BMW i8 comes with cutting-edge tech within and without – and Harman Kardon is a major part of that. The sound inside the cockpit of the i8 was nothing short of incredible, and a perfect match to a performance supercar that can go from 0 to 100 kph in 4.4 seconds.
VIDEO: Harman Kardon & Formula E
Welcome To The Sound Of The Future

Part of HARMAN International, a global leader in connected car technology, Harman Kardon is known worldwide for premium sound, sophisticated aesthetic, peak performance, and integrating environmentally friendly design. Driving the sound of the future together, Harman Kardon, BMW i, and the MS Hamlin Andretti alignment with the Formula E series is a great platform to showcase the latest in innovations. "The all-electric racing platform of Formula E provides a great opportunity for Harman Kardon to showcase their innovative products and engage with the tech-savvy fans of the series," said Michael Andretti, CEO of Andretti Formula E.
Experiencing VIP access to a Formula E race – and stepping into the BMW i8 – was like seeing the future. With BMW combining bleeding-edge electronic tech and blistering performance, Harman Kardon's expert engineering is at home in such an environment, and so were we.
Tags Andretti BMW i Formula E HARMAN Harman Kardon Sound Technology