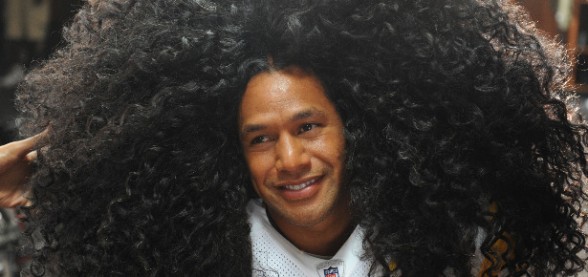 In a bold move, head & shoulders took out a $1 million dollar insurance policy on NFL safety Troy Polamalu's trademark hair. A second year spokesperson for the brand, Troy's Samoan locks will be protected throughout the NFL season by Lloyd's of London, one of the most prestigious insurance agencies in the world.
"This reinforces that my full and thick hair is unstoppable…" – Troy Polamalu
Troy has not cut his hair in over seven years and now with his own website he probably will not cut it anytime soon. "In developing this unique policy, we recognize that Troy Polamalu's famed head of hair is truly legendary and we are proud to partner with head & shoulders to protect it," said Jonathan Thomas of Watkins Syndicate at Lloyd's of London. To learn more about head & shoulders and Troy's hair make sure to visit www.TroysHair.com.
Unplugged via MANjr