Molton Brown products have been made in England since 1973 using natural ingredients from around the world. For the man who understands that grooming is a must, Molton Brown luxurious products are designed to refresh, energize, relax, pamper, and rejuvenate.
Synonymous with luxury, Molton Brown products are generally found in top-end stores and high-end hotels in cities around the world.
Fresh Bushukan Citrus Bodywash


Molton Brown introduces an entirely new scent for the body: fresh bushukan! Kick start your day with our nutrient-rich blend of Bushukan fruit and bilberry juice. Deep cleansing and rich in anti-oxidants, our body wash will help wash away traces of daily life and protect your skin from environmental pollutants.
This cleanser, with a rich luxurious lather, will help protect skin from environmental pollutants and provides a fresh, clean, citrus aroma. Bushukan, a citrus fruit with great aroma and skin conditioning benefits, is also known as "Buddha's hand" because of its unique finger-like shape. Retail $28
Fresh Bushukan Citrus Splash


Fresh and uplifting, Molton Brown face and body splash keeps you feeling lively whatever the day throws at you. Golden notes of Italian bergamot, Spanish cistus and Italian lemon are threaded with the green herby aromas of Indonesian patchouli, sage clary and thyme from Hungary. Provides a fresh, clean, citrus aroma for day and night. Essential oils of bergamot, lemon, patchouli, sage clary, and thyme to provide an uplifting citrus aroma. Retail $48
Cool Buchu Anti-Perspirant Stick


A new addition to Molton Brown's already popular cool buchu family. Keeps users dry and smelling fresh. Helps to keep underarm skin conditioned and comfortable. Andiroba tree oil contains oleic acid which helps to impart a long-lasting velvety skin feel. Anti-perspirant active reduces underarm wetness by blocking the pores and absorbing sweat released from unclogged pores. Retail $22
Bright Vita Eye-Energy Serum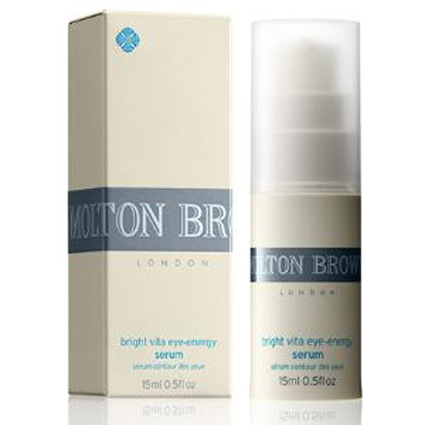 This double action serum uses vitamin B3, ash bark extract and a reflecting complex to improve circulation while brightening and firming the eye-area. Helps firm the skin and reduces the appearance of wrinkles.
Helps protect against the occurrence of new lines, instantly brightens, reduce the appearance of dark circles, and hydrates the skin using light reflecting particles. Retail $32
Volumising Thekku Hairwash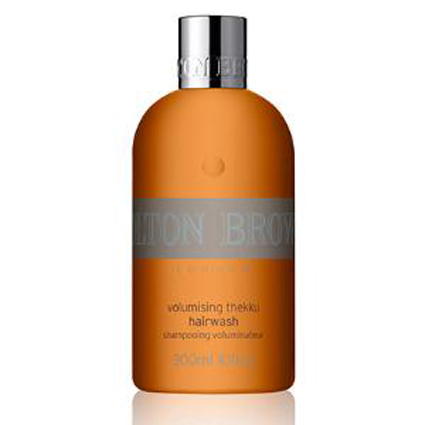 A daily texturizing shampoo for fine or thinning hair. Our advanced formulation is enriched with thekku bark extract, botanical visnaga vera and volumizing polymers which help strengthen and provide body for healthier-looking hair.
Helps strengthen the hair and provide body for healthier looking hair. Thekku bark to strengthen hair fibers and promote hair growth. Fruit stem extra to help improve damaged and weakened hair. Essential oils of rosemary, geramium, and green mate to provide a woody green aroma. Retail $28.00
Anti-Dandruff Jackberry Hairwash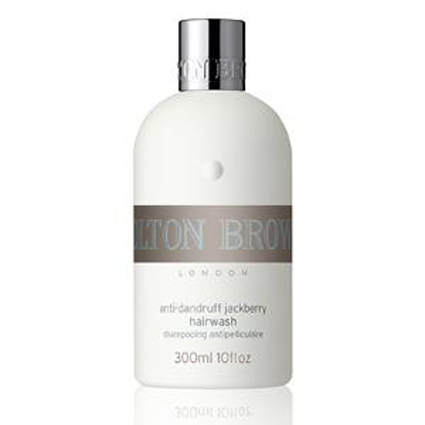 A daily shampoo to help control flaky scalp and the visible signs of dandruff. Designed with jackberry extract, piroctone olamine, and guar gum to rebalance and comfort your scalp while cleansing and conditioning your hair. Result is shinier, healthier hair, free of the appearance of flakes and dandruff.
Ideal for everyday use to clean and condition the hair. Helps control and prevent dandruff and rebalances the scalp. Jackberries, also known as Jackalberries are native to the African savannah and contain an extract known to help improve the condition and balance of the scalp. Jackalberry leaf extract helps reduce sebum secretion Anti-dandruff active controls and prevents flaky scalp. Retail $28.00
Tags Bodywash Conditioner Hairwash Men's Grooming Molton Brown Shampoo