With arguably the biggest weekend in racing happening in just a few days, Tam-Star was able to slow down Jamie McMurray just long enough to find out what drives him to succeed, other than those championship Chevrolets, of course. He's one of only three drivers to win both the Daytona 500 and the Brickyard 400 in the same year (as well as the Bank of America 500 that year, and numerous Sprint Cup Series and Nationwide Series wins before and since). So what gets him to the checkered flag?
He was the NASCAR Winston Cup Series Rookie of the Year in 2003, but it goes back much further. He grew up racing go-karts and competing in nearly every form of karting he could find before moving up to late-model stock cars…always racing toward those finish lines, he'll certainly have his sights on claiming victory again at NASCAR's most prestigious race and largest purse this weekend at Daytona (54th Annual Daytona 500 will be held on Sunday, February 26, 2012 on FOX).
But does washing his hands 40 times a day affect his drive? Does the Chevy name carry through to his pick for the ultimate muscle car off the racetrack? Find out these answers as well as his thoughts on Danica Patrick's debut at Daytona, his thoughts on making The Chase versus winning big races, and what the names Earnhardt Sr. and Earnhardt Jr. have meant to him over the years. It's a pre-race interview to an exciting weekend you don't want to miss!
Tam-Star: Can you tell our readers a little bit about your career as a kart racer and how you made the transition from kart racing to NASCAR?
Jamie: I started racing go-karts when I was 8. I did that because my dad was into racing and I just really enjoyed doing it. I played soccer and baseball growing up, but I just loved racing. I like other sports, but racing was something that I was really passionate about. I was fortunate that I had a family that would support me and help pay for the cost of racing as I moved up. It's just something I've always loved, and I just slowly moved up through the ranks of stock cars.
Tam-Star: How would you describe and what would you say to someone who has never watched NASCAR before?
Jamie: Wow, how would I describe it? I would say NASCAR is one of those sports that there's excitement from the start to the end. It's as exciting to see the initial green flag drop, and then as you watch the race and you see there's a lot of different stories that develop throughout the race. And then of course, the finishes normally are really exciting. If you're a fan of any kind of racing I think NASCAR is something that you'd love.
Tam-Star: As one of only three drivers who has ever won the Daytona 500 and the Brickyard 500 in the same year, can you share your thoughts on why you think it's such a rare achievement in NASCAR?
Jamie: Those are the two biggest races that we have in our sport. They're on two completely different tracks and it's just two really hard tracks to win at. To do it in the same year is just even more of a challenge. You know, it's hard to ever win one of those races, much less both of them in the same year.
Tam-Star: Let's talk a little bit about making The Chase versus winning the big races. The year you won both the Daytona 500 as well as the Brickyard 500 you missed The Chase. Moving forward would you rather have made The Chase or not win any of the big races?
Jamie: Yeah, I would've rather win the big races versus make The Chase. I think people tend to remember who won the Daytona 500 or the Brickyard 400. They don't seem to remember the guy that finished eighth in The Chase if you didn't win any races, so I would rather win the big races.
Tam-Star: Aside from carrying the biggest payday in NASCAR, what makes the Daytona 500 so great? Why is it the Super Bowl of stock car racing in your opinion?
Jamie: Well, it was our first big race when NASCAR started, on the biggest track, and I think it's always had the biggest purse. It's odd that we have that the first race of the year, but you know, the Daytona 500 has been big for as long as I can remember. It's just been a race you know, every sport has their big event and for NASCAR it's that.
Tam-Star: Can you share your thoughts on Danica Patrick making her debut at the Daytona 500 in a couple of weeks?
Jamie: I think that's really good for our sport. Danica has a huge fan base and a lot of followers. It would be nice to open all those people's eyes up to NASCAR and I think everyone has really welcomed Danica into the sport. It will be interesting to see how she fairs at the Sprint Cup level.
Tam-Star: As a woman, one thing that annoys me is a man who drives a four cylinder car. What would you consider to be the ultimate muscle car for the average guy?
Jamie: I'm kinda into the older cars. A '50s Corvette… I think that's a super cool muscle car. It looks good. I think it's classy looking. I'm kind of into that.
Tam-Star: If you could ride along with one NASCAR legend who would it be and why?
Jamie: I think Dale Earnhardt Sr. mainly because he came from the era right before me, and he's just a legend in our sport. I never got to meet him, so I think that would be super cool to be able to ride along with him.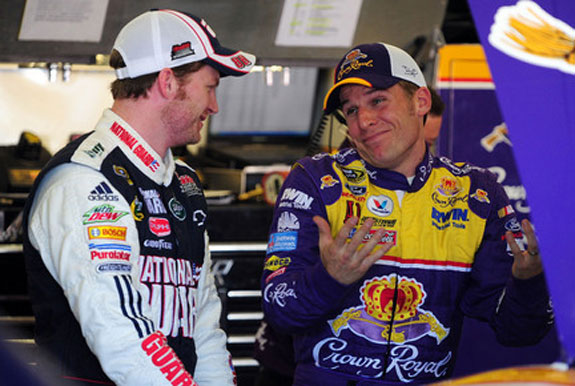 Tam-Star: How is it like working with his son [Dale Earnhardt Jr]?
Jamie: I've been friends with Dale Jr. for a long time. I mean ever since my first year really in NASCAR we have been friends. So it's different with Dale Jr. because I view him as more of a friend and I don't look at him as Dale Earnhardt Sr.'s son. I look at him as another competitor, another guy on the track. So you know, that's a hard question to answer because he's just another guy to me.
Tam-Star: Fair enough. Okay, let's move on to NASCAR fans. From what I've witnessed they can be pretty fanatical. I remember being on the highway and one of the NASCAR trucks was driving, and there was like 20 cars surrounding, blowing their horns and all that. What has been the craziest thing you've ever seen a NASCAR fan do?
Jamie: Craziest thing of a NASCAR fan, wow, I don't think I can give you a story there because I've seen a lot of crazy stuff, but I can't think of any one particular.
Tam-Star: If you weren't married what famous female actress, entertainer, or athlete would you like to take out on a date?
Jamie: If I weren't married, gosh, give me a second. Who do I talk about? Oh, yeah, the girl on the cover of Sports Illustrated. I think I would be okay with that.
Tam-Star: Oh, Mrs. Kate Upton.
Jamie: Yeah, she's fresh. I'm pretty content with my wife to be honest with you. I'm married because I really love her. I love her as a friend and everything else, so I don't know, it's hard for me to think that way.
Tam-Star: What would you be doing if you weren't racing for a living?
Jamie: If I weren't racing I think I'd still be working in racing. It's really all that I've known, so I think I would be doing something to do with some form of racing, whether it's go-Karts, or motorcycles, or stock cars. I would be doing something in racing, I just can't tell you what that would be, I don't know.
Tam-Star: My very last question, and it's all about you. What would people be surprised to know about you?
Jamie: What would people be surprised to know about me? That I'm a germ freak and that I wash my hands about 40 times a day normally after I shake anyone's hands because I'm a little bit paranoid about getting sick from the passing of germs.
Tam-Star: You know what, when I lived in New York I became a germ freak. In California you don't really interact with people as much because you're in the car, but in New York there's too many people. So I could totally understand that.
Jamie: Yeah, I'm really weird about that.
For more information on Jamie McMurray please make sure to visit his official website www.JamieMcmurray.com. To learn more about the 54th Annual Daytona 500 visit www.daytonainternationalspeedway.com or www.NASCAR.com and make sure to watch it live Sunday, February 26, 2012 on FOX.
Tags Brickyard 500 Daytona 500 Jamie McMurray Nascar NASCAR Driver Sprint Cup