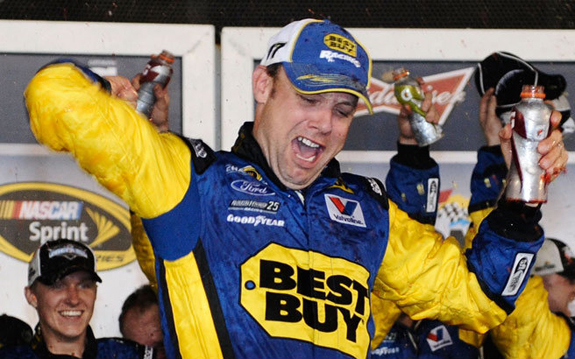 How exciting and bizarre was the 2012 Daytona 500? If you didn't watch the race, you certainly missed out on something special. Although we weren't personally in attendance, we were definitely vested in the outcome of the race.
MankindUnplugged.com was selected to participate in The Daytona 500 Tune-in Challenge where we were competing against other men's lifestyle websites based on the outcome of the race. As a part of the challenge, we were randomly assigned NASCAR driver Jamie McMurray, who we had an opportunity to interview earlier this week. The website whose driver had the best finish in the 2012 Daytona 500, will receive an all expenses paid trip for two (2) to Charlotte, N.C. for the NASCAR Sprint All Star Race in June 2012, plus an opportunity to share valuable autographed memorabilia with their readers.
Weather delays pushed the start of the race to Monday. Jimmie Johnson, David Ragan, Danica Patrick, and defending champion Trevor Bayne crashed at the start of the second lap. Danica did an awesome job avoiding Jimmie Johnson's car, but wasn't able to make a clean escape. Jeff Gordon's engine blew during lap 81 and for the second year in a row, Truex Jr. claimed the $200,000 halfway bonus for being in the lead at lap 100, after David Stremme went spinning out of control with 40 laps to go.
While driving under the caution from the Stremme spin out, there was a big explosion when Juan Pablo Montoya lost control and skidded into the jet dryer truck. The delay was so long some drivers actually got out of their cars and other drivers Tweeted from their vehicles. The track was scrubbed with Tide detergent and 60 minutes later (into Tuesday morning), the Daytona 500 resumed — the first time ever the race started on a Monday and concluded on a Tuesday.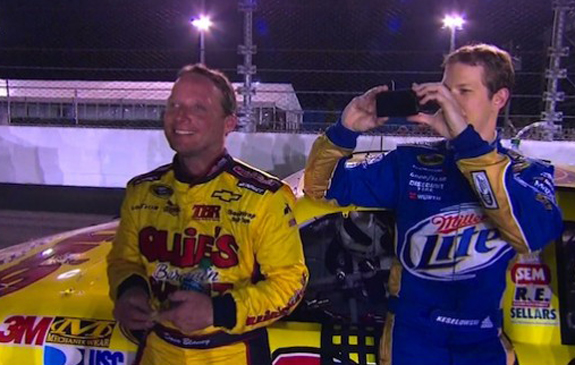 The ninth caution flag was raised when our guy Jamie McMurray lost control of his car with 13 laps to go. With four laps to go, Tony Stewart got pushed and turned, causing the 10th caution flag to be waived. Eventually, Matt Kenseth went on to win his second victory at the Daytona 500, with Dale Jr. coming in second.
If you followed all the action on Twitter via #Daytona500, you know that it was a wild and crazy night with a lot of interesting commentary, especially from the websites that participated in the challenge. For those that watched the Daytona 500 you already know our guy, Jamie McMurray, didn't win, but we didn't do too bad. Below are the results from the challenge:
1. Matt Kenseth – The Smoking Jacket (WINNER)
4. Denny Hamlin – Gunaxin
5. Jeff Burton – Man Jr.
9. Joey Logano – Aaron Torres Sports
13. Marcos Ambrose – Black Sports Online
20. Ricky Stenhouse Jr. – With Leather
21. Ryan Newman – Midwest Sports Fans
24. Regan Smith – Guys Gab
31. Jamie McMurray – Mankind Unplugged
33. Aric Almirola – Sports Crackle Pop
35. Trevor Bayne – Jersey Girl Sports
Make sure to follow us on Twitter and Facebook to find out more information about that NASCAR memorabilia we mentioned earlier. For the 54th Annual Daytona 500 official results, visit www.daytonainternationalspeedway.com or www.NASCAR.com and make sure to watch the next NASCAR race at Phoenix International Raceway live on FOX.
Tags Daytona 500 Matt Kenseth Matt Kenseth Wins Daytona 500 Nascar