The Chase became a chase during the second to last race of the NASCAR season thanks to Clint Bowyer and Jeff Gordon duking it out off the track. If you read Mankind Unplugged or follow us on Twitter, you know on Sundays we talk NASCAR and the J-E-T-S. Since the Jets are showing us that they are who we thought they were, we have dedicated most of our Sundays to NASCAR. This Sunday it went down at the Phoenix Raceway on and off the track
Massive 20 Car Wreck At NASCAR's Talladega Superspeedway [Photos & Video]
Clint Boyer and Jeff Gordon have a bit of a history of on the track issues, but this is the first time it spilled off the track. After Jeff bumped Clint sending him into the wall, it was on at Phoenix Raceway. Some say that Jeff hit his breaking point when he decided to take Clint out with just a few laps left in their chase to get the white flag.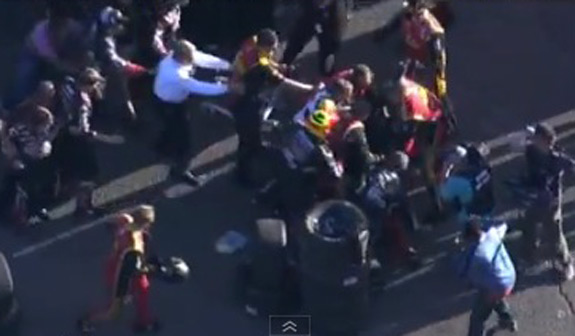 It was an ugly situation and it got uglier once Jeff got out of his car. Anything can happen in racing and did. The crews came physically went after Jeff and Clint chased him down. As Clint has said in his 5-Hour Energy commercials, "when I got to get stuff done…" Clint was still in the chase, but now it's over after Jeff Gordon took him out.
Check out the fight and what lead up to it.
VIDEO: Clint Bowyer And Jeff Gordon Fight!

[jwplayer mediaid="15830″]
Back on the track, the caution came out before the white flag. Although it was presumed Kevin Harvick had won, the replay confirmed he didn't get to the line before the caution came out. Thanks to Danica Patrick who always seems to be in the wrong place at the wrong time, the drama wasn't over. With barely two laps to go, there was a massive wreck to finish the race thanks to oil spilled all over the track by your favorite lady driver. With punches thrown, a pit road brawl, benches emptied, and an oil spill, Kevin Harvick still took the checkered flag at the end.
Thanks to Jimmie Johnson running into the wall earlier in the race, Brad Keselowski moved into the top spot and is now leading The Chase with one race left to end the season. Brad has the lead and should win this years NASCAR championships, but as he said himself "there are no guarantees."
Tags Brad Keselowski Clint Bowyer Fight Jeff Gordon Nascar NASCAR Fight nascar fight 2012 The Chase