Pacific Sunwear (PacSun) hosted their inaugural 'Common Threads' event, an industry celebration honoring companies and people who have been influential and inspirational this past year. Thankfully, we were fortunate enough to snag an invite. The party was attended by influencers in the fashion, music, art as well as action sports industries and included a very special musical performance by rapper Snoop Dogg aka Snoop Lion.
PacSun spared no expense treating partygoers to free apparel, sneakers, an open bar, and food which included chicken and waffles. A collection of unique art was on display throughout the event and best of all, PacSun bestowed six Common Threads Awards to a select group of individuals and corporations that demonstrated leadership and ingenuity. Honorees include Hurley H2O Program, Goldenvoice, Nyjah Huston, Gaslamp Killer, LOVE+MADE, and Known Gallery. PacSun donated $5,000 to a designated charity in each recipient's name.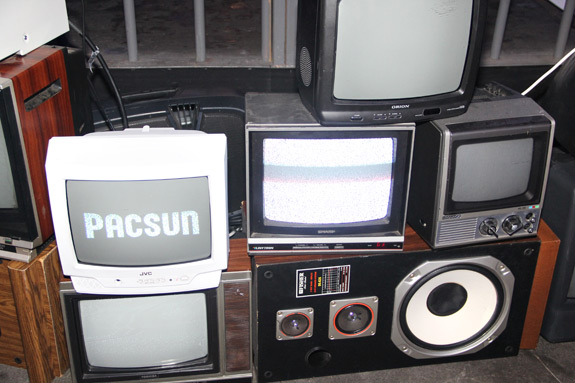 The highlight of the evening was watching Snoop along with his Dogg Pound crew perform some of his hits. As Taj Tashombe over at XXLMag.com stated:
Collectively, they performed some classics, including "What's My Name," "Gin & Juice," and "Ain't No Fun." "We gone have us a good time, give them some of that stuff they love,"
Kurupt told XXLMag.com. "Dogg is excited and everybody is just ready to have a good time on that mic!"
To read Taj's full recap and to check out additional photos taken by me on behalf of XXL make sure to check out XXl.com. For more information on PacSun, visit www.pacsun.com. For additional images from the 'Common Threads' event as well as inspiration on styles and trends, visit www.gsom.com.
Rob Dyrdek, DC Shoes, And PacSun "Golden State of Mind"

Like what you just read? Join our Facebook page or follow us on Twitter @Man_Unplugged.
Tags Common Threads Dogg Pound pacsun PacSun Common Threads PacSun Event Snoop Dogg Snoop Lion