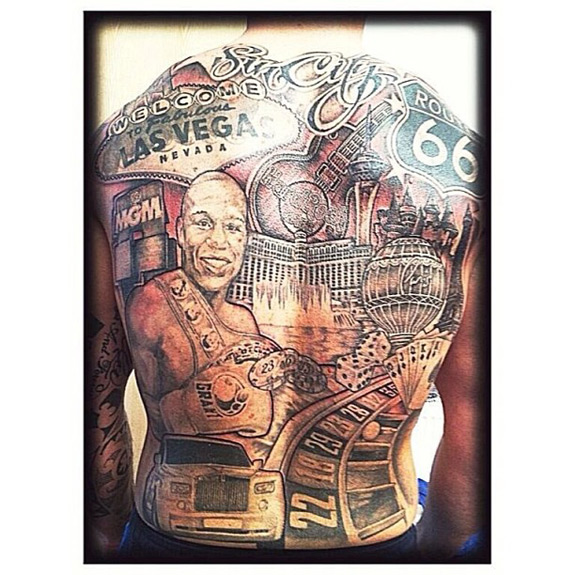 Fake, Photoshopped, or pure foolishness, a tattoo of your favorite sports figure is ridiculous under any circumstances. Tattoos are supposed to have meaning and we get it; however, does a tattoo of a sports figure who is a stranger that really doesn't care much about you make sense?
Over the years we have seen some interesting (for lack of a better word) tattoos including that crazy face tattoo we posted a few months ago. Recently, an overzealous Floyd Mayweather fan took the term fanatical to new heights when he got a mural of his favorite boxer on his back. Not only did this guy get a very large tattoo of Floyd with his title belt, but he seemed to ink a mural of the "Money" Mayweather lifestyle in Sin City. He went all out and even included the Welcome to Las Vegas sign, the MGM hotel, a roulette table, the iconic Hard Rock Hotel & Casino guitar sign, and the historic route 66 sign.
Getting a tattoo across your back isn't exactly the smartest idea especially considering what happens in Vegas should stay in Vegas. Luckily, Floyd Mayweather appreciates all his fans.
Tags Caption This Dumb Tattoo Fan Tattoo Floyd Mayweather Tattoo Funny Photo Guy Humor Guy Stuff Tattoo Fail WTF