Honoring true heroes never gets old. Now in its seventh year, The Crown Royal Heroes Project continues to seek out extraordinary individuals for special recognition. This initiative inspires the community by promoting positive role models and celebrating everyday examples of heroism. Crown Royal acquired the award-naming rights of a NASCAR Sprint Cup Series race through the company's "Your Hero's Name Here" program, an award presented to an adult fan and hero. For the second year in a row, one deserving individual won the naming rights to the Brickyard 400 at one of the most historic stages in auto racing, the Indianapolis Motor Speedway (IMS) in Indianapolis, IN.
This year's worthy winner of Crown Royal's "Your Hero's Name Here" program is retired Gunnery Sergeant Samuel Deeds, who was nominated by his wife for his unwavering commitment to his country. A diehard NASCAR fan, Deeds has always dreamed of one day working in the sport. In 2005, the valiant Gunnery Sergeant put himself in harm's way to save the lives of his fellow Marines, moving the others away from an explosive device that detonated in Iraq. His selfless actions saved the lives of many, but he was severely wounded by the blast, undergoing 30-plus surgeries and procedures in the wake of this disaster.
Three years later, while still recovering from his injuries, the war hero saved the lives of three individuals caught in a rip tide off the coast of North Carolina. For his bravery, he has received numerous awards, including a Navy and Marine Corps Medal, Purple Heart, two Navy and Marine Corps Achievement Medals, Combat Action Ribbon, a Military Outstanding Volunteer Service Medal and, now, the naming rights for historic Brickyard 400 at Indianapolis Motor Speedway – securing his place in the NASCAR record books.
"I've been a NASCAR fan for as long as I can remember, so the reality of having my name on a track with such rich history and meaning is beyond words," said Deeds. "I am so grateful to all of those who took the time to hear my story and vote for me. I can't wait to attend the race and dedicate that special weekend to all fellow servicemen and women who put their lives on the line every day."
VIDEO: Justin Moore "Heroes"

[jwplayer mediaid="19058″]
To commemorate the occasion, Big Machine Records and country music star Justin Moore, an avid supporter of the program, released the special song "Heroes." Crown Royal donated $1 to the Armed Forces Foundation (AFF) for every free download of the song, leading up to the Samuel Deeds 400 at the Brickyard that took place on Sunday, June 28. Visit CrownHeroesSong.com to download "Heroes" for free.
Other deserving heroes that were nominated for this year's Crown Royal program include Deputy Marshal Stephen Brady, American Widow Project Founder Taryn Davis, LAPD Officer Deon Joseph, and Firefighter & EMT Kenneth Kurth. Like last year, Mankind Unplugged participated in the ceremony with Crown Royal. Crown Royal presents The Samuel Deeds 400 At The Brickyard Powered by BigMachineRecords.com gives us a very real reason to raise our glasses.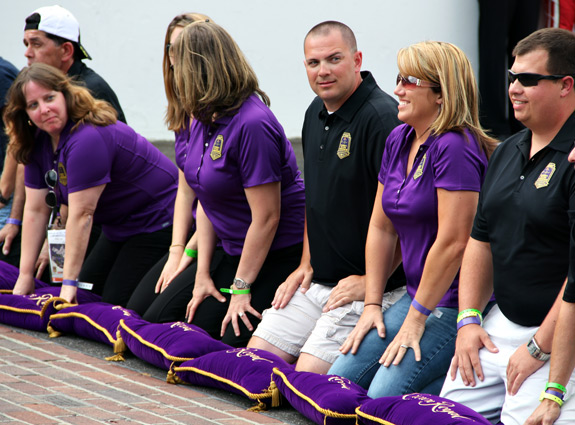 Tags Brickyard 400 Crown Heroes Crown Royal Crown Royal Heroes Project Hero Nascar Samuel Deeds