Sunday's Brickyard 400 marked the 20th anniversary of NASCAR's first visit to the iconic track and we were there – thanks to Crown Royal. Huge NASCAR fans we are, Mankind Unplugged was delighted when Crown Royal asked us to attend this year's race and participate in a scavenger hunt around the track. Of course we gladly accepted the challenge to be part of such a wonderful program and once we found out Super Bowl tickets were at stake, we knew we were in for an action-packed weekend.
For the past three years, Crown Royal has sponsored an annual NASCAR race as part of their "Your Hero's Name Here" program. We have been lucky enough to participate in the event two of those three years. Admittedly, we were out for revenge after our failure to capture the crown last year, but nonetheless, we were determined to have a "Super Weekend."
Last year we fell in love with NASCAR at Indianapolis Motor Speedway, and this year we celebrated our one-year anniversary. Let's just say we are still in the honeymoon phase. We celebrated with old and new friends (MANJr.com, Art Eddy, Francisco Lopez, StupidDope.com, StraightPinkie.com), dined at one of the best restaurants in Indianapolis, enjoyed some maple whiskey courtesy of Crown Royal, stayed at a cool hotel, met some of the crew (Tony "Smoke" Stewart's pit crew), enjoyed some country music (concert with Justin Moore), and like last year, we kissed the bricks. Great way to celebrate, right?
Super Weekend Pre Race
After a night of hanging out and sipping on some Crown Royal with 20 of the best men's lifestyle bloggers, we got a very early start the following morning. A NASCAR Saturday typically consists of qualifying runs and the Nationwide Series, so we were excited to get our first whiff (tire rubber) of what would turn out to be an incredible weekend. Once we arrived at the track, we picked up our credentials, including a media pass, a Hot Pass, and a VIP ticket to hang out in the Pagoda (VIP suits and control tower). If you don't know, having a Hot Pass at a NASCAR event is on par with getting the golden ticket to visit Willy Wonka's chocolate factory. Not available to the general public, Hot Passes are NASCAR-issued credentials given to teams, officials, and media. In our case, having a Hot Pass in pocket was the fuel that ignited our fanatical side for all things NASCAR.
Capturing The Crown
Armed and ready, we were off to the races and revved up to cross the finish line with Super Bowl tickets in hand at The Brickyard. This year we were paired up with Midwest Sports Fans, Nuclear Salad, Art Eddy (Yahoo.com) and our fabulous team captain, Travis from Taylor Strategy. Go #TeamTravis!
Crown Royal and Taylor Strategy spared no expense, even creating an app that housed our Capture the Crown scavenger hunt. The game and app were set up to uncover various tasks to complete in order for our team to win the ultimate prize. The scavenger hunt was designed to teach us about NASCAR's history, the Indianapolis Motor Speedway, and Crown Royal. With an entire year under our belt studying all things NASCAR, we were positive that our team would conquer these questions. Some of our tasks included: getting a re-tweet on Twitter from a NASCAR driver, taking a photo with the Indianapolis Motor Speedway President, taking a photo with a pit crew's sun glasses, and obtaining a military coin from a member of the Armed Services, to name just a few. Of course, my team captured the crown. Super Bowl, here we come!
Crown Heroes
This year's race bore the name of United States Marine Gunnery Sergeant Samuel Deeds, who was nominated by his wife for his unwavering commitment to his country. We had an opportunity to hang out with Sam, the other nominees, and Big Machine Record's country music singer Justin Moore throughout the weekend, and we must say that we were among some Crown Heroes! In fact, meeting these guys gave our VIP race weekend experience an entirely new perspective.
READ: NASCAR And Crown Royal Team Up to Name Their Top "Crown Hero"
A Little Bit Country
Before we captured the crown, Justin Moore – a huge supporter of Crown Royal's "Your Hero Name Here" program – treated us to a spectacular concert where we were treated as VIP guests. At the concert following the Indiana 250 NASCAR Nationwide Series, Justin cranked out many of his tunes including "How I Got To Be This Way," "Backwoods," "Redneck Side," "Bait A Hook," and his new song "Heroes," which was written in support of the Armed Forces Foundation. Justin wrote the song to honor everyday people, like Samuel Deeds, who don't always get the credit and recognition they deserve for their selfless acts of heroism.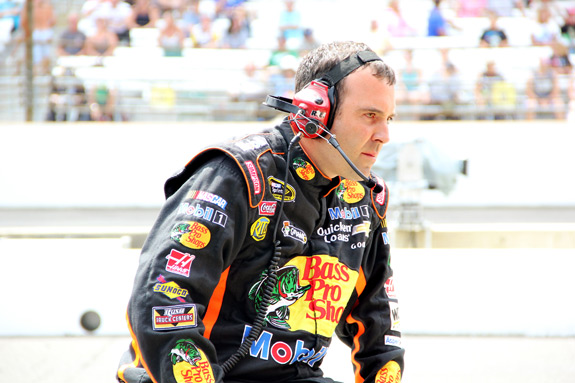 My Crew
With Day 1 in the books, we left the track on a country high. Day 2 was all about catching up with Tony "Smoke" Stewart. Remember our golden ticket, the all-access Hot Pass we got our hands on? Well, on race day we used it to get up close and personal with our good friend (in our head) Smoke and his pit crew. Right before driver's introductions, my team ventured onto the track to complete one of our tasks, a photo with a pit crew's sunglasses. Naturally, we set our sights on seizing this opportunity to meet the #14 team. And, yes, the mission was a success.
Roaming the Indianapolis Motor Speedway, we primarily hung out on pit row until lap 75, when the Capture the Crown scavenger hut resumed. Once it concluded, we went right back to the track where, for the most part, we stayed firmly planted next to the #14 team until right before the race ended. Here we had a chance to catch all the action and watch several infamous pit stops. Our guy didn't win the race, but he did have a top-10 finish, plus a member of his racing team took the checkered flag.
Kissing The Bricks
Ryan Newman set a track record the day before in qualifying, knocking Jimmie Johnson off the pole with a lap of 187.531 mph. He went on to win the Crown Royal Presents the Samuel Deeds 400 At The Brickyard. Jimmie Johnson finished second, Kasey Kahne third, and Tony Stewart, co-owner of Ryan Newman's team Stewart-Hass Racing, fourth. We were right there on the track as the winner took his victory lap and kissed the bricks, one of the most sacred traditions in NASCAR.
"It's a dream come true… I can't wait to push my lips on those bricks…." ~ Ryan Newman
Talk about up close and personal. After all the nail-biting action and VIP treatment, there's nothing quite like watching a champion touch the grand in gratitude. We can't wait to do it all over again at the Super Bowl!
For more information on the "Your Hero's Name Here" program, please visit Crown Royal's Facebook page Facebook.com/CrownRoyal. To learn more about the Brickyard 400 and NASCAR, visit NASCAR.com. And don't forget to tune into NASCAR's Sprint Cup Series race Sundays on FOX and please drink responsibly.
Tags Brickyard 400 Crown Heroes Crown Royal Crown Royal Heroes Project Hero Nascar Samuel Deeds