Imagine how cool it would be to design your own beer label. For a few lucky artists including Grammy-Award winning artists Kid Cudi, American fashion designer Marc Eckō, musician Willis Earl Beal, Date Farmers and the TM Sisters, the opportunity to be among an elite few who can claim to have their own beer label has arrived thanks to Beck's.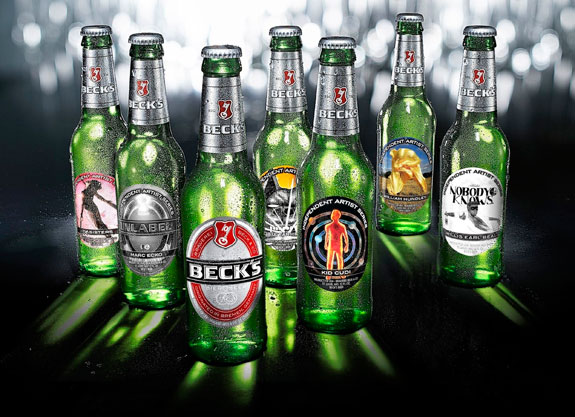 A long-time supporter of the arts and a champion of independent thinking, the Beck's Art Labels Program has given professional artists the opportunity to share their vision with the world by placing the artist's original work on more than 13.2 million beer labels. For 25 years, they have supported artists who make their own way in the world and who stand apart from the crowd. The six artists that were chosen to be a part of this year's Beck's campaign all offer something unique and we encourage you to watch the 'Live Beyond Labels' video below to learn more about them.
VIDEO: Live Beyond Labels Video
More about each artists participating in this year's Beck's Art Labels Program:
Kid Cudi is a Grammy-Award winning, gold-selling musician and actor. Cudi is a leader of the urban alternative movement. His hit single "Day 'n' Nite" laid the groundwork for his major album debut.
Marc Eckō is an American fashion designer, entrepreneur and artist who believes creativity is more about the journey than the destination. His art label features a photograph of an original sculpture that illustrates his process: Unlock, un-label.
Willis Earl Beal is a musician, songwriter and visual artist who has lived a colorful life, filled with outsider art and a demand to be heard. His art label embodies his music: Understanding how an individual doesn't represent the whole.
TM Sisters are a Miami sibling duo who works in digital video performance, collages, VJing, fashion pieces and video games. Their techno, topical aesthetic shines through in an art label that depicts an epic pose of a flying woman shooting beams from her hands.
William Hundley is an emerging photographer and artist with an original style that captures surreal imagery through simple means. His art label features a dynamic photo that invokes a sense of wonder and encourages questions.
Date Farmers is an artist team that echoes Mexican-American heritage rooted in California pop culture. Their paintings, collages and sculptures – often featuring the dog – highlight duty and responsibility, keeping as close as they can to the truth.
VIDEO: Kid Cudi Talks About Beck's

"It's especially engaging when art is unexpected – when it finds you when you're not looking for it," said Kid Cudi, Grammy-Award winning hip-hop artist and songwriter. "I want beer drinkers to pick up my bottle of Beck's and be surprised. I want them to think, explore and express themselves with their own art."
Tags Artists Label Beck's Beck's Beer Beck's Art Labels Program beer Beer Labels Design Marc Ecko Sponsored Post TM Sisters Willis Earl Beal