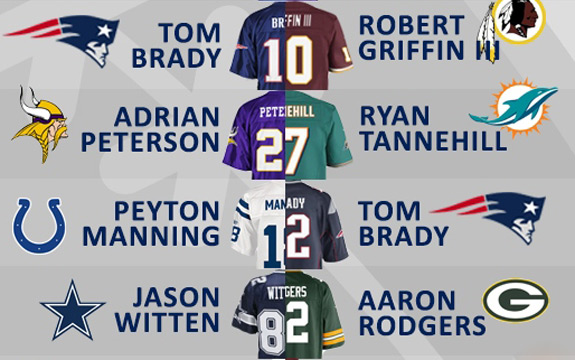 Over the years NFL jerseys sales have grown and changed in popularity. A breakout year like the one Colin Kaepernick had in 2012 can persuade fans to shell out hundreds of dollars just to wear their favorite players name across their back. In fact, according to Yahoo.com, Kaepernick is currently "the king of NFL jersey sales."
An authentic NFL jersey with your favorite team and player's name is always a treasured item for any man. We aren't quite sure the psychology behind the purchase of a new or vintage jersey, but we are sure it has everything to do with winning. Case in point: Earlier this month, TMZ Sports reported that Ray Lewis jersey was outselling Eli Manning and a brunch of other players, making it the 11th highest-selling jersey on NFLShop.com. We can almost guarantee the sh*tty year Eli had played a part in his jersey sales. No one likes a looser.
in 2008 the Cowboys had four top 10 jerseys. This year they have none. Not that they were winners in 2008, but it's safe to say fans were still reminiscing over their glory years. Sorry Cowboy fans – you are no longer America's team.
Below is Yahoo's list of top 10 most popular NFL jerseys compared to five years ago. We are glad to see Peyton Manning is still on the list. Did any of your favorite players make the list?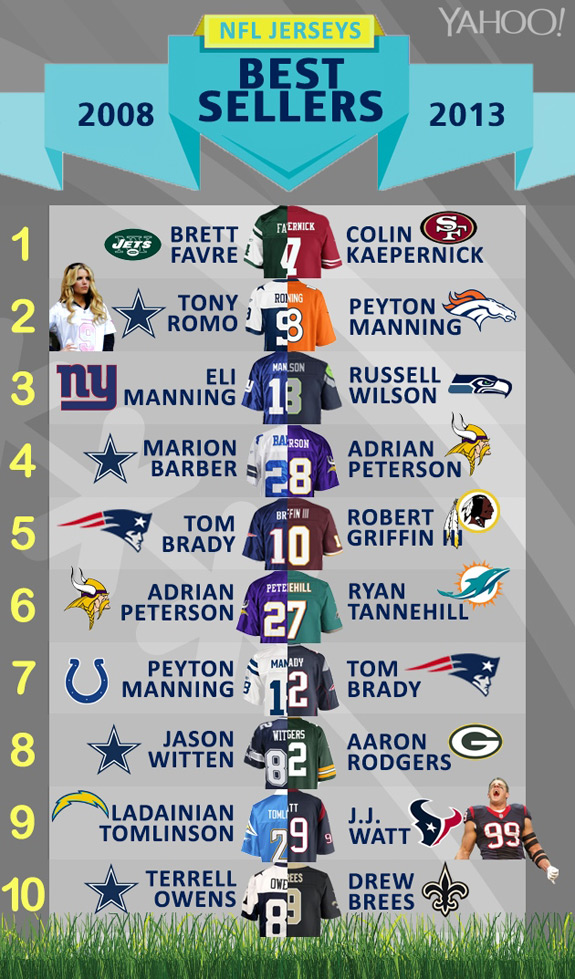 Unplugged via Baller Status
Tags Colin Kaepernick Football NFL NFL Jersey Top NFL Jerseys