Photo credit: Instagram
Don't call this wide receiver a diva; Brice Butler, the driven, passionate pro football player has cannonballed into the public eye. With his personal motto of "class, not flash," ready for anything and everything life has to throw at him, Brice has taken the NFL by storm since being drafted by the Oakland Raiders in 2013.
The 6-foot 3, 200-pound wide receiver has wasted no time making a name for himself on the gridiron. During his college career with the USC Trojans Brice made 41 receptions, running 554 yards and making three touchdowns. His rising star charted his way to fame through the Raiders and on to the Dallas Cowboys. Brice was supposed to sport the #12 jersey for the Arizona Cardinals through 2020 after signing on to be their newest WR, but just as quick as a snap happens in the NFL, Brice is back with the Dallas Cowboys for the 2018 season.
Football is in Brice's blood. A Georgia native, he grew up there as his father played as a defensive back for the Atlanta Falcons for more than a decade. Sportsmanship runs in the Butler family, with his brother Brenton playing pro basketball internationally. But there's more to this WR than just running yards and making touchdowns. Driven to excel and passionate about his faith, this wide receiver is proud of his other interests. He's both an avid golfer and loves rocking the turntables as a DJ. If he's not on the links or at the club, there's one more place he'll be: you can find him in the VIP seats at Fashion Week in Paris, indulging in his passion for clothes and fashion.
Brice has been counting coup and taking names like a pro for years, and with his star rising so fast and so far it's about time to find out just what makes him tick. To do this, we sat down with this up-and-coming football superstar to pick his brain about everything he's passionate about. Here's Brice in his own words, talking about what drives him on and off the field.
Photo credit: Instagram
[This interview was edited for clarity]
Tam: I know you ran track, but at what age did you know it would be all about football?
 
Brice: I was like 15 or 16, going into my 10th grade year, and I didn't have the year that I wanted as far as playing, and then I played basketball and ran track and all those sports were high demand–high priority in our school because the basketball  team was really good, and the football team was getting really good, and our track program was good–so I ended up deciding in the summer going into my sophomore year that I was going to stop playing basketball and just focus on things that was going to help me in football. My dad did track. Just being able to have time to do football camps and all that good stuff, so I would say when I was 15.
 
Tam: I grew up running track and playing basketball. I know a lot of football players and it's usually around that 10th, 11th grade where they made a decision to either pick one or the other, so I was just curious for you. I know your father was in the NFL, did you feel any pressure to play football because of your father?
 
Brice: No, not at all. I have three brothers and I was the only one that played football, so that kind of answer that question in itself. My dad didn't pressure any of us to play ball or play football. It was just…I saw the pictures that he had and he looked sweet in the pictures so I was like, "Man, I'm going to do that," so that's how it was for me. My brothers are basketball guys.
Tam: Are they on the pro level? 
Brice: My older brother play basketball overseas but that was it. My two younger brothers weren't as serious as we were in sports.
Tam: You talked about looking good in a photo — correct me if I'm wrong, but from everything that I've read about you, it's fashion, football, and you seem to be bitten by the golf bug, were you always a fashion guy, and if so, when did it come about, what's your brand?
 

Photo credit: Instagram
Brice: Yeah, I've always been into it. My dad was a guy who dressed well and he wanted us to look good too so, for me, I just picked that up. Obviously, when your parents are buying your clothes, you can't get everything that you want or that you pick out because it may be too expensive. When I was growing up, I remember Enyce was big, Fubu Platinum with Fat Albert on it–that was big, but you couldn't get all the cool stuff that you wanted like Jabo Jeans, which it was a big thing in the South at the time growing up so for me, once I got to college, moreso pros–I had my own money to buy stuff that I wanted to buy–that's when I started picking the things I've been wanting to wear. My favorite brands to wear is one of my close buddy's brand, Pyer Moss. His name is Kerby Jean-Raymond out of New York because his clothing is really fit to the athlete and his sizes fit, so an XL fits the way an XL is supposed to fit. I've got a couple of brands that I like but my favorite, I'd say, is Pyer Moss.
Tam: Are you still working with Kesha McLeod the personal stylist, and if so, how do you think she shapes your personal style? I know she works with a lot of other athletes.
Brice: Yeah, I still work with Kesha I actually just talked to her today, trying to figure out the plans for Fashion Week in Paris. I just started working with her since, I would say, October. I've known her for a couple of years, but I just started working with her so she's basically putting me on game as far as, "This is what you want to wear, this is your style, this is the kind of stuff that you need to wear when you go to an event where pictures are going to be taken and not that rather than wearing this because it doesn't fit," so, I'm starting to find out more of, I would say, my "clothing personality." I know what I like to wear, and I know what's easy for me. I'm a clean guy; I'm not flashy so I'm not wearing the Coogi sweaters with a bunch of different colors screaming out, "Look at me! Look at me!" I'm more so wearing that clean fit– black jeans, white button-up, maybe some black common projects or whatever; just a smooth look– and she's helping me piece together more of those looks so I can differentiate and have more variations of those looks.
 
Tam: That sounds like you like a clean, classic, timeless, type of look, so not necessarily all the latest, but something that's going to look well in a photograph 10 years from now.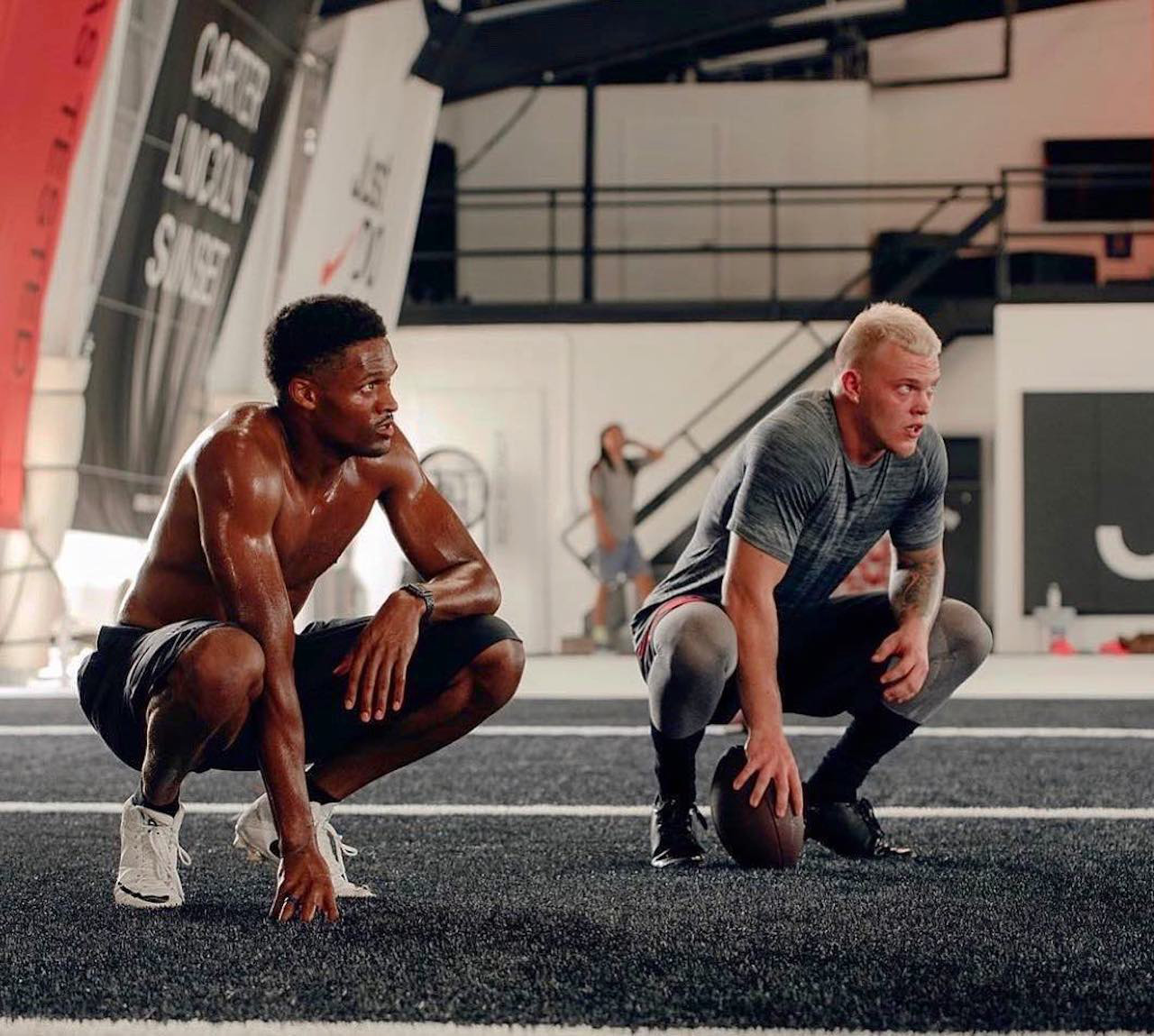 Photo credit: Instagram

Brice: Exactly
Tam: You're a Wide Receiver, wide receivers have this reputation as being "diva-like", do you think it's deserved, and, of course, excluding yourself because I know you're not going to say that's you're a diva, is the reputation is deserved?
Brice: I mean, yeah, it comes with the territory. As receivers, we like to say that we're the hardest working guys in the field that get the least amount of gratification for our work. And what I mean by that is, we all work year-round in the game, getting in the weight room, you're running, you're eating right, you're practicing all the time, you're tired and, Wide Receivers are like running track–you're running all the time. So, you're tired or whatever and then you go to a game and you might only get two passes thrown your way so you're like, "I work too hard to only get a couple balls thrown my way, so let me let somebody know how I feel about that situation," and when it gets to that point, everybody handles it differently. One guy might be loud and cuss everybody out, and the next guy might walk up to someone and be like, " Hey man, I'm on it. I need the ball. I'm winning. I'm open, come on, let's get it." Everybody is different so I don't fight when people say that because I know how it is as a receiver. A Running Back might not work out as hard as I might work out, but he's getting the ball like 20, 25 times a game because he's going to touch the ball a lot–especially the number one running back–but the receiver, even if he's the number one receiver, he might not touch the ball but two to four times depending on how the game goes. So that's where that "diva," I might not use that word, but it's like, "Nah, this is not how it's gonna go down because I put this work in, I need to see it when we get to the game." So a lot of people looking on, they're like, "Oh, they're divas," but if I'm not like, "I work too hard for this. I need the ball in my hands," that's how I'm trying to hit; it's the hardest position to play in football.
Tam: Okay. If you were a team owner, tell me, who would be your offensive dream team. I want you to name one coach, one QB, one wide receiver, one running back, and if you want to throw in a tight end, that's great, but they have to all be retired players
 
Brice: Okay, all retired. Good, you took the pressure off me. 
I'll go with a running back first, and my running back would be Gale Sayers. My quarterback would be–depending on the type of offense I'm running–if it was like a west coast offense, it' would be Joe Montana, and if it was like a run-and-shoot offense, it would be Warren Moon for sure, so it would be either one of those. I can't make a decision with those two; those two dudes are monsters, but for the sake of the team that I'm going to put together, let's go with Joe Montana. My receiver, obviously, it has to be Jerry Rice because I want to run the West Coast, so Jerry Rice and Joe Montana–that's easy. Tight End, since he just retired, I'll go with Jason Witten, and then my other receiver would be John Stallworth. Woohoo! Come on, I ain't gonna lose the game!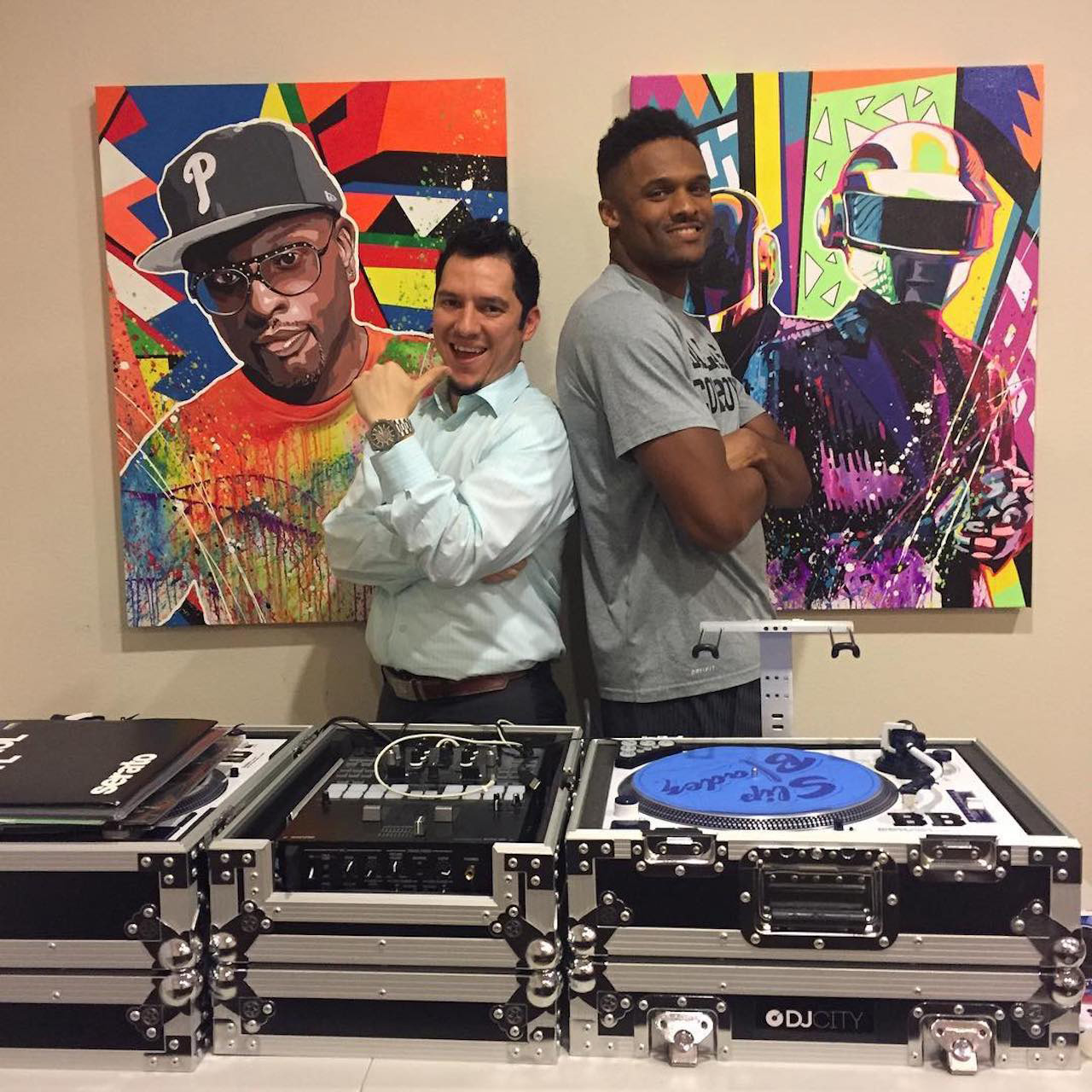 Photo credit: Instagram
Tam: I know you're known as DJ Duffle Bag. It threw me for a loop because I didn't look at you as a DJ, but as I started looking into it, I was like, "Okay, DJ Duffle Bag." What made you want to DJ, and how did you come up with a name and who's your favorite DJ?
 
Brice: First and foremost, it's the OG, Jazzy Jeff. There are a lot of great DJs out there but as far as the guy who I hear spin and I'd really want to like be like if DJ'ing is all I do, he would be the guy to model everything I do after–the type of music I play, how I'm cutting in songs, echo and all the sounds, HDF filter, everything. How he does it, the songs and the music, the style of joints he picks–like plate mixes–that's the type of music that I like to listen to so, Jazzy Jeff, OG, 100%.
The name "Duffle Bag," I got it my rookie year; it's not really when I first got introduced to DJ'ing because when I was in college, I would DJ at parties, in a sense. I had all the music on my computer and I would have to bring…the upper classmen would make me bring my iPad to parties. Obviously, I didn't know what to do or how to play music that people wanted to hear and how to keep a crowd going, so I would play songs that I liked, and I kind of learned from early that you can't play the songs that you're just listening to you, you're on the regular line and you need to play the songs that work for parties, so I just started to think and learn that way.
In college, I started working with a wedding DJ and he didn't have turntables, but he had a mixer, and he would teach me how to cue songs up, get the right BPM so you can blend in the song right, and that's how he would play songs. And he had this old-school joint and he had CDs and junk drives where we could play this stuff. From there, my teammate bought a Numark controller and I was on that more than he was. I was fascinated by it because I've always been into music. I always love music, and towards the end of my college stint I was in the DJ booth working with this guy, so I was immediately fascinated by it; I was on it more than him. The guys were going out at night and I was trying to figure out how to work this machine, ended up getting my own controller, and then, now, I'm in a different sphere. Now I'm trying to meet DJs, or people who know DJs. I'm trying to get to the radio stations to meet people.
Tam: CDJ's or turntables?
Brice: I didn't have CDJs, I had a controller. I had a Pioneer one-piece thing with an electronic spinner in the middle–but they weren't CDJs because it wasn't like I had a CDJ here and a CDJ there and a mixer, it was just that one piece, the controller. Then I got my own turntables and went on from there. I got some techniques and then I went to Europe and I met DJ Oak who basically taught me how to read bars, know how many bars are in a hook and then drop a song based off that so I learned how to blend for, like, the club.  Then I came to Dallas and my guy had a school–and I went to his school and he honed my craft a little bit; he tightened my game up, tighten my blending skills up, helping me loop out tracks, just to kind of turn my variation game up a little bit.
 
And then I started doing gigs in Dallas. And once that happened, a novelty year, 2015, where we had a really good season, I was getting booked every weekend–people were trying to get me booked during the week and I'm like, "Nah, I played football bro, first. I can't come DJ your spot Friday night and I got a game on Sunday." you know what I'm saying.
Tam: Yeah. The best DJ'ing show I ever saw was Jazzy Jeff and DJ AM
Brice: Oh, that's a long time ago
Tam: Jazzy Jeff and DJ AM did a four-turntable show in about 2008…2009; that was the best ever. 
Brice: I bet it was.
Photo credit: Instagram
Tam: So, your favorite city to turn up, favorite city to visit for an away game, and favorite city for fashion inspiration?
 Brice: Well, two of those got knocked out with Paris; Paris is one of my cities to turn up so far. When I go out there for Fashion Week, man, they're partying at five o'clock in the morning; there's good vibes. It's not like how it is here where you go to a club and if you don't play anything that's within a year old and like 70 beats per minute and you can't understand what the people are saying half the time, it's like they don't want to listen to it.
Out there, it's seems like almost every club is open format, so even if you're going to a hip-hop club, I can spring in some Jenny from the Block, you can spring in some old Mason, Puffy, and everybody vibes with it; it's like they know more about our rap history than these kids here nowadays. I'm not going to get too deep into it, but nowadays, the rap game, the hip-hop game today is diluted in a sense because the new consumer now is not a consumer of rap music like ten years ago so, like, now, they don't care about lyrics and good music. I don't really enjoy listening to rap now unless it's like, Jay Cole, Jay Z, guys like that. I don't really like listening to the new guys.
 
Tam: I talk NASCAR every day. It's the craziest, weirdest thing when people meet me, they're like, What! How did you get into NASCAR?" I'm like, "Don't ask." I always like to ask people, "What's your ultimate car like? What car do you drive, and what car would you drive if you can have any car in your garage?"
Brice: That's hard because I like sports cars, but I don't like them because I'm too big for them so like the guys that drive Porsches, I'm more of a sedan type of guy or a nice truck. I really like the Benz, like the S Class; if I make enough money, I'm going to buy an S 65. I have the 550 right now, and that was like my dream car.  I don't really care for the Bugatti, the 911, or the Ferrari, those aren't my type of cars–kind of like my fashion game–I just like to keep it smooth and executive; it's clean and it's clear, not like, "Oh, my God! You saw that guy?" I don't have, like, the chrome Ferrari or the chrome Lamborghini.
Tam: So, you're not flashy. No AMG GT Mercedes for you?
Brice: Nah. When I was DJ'ing, that was my thing–being out in the club, being out in the open where people just see me and they know this is me, that was like my version of flash.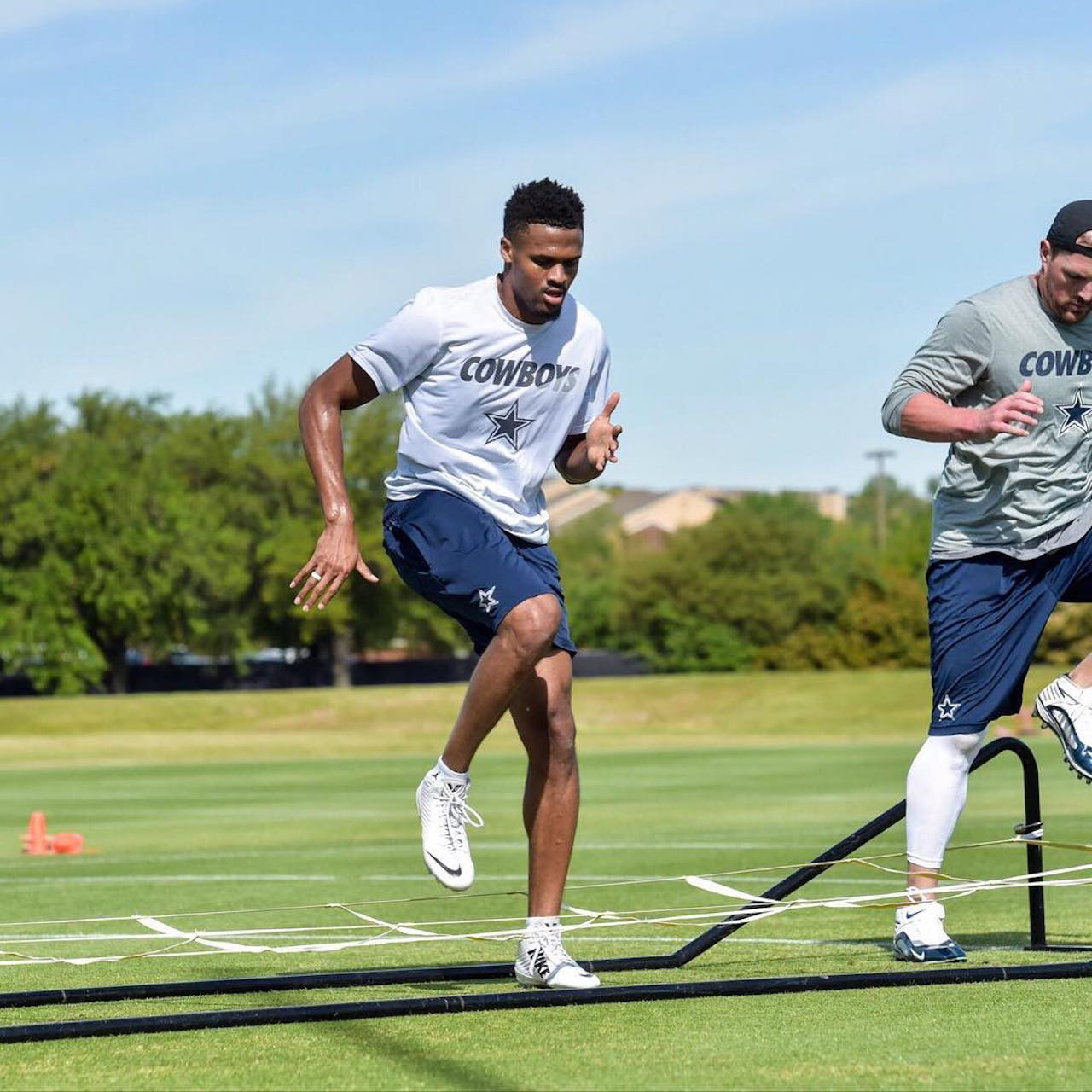 Photo credit: Instagram 
Tam: In one quick sentence, tell me, who is Brice Butler?  What's your personal brand? Everybody is about their brand, so what is your personal brand?
 
Brice: That's a good question. Brice Butler is the quintessential person when it comes to being clean, chic, and classy, but knows how to have a good time at the same time and that's for everything I do.
Tam: What's the one thing people would be surprised to know about you?
 
Brice: I would say, in the beginning, it was the DJ'ing because when I would tell people that I DJ, especially being an athlete, everybody would be like, "Yeah. Okay. Whatever. Yeah, right," and I used to be like, "No, I'm dead serious. I do this and I'm good at it. I'm not joking."  And I almost used to take offense to the fact that people used to not take me seriously because the things I do, especially golf, something that I like, I'm going to work at it so, I'm going go get a golf coach, I'm going to get a DJ coach, I'm going to learn how be good so that once I start telling people that I do it, the will see that I really do this. Once I got to the point where I was confident telling people that I DJ, I used to take offense to the fact that people will be like, "Yeah. Okay. Whatever," and I'm like, "I've got this SoundCloud link. I'm going to send it to you and then you can tell me what you think.
 
But outside of that, I have a fear of snakes, and I have a fear of spiders; I hate both of them. Even though I know spiders do well for us getting insects away, I do not like the way they look. And snakes, I do not like the way they look.
Tags Brice Butler Dallas Cowboys DJ Duffle Bags Football Interview NFL Sports