Jr. Nation has even more to celebrate. After winning his second Daytona 500, Dale Jr. kept good on a promise he made to Michael Waltrip by officially joining Twitter. Dale Jr.'s account, which had 230,000 followers going into the Great America Race, was inactive for a while. Although the account has been set up for some time, Dale Jr. never sent a single tweet. All that changed shortly after he left Victory Lane at the 2014 Daytona 500.
Tonight seemed like as good a night as any to join Twitter. How is everyone doin? #2XDaytona500Champ pic.twitter.com/4k4JVA7fG9

— Dale Earnhardt Jr. (@DaleJr) February 24, 2014
Twitter almost exploded last night after Dale Jr. won Daytona. Many fans had mixed emotions about rookie Austin Dillon making his Sprint Cup Series debut in the No. 3 car once driven by Dale Earnhardt Sr. It was the first time since 1996 that the No. 3 would lead a lap to green. Dillon's historic return in the No. 3 along with taking the pole, helped celebrate the Earnhardt legacy. With his father's car on the track, Dale Jr. brought the win full-circle from his father to a second generation of NASCAR success. Surely fans at the track felt the iconic driver's presence smiling down on his champion son.
Look who I ran into at the Daytona Experience. Dad's Happy! #2XDaytona500Champ pic.twitter.com/I0zf5PLfr5

— Dale Earnhardt Jr. (@DaleJr) February 24, 2014
The race itself was marred by several multi-car accidents as well as the biggest rain delay in the history of the Great American Race. Prior to a red flag rain delay on the 38 lap, several unusual things happened. Danica Patrick collided with Marcos Ambrose on pit row, and Matt Kenseth spun out and actually pitted backwards. After the drawn-out delay of 6 hours and 22 minutes, it seemed to be all about NASCAR's most popular driver and star of the show, Dale Jr. Earnhardt dominated the race, leading six times in 54 laps – more than any other driver.
Since winning Daytona and officially joining Twitter, Dale Jr. has sent four tweets, including two selfies of the race star. Now that Dale Jr. is tweeting, it should be interesting to see how his loyal fans will react. With each tweet, more and more fans were buzzing about the account's credibility.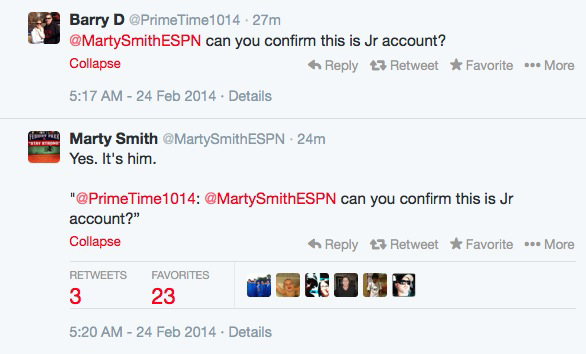 If you're wondering, or if you were simply tired of using the hashtag #DaleJr, Twitter has officially verified that @DaleJr has made his debut. These days, you can find the Daytona 500 winner driving something brand new – conversations. Tune in to Twitter to get social with one of NASCAR's most well-known names.
Tags Dale Earnhardt Jr. Dale Jr. Dayton 500 Daytona Nascar NASCAR Daytona 500