Each year, NASCAR is never short of storylines and as the sport welcomes its biggest rookie class in 20 years, this might absolutely be the year of the rookie. NASCAR's class of 2014 will see eight talented and spirited drivers, including rising star Cole Whitt, battle to take home the coveted Sunoco Rookie of the Year award. Whitt is definitely one to watch. With so much talent on the track this season, he'll have his work cut out for him, making this a thrilling year for spectators.
Cole Whitt made his Nationwide Series debut in 2010 for the now defunct Red Bull Racing team and later raced for JR Motorsports, which is owned by Dale Earnhardt Jr. He will make his Sprint Cup Series debut driving the No. 26 Toyota Camry for Swan Racing, which is partly owned by four-time Super Bowl Champ Bill Romanowski. Speed Stick GEAR and Rapper 50 Cent's SMS Audio will join Swan Racing as sponsors of the No. 26 car. Thanks to Speed Stick GEAR, which just launched their new line of antiperspirants designed for advanced performance, Whitt's experience during this year's Dayton 500 will be chronicled in a multi-part documentary. With all that impressive support, Whitt is well on his way. Some would say that Whitt's career has been ingeniously designed for him to win, but despite his past success, being a NASCAR rookie is no easy task, impressive resume or not.
LOOK BACK: 2013 NASCAR Daytona 500 Recap: Jimmie Johnson Wins, Danica Makes History, And Erin Andrews Disses 50 Cent
The 22-year-old qualified for the Daytona 500 in the final lap of his two-lap qualifying effort. He is among five other rookies making their Daytona 500 debut. Despite competing in one of the toughest rookie classes ever, which includes the much talked about Austin Dillon and Kyle Larson, one would be remiss not to have Cole Whitt at the top of their list as a worthy contender for NASCAR's Rookie of the Year honor.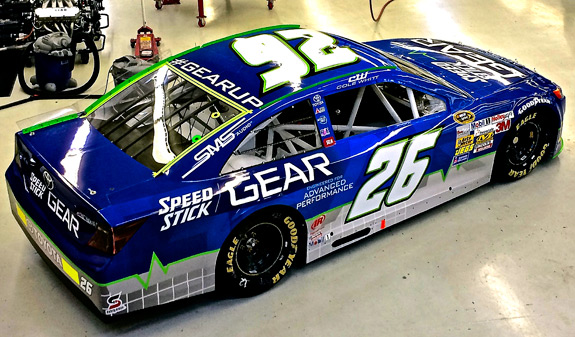 On the heels of his first Daytona 500, we were able to catch up with Whitt to discuss his sponsorship with Speed Stick GEAR and to talk about all things NASCAR. With his fresh enthusiasm, he reminds us of all the reasons why we love this sport and why we'll watch with our heart's pounding as we root for this exciting newcomer.
Tam-Star: What made you decide to get behind the wheel and become a NASCAR driver versus possibly working under the hood or in the pit?
Cole Whitt: That's something that could still always be an option for me. I've always been a mechanical driver and always liked the technical side of it. I enjoy that part of it. So, you never know, you know racing might not really work out. What made me start racing would be family, mostly. My cousin who helped me get started in racing, my dad and my grandpa all race. My dad played a big part in my racing career and getting me to where I am today.
Tam-Star: What is it like being a rookie driver in a sprint cup series?
Cole Whitt: Being a rookie in the Sprint Cup Series is pretty crazy. You definitely feel the difference in the garage areas when you walk in it's just something different compared to the Nationwide Series. When you go in there it's just a whole other stage. Everything about that is pretty exciting and we got one of the biggest rookie classes I think you've ever- we've seen a long time in the Sprint Cup Series. It's some of the strongest talent in our rookie class that you've seen in a long time. To be part of that is an honor and it's just pretty exciting.
Tam-Star: Would you say that the garage has been the biggest transition from Nationwide to the Sprint Cup Series?
Cole Whitt: Probably, it feels like it to me.
Tam-Star: I'm going to throw something back at you from your Nationwide Series Days. What was it like driving the number 88 in the Nationwide Series and working with Dale Jr.? Did you ever feel added pressure because you were driving for Dale Jr.?
Cole Whitt: Yeah, I think I did feel a lot of added pressure that year, and I probably let the pressure get to me more than I should have. I actually learned a lot from that year and I had a lot of growing through that and you know, it's for the better, it's helped me a lot to where I am today. It helps me handle situations that I'm in now so, definitely for sure I felt pressure. But at the same time I also learned probably the most in that one year than I have in a long time.
Tam-Star: If you only won one race, which hopefully you'll win multiple races this year, what race would you hope to win? I'm going to give you three options: Daytona, Talladega, or The Brick Yard.

Cole Whitt: Those are all tough. I'd like to have all them, but probably I'd say Daytona right now.
Tam-Star: Daytona is always the best one to win.
This is a hot topic right now in the NBA, so I'm going to put a spin on it and make it a NASCAR thing. Who would be on your Mount Rushmore of NASCAR drivers? Who would be on your of top four drivers of all time drivers?
Cole Whitt: I'd probably have to put, obviously Dale Earhart Sr., Richard Petty- the King, Dale Earnhardt Jr., and Jimmie Johnson.
Tam-Star: Since we are talking about legends, I got to ask you about the No. 3 car. True NASCAR fans have mixed feelings about the No. 3 car returning to the track. How do you feel about Austin Dillon driving such a legendary car, as well as putting the car on the poll for Daytona?
Cole Whitt: I think him being in that car is good. You know, obviously him putting it on the poll just has to do with their company and what they're doing. All of the RCR cars [Richard Childress Racing] are very fast down here this weekend, but at the same time, I think that the No. 3 coming back for me doesn't have any feelings. Austin deserves his shot, he's won his championships, and that number is particularly to their family over anything. You know for me I think that it's no problem; I think it's good for our sport and I think overtime people will see that also. But, you know I also am proud of our team and what we're accomplishing and getting you know, our cars as good as we can and getting a new sponsorship with Speed Stick GEAR and everything that we're doing.
Tam-Star: I wanted to talk a little about Swan Races and your sponsorship with SMS Audio Headphones. How do you feel about making your Sprint Cup Series debut kind of associated with 50 Cent? Were you familiar with him before the sponsorship?
Cole Whitt: Yeah, I've been familiar with him and obviously how famous he is. The SMS Audio is a great sponsorship, a great tag on. I'm excited too; he's going to be down here for the Daytona 500; excited to meet him and be around him and start a relationship with him. I'm really excited about what our team is doing to grow as a team and take on the two rookies. And I'm excited with our Speed Stick GEAR sponsorship with that coming on board, probably the biggest thing that we've had happen to our team and look forward to progressing that into a real good sponsorship the rest of our career.
Tam-Star: Awesome! Last year, I had a chance to hang out with Les Unger and your Toyota Racing family down in Charlotte and while meeting Kyle Busch, I also met a couple who named their kid Kylie Busch. What has been the craziest thing a fan has done to you or something that you've witnessed that has just been a little bit too much?
Cole Whitt: One thing I really thought was strange was when people want you to sign money just because I think writing on money is kind of weird, it's just weird to me. Also I've had to sign like shoes. I think someone had me sign like a boot before. Stuff like that its just kind of weird.
Tam-Star: What do you think about all the new changes that have been made to the Chase for the Sprint Cup format now that there's a big emphasis on winning?
Cole Whitt: I think it's a good change. What's kind of cool about it is that it gives everyone a shot at it. If we get a shot at winning a race, were right there in the middle of the Chase now. You could have a race where maybe you crash and it's not going to take you necessarily out of the points race. So, it puts emphasis, like you said, back on racing for the win and that's what's kind of most important in our sport. It's just different and I actually kind of like it. I mean it's going to be pretty exciting.
Tam-Star: If you were on a two man racing team, who would you want on your team: Darrell Waltrip AKA Jaws, Richard Petty AKA The King, or Dale Earnhardt of course better known as The Intimidator?

Cole Whitt: That's tough, but probably Dale Earnhardt for sure would be my first pick and probably The King would be another one for sure.
Tam-Star: Who do you think has the coolest nickname?
Cole Whitt: I'd say The Intimidator is probably one of the best ones.
Tam-Star: What would you be doing if you weren't a NASCAR driver?
Cole Whitt: I probably would be working the sport as a mechanic. I like the technical side of racing, so just working on the cars would probably be my second thing.
Tam-Star: What would people be surprised to know about you?
Cole Whitt: Everything I talk about pretty much is who I am. I'm mostly into fitness, so if people see me on the racetrack maybe they don't understand that I spend a lot of time in the gym and take my physical fitness really seriously.
For more information on Cole Whitt, please make sure to visit his official website www.ColeWhitt.com. To learn more about Speed Stick GEAR and their multi-part documentary series about Whitt's rookie experience during this year's the Daytona 500 take the jump over to www.SpeedStick.com.
Disclaimer: This post has been submitted to a NASCAR sponsored program
Tags 50 Cent Cole Whitt Daytona Daytona 500 Nascar NASCAR Daytona NASCAR Driver NASCAR Rookie Speed Stick