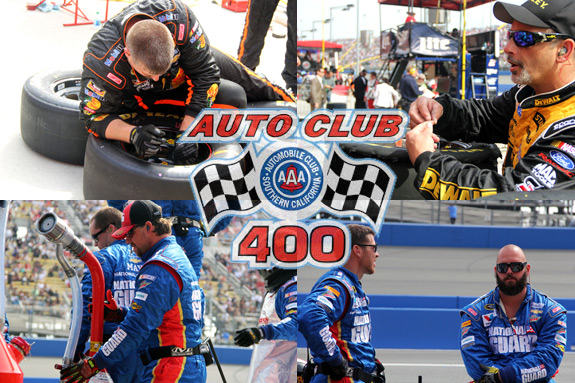 As soon as NASCAR released their 2014 schedule, I marked my calendar. Although I have been to my fair share of NASCAR races, it would be my first time at my home track, the Auto Club Speedway in Fontana, CA. Fontana is a far cry from Hollywood, but that didn't stop some notable athletes and entertainers (or me) from making the hour-long drive from Los Angeles to hang out with NASCAR's best. Well-known celebrities in attendance included Actor Terry Crews (Expendables, Everybody Hates Chris, Old Spice Commercials), Anthony Anderson, Flex Alexander, Asher Roth, Jenny Johnson, and former WWE and WCW star Bill Goldberg.
Billy Ray Cyrus –nowadays well known as Miley's dad– also delighted fans as he hit the main stage for a pre-race concert. If that wasn't enough, The Great Gonzo from the legendary Muppets crew graced the track with his presence. Former NFL quarterback now FOX Sports Live analyst Donovan McNabb made an appearance at the track as well. If you recall, Donovan stirred up controversy with NASCAR nation when he said he didn't consider Jimmie Johnson an athlete. When asked about this, he said he was sticking to his story.
After I checked out all the famous folks during the pre-race action and walked the grid before the engines fired, I staked out a spot on pit road. Thanks to the good folks over at Valvoline, along with the help of NASCAR, I was able to score a hot pass to the sold-out race. If you aren't familiar with a hot pass, having one affords you the opportunity to hang out in the garages before the race and on pit road during the race. As I made my way down pit road, I observed a rather cool dude in Dale Jr.'s pit guzzling one of the new Mtn Dew Kickstart shortly after the race started. It was at this moment I realized it would be interesting to observe what most of these guys do during the race, which can span hours. As I walked up and down pit road, I paid attention to how people passed the free time during the race. Don't get me wrong, these guys work hard. But during the down-time, it seems everyone has his own way of enjoying the NASCAR action. Check out my photos, which capture a behind-the-scenes look at life around the Auto Club Speedway.
READ: Sights & Scenes From NASCAR Champion's Week In Las Vegas [35 Photos]
Wondering who won the race? Kyle Busch, driver of the No. 18 Toyota, won at Fontana for the second straight year holding off his brother Kurt Busch and rookie racer Kyle Larson. Larson had his big day Saturday, when he won the TreatMyClot.com 300 Nationwide Series race and saw victory lane for the first time in his career.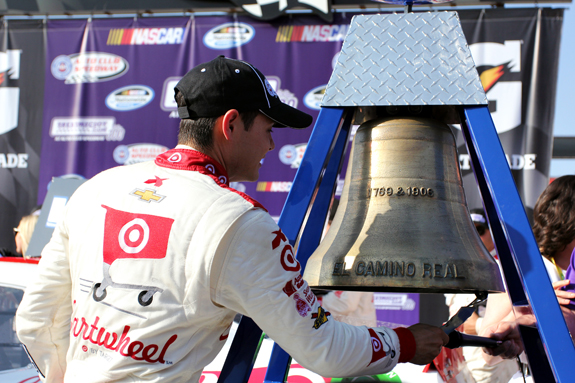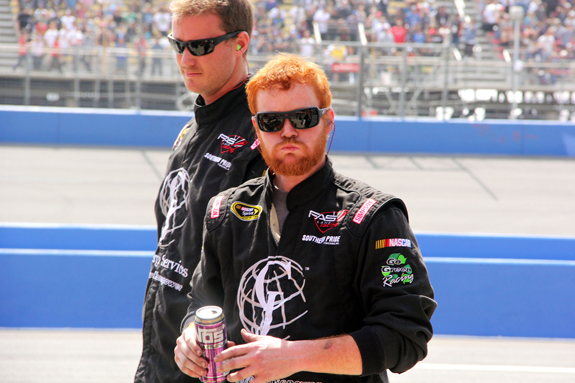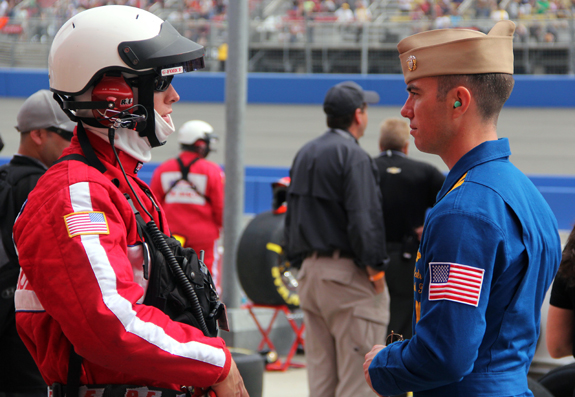 Disclaimer: This post has been submitted to a NASCAR sponsored program
Tags Auto Club Auto Club 400 Kyle Busch Kyle Larson Nascar NASCAR Photos NASCAR Pictures