The winter months are tough for everyone– even the most macho of men. It's a terrible time of year for skin and hair. From chapped lips to rough hands, the lack of moisture in the air and the frigid temperatures will do some damage despite bundling up to brace the cold. By February, not even the most well groomed guy can escape the mean effects of Mother Nature. Before you become a victim of winter blues – or worse – bad hair, check out these three men's products to revamp your winter grooming routine.
PARLOR
Launched by celebrity hairstylist Jeff Chastain, PARLOR is a collection of multitasking styling products. Inspired by his signature practice of "product cocktailing" to develop a range of versatile formulas, every formula is "cocktailed" to provide multiple benefits in one easy-to-use product.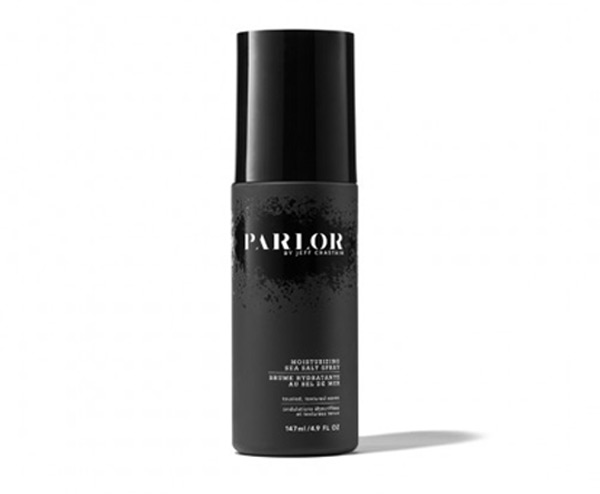 Product To Try:
PARLOR by Jeff Chastain Moisturizing Sea Salt Spray
Bottling the effects of that salty air, this moisturizing sea aalt spray offers instant volume and a tousled texture. Sweet almond extract infuses strands with softness, fullness, and brilliance, while vitamin-rich algae extract nourishes and protects the scalp. Adding to this spray's addictive nature is the scent of ripe peach, fresh-cut grass, and white woods. PARLOR is currently available exclusively on Birchbox.com. RETAIL $24
Cliff Original
Cliff Original produces all natural men's grooming products including beard balm, beard oil, hair wax, face scrub and more. Their mission is to provide the highest quality all-natural men's grooming products possible. All of the ingredients in their products are locally sourced and hand selected to help you look good and feel good. The brand was created by a guy who wanted to honor his "Granda Cliff," so make sure to take the jump to their website to learn more about the compelling story behind Cliff Original.
Product To Try:
Face Wash Brick – Tea Tree
Face & Beard Wash Brick is a beard shampoo and beard conditioner in one. This special soap lathers up nicely and has a great airy scent of Tea Tree. The Beard Wash cleans and deeply conditions your beard using organic oils. Available via www.clifforiginal.com. RETAIL $9.99
V76 by Vaughn
V76 by Vaughn created by Vaughn Acord celebrates the tradition of men's grooming with an American sensibility. The sophisticated collection offers must-have classics updated for the modern man with an effortless, uncomplicated approach. Vaughn Acord, one of the most sought-after men's grooming experts in the world, created this line of men's products tailored to meet these needs. Vaughn's client list includes some of the most well known names in the world, including Bruce Springsteen, Richard Gere, Daniel Day Lewis, Tom Brady, President Bill Clinton, Jeff Gordon, Ashton Kutcher, and Al Pacino. The V76 by Vaughn collection focuses on the whole man, including hair, shave, face and body. Made with American-sourced ingredients, all of the V76 by Vaughn products are available online at www.v76.com.
Product To Try:
Energy Wash Shower Gel
A hydrating blend of kukui and jojoba oils combines with the detoxifying benefits of chamomile and ginger extracts for a purifying body wash, which cleanses the skin while restoring natural moisture levels. Available via www.v76.com. RETAIL $20
Tags Birchbox Cliff Originals grooming Jeff Chastain Men's Grooming PARLOR V76 by Vaughn Vaughn Acord