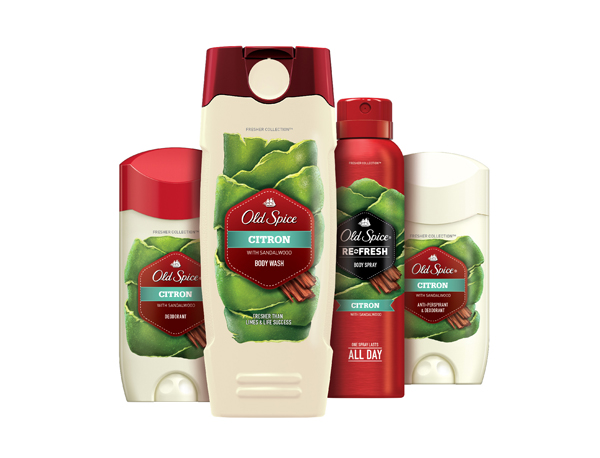 The good folks at Old Spice are at it again, and this time they want to help guys like you smell MANLIER, FRESHER and even BETTERER. To help you smell better than nature, Old Spice launched three new scents inspired by the freshest ingredients in nature – Timber, Amber and Citron. These new fresh scents complement the brand's already wildly popular Fresh Collection, which includes Fiji and Delani. The three new masculine scents were born from groundbreaking research by leading neuroscience firm Innerscope Research. They proved what most of us women already know – the fresh scent of the great outdoors has the power to calm the mind and body.
VIDEO: Old Spice | Fresher Collection | Betterer than Nature
[jwplayer mediaid="22901″]
A hundred males, ages 18 to 34 years old, were given high-tech tests a lot like lie detectors and facial coding techniques used by intelligence agencies. Comparing the emotional response after smelling Fresher Collection scents with natural and neutral scents, scientific data shows that Old Spice Fresher Collection has the transformational powers to take a man's brain to the great outdoors. The Old Spice Nature Study showed that smelling Old Spice Fresher Collection makes people smile significantly more than smelling neutral scents. It also relaxes them as much as breathing in some fresh air. For the ladies reading this, the findings also showed that the Fresher Collection's new scents are significantly more likely than neutral scents to make him think of masculine activities, such as chopping wood or rock climbing. Women may not be scientists, but it's safe to say we love a man with an irresistible aroma and an affinity for outdoors adventures.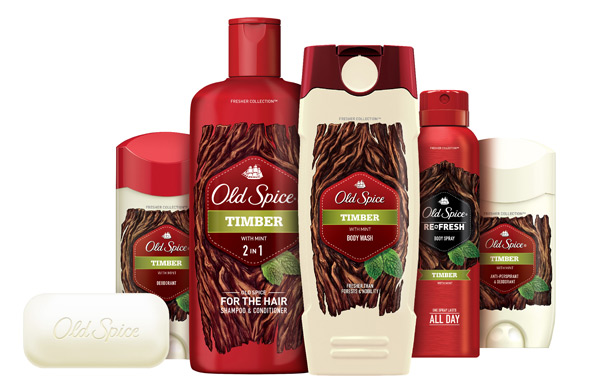 Fresher Collection scents include:
• Timber – Herbal base notes complemented by fresher scents of woody timber and leafy mint. For true lumberjacks, the scent of Timber is newer and fresher than forests and nobility.
• Amber – Tap into your exotic side with Oriental and gourmand base notes with hints of seaberry, amber and molasses. For true explorers, the captivating scent of Amber is newer and fresher than tree sap and danger.
• Citron – Get a whiff of green base notes with an invigorating mixture of citrus, lemongrass and sandalwood finishing scents. For true captains, the scent of Citron is fresher than limes and life successes.
• Fiji – Escape with refreshing juniper and blood orange mixed with base notes of warm woods, amber, coconut and sweet musk. Fiji smells like palm trees, sunshine and freedom, marooning your body on a pristine tropical island and leaving you feeling fresher than coconuts and daydreams.
• Denali – Freshen up with spices, rosemary and lavender mixed with base notes of creamy vanilla, rich amber and sandalwood. Denali smells like wilderness, open air and freedom, offering a snowy crisp scent worth the man and yak power required to climb the tallest of mountains.
All five Fresher Collection scents are available in anti-perspirant/deodorant, deodorant, body wash and body spray. Timber and Fiji also are available in shampoo and bar soap.
Because we want to help you smell as great as nature, we are giving away an Old Spice Fresher Collection Kit. If you are interesting in smelling Fresher and Betterer, all you have to do is follow us on Twitter @Man_Unplugged and send us the following tweet:
Hi @Man_Unplugged I want to smell fresher and betterer with @OldSpice new Fresher Collection
We will choose one lucky winner on Friday, March 13, 2015. Yes, your luck can change on Friday the 13th. Winners will be notified by email.
The Fresher Collection products hit retailer locations nationwide last month, so make sure to look for them. For more information on Old Spice Fresher Collection, visit OldSpice.com and make sure to follow them on Twitter (@OldSpice), Facebook (Facebook.com/OldSpice), and Instagram (@oldspice). You can also follow the hashtag #oldspice. And don't forget to subscribe to their YouTube channel (YouTube.com/OldSpice) for hilarious and highly informative videos on how you too can smell… well, FRESHER.
Disclaimer: This giveaway is sponsored by Old Spice
Tags Giveaway grooming Men's Grooming old spice Old Spice Deodorant Old Spice Fresher Old Spice Fresher Collection