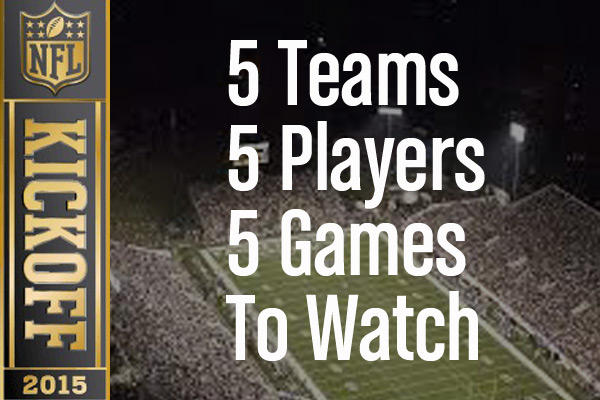 The NFL released the full 2015-16 regular season schedule and while there are many games to be hyped about, we thought we would highlight some teams, players, and games that are a must watch. Below are 5 teams, players, and notable games that we think deserve your attention as you embark upon the new season.
5 Teams To Watch
Dallas Cowboys
Why: They are America's team and it's all about Jerry's world. Enough said.
Seattle Seahawks
Why: The Seahawks aren't the defending Superbowl Champs, but the Legion of Boom can be quite exciting to watch. It should be very interesting to follow their journey as they attempt to return to the Super Bowl for the third year in a row. Whether they can recover from bad play calling that prevented them form repeating as Super Bowl Champs last year is up for discussion. You know the call we are talking about. Someone get Pete Carroll some Skittles.
New York Jets
Why: Without Sexy Rexy it should be interesting to see what the J-E-T-S are capable of doing. The Jets immediately lost all their bravado when Rex Ryan left. From Bill Parcells to Herman Edwards and of course Rex, most of the Jets swag in previous years has solely come from their coaches. Without a smooth talker at the helm, we hope the Jets' stepchild syndrome won't be a factor.
We don't expect for the Jets to make the front page of the Daily News, but then again they did acquire that guy Revis. Darrelle Revis has already made headlines by expressing his wishes to accompany his former team (New England Patriots) to the White House to meet President Obama in celebration of their Super Bowl win.
Buffalo Bills
Why: For the same reason we listed the Jets as a much watch team, the Bills now have Mr. Bravado, Rex Ryan. Either Rex is going to prove to be the defensive mastermind he is or become the laughingstalk he was while in New York. Either way, Rex and the Bills should be must watch TV.
Cleveland Browns
Why: There is only one reason to watch the Browns: Johnny Football. Who doesn't want to be in the first row to watch the train wreck or road to redemption that will be Johnny Manziel. With all the talk of the Browns trading up for Marcus Mariota in the draft, things could become really interesting.
5 Players To Watch
Jameis Winston
Why: Should the Tampa Bay Bucs draft Jameis Winston with the number one pick? Who knows. Regardless of where he goes, the Jameis Winston Show will be equivalent to the Ringling Bros. Circus. Get your popcorn ready.
Johnny Manziel
Why: Can Johnny be successful in the NFL? Better yet, can "Johnny Manziel" overcome "Johnny Football?" Are we watching another Todd Marinovich in the making? Will h surfer from the star in college and a bust in the NFL syndrome? The upcoming season should be really interesting.
Tim Tebow
Why: IF (a big what if) he makes the team… Need we say anything else? Are you Tebowing yet? Let's take a moment as we imagine the memes and foolishness that is sure to ensue.
Robert Griffin III
Why: Ohhh RG3. It's do or die for him. He no longer has Mike Shanahan to blame and Jay Gruden has made it clear, he is not really wanted in the nation's capital.
Peyton Manning
Why: He is Peyton. Remember, this guy may not be box office in the post season, but he is money during the regular season. This is more than likely Peyton's last season and he is sure to go out throwing. The thought of him retiring with his little brother Eli having more rings should be his number one motivating factor.
5 Notable Games To Watch
Season Opener
Why: The Pittsburgh Steelers are taking on the defending Super Bowl Champion New England Patriots. Steelers Nation has lost some thunder over the years and will be without Troy Polamalu, but the other guy in the NFL with great hair, Tom Brady, will be on the field.
Thanksgiving Day Games
Why: This year line-up of games may not be ideal, but it's tradition. How about those Cowboys?
Bills @ Jets
Why: Call it a reunion or revenge game. Rex's Buffalo Bills at the Jets during week 17 is going to be must see TV. We definitely plan to watch.
First Sunday Night Football
Why: Mark your calendar for September 13. The first "Sunday Night Football" game of the season features the Dallas Cowboys at Jerry's World facing off against the Giants. The first Sunday night game in the house that Jerry built is going to be spectacular.
Conference Rematch
Why:The best four teams from last season will go head to head. The Green Bay Packers will host the Seattle Seahawks in a NFC conference championship rematch and the Indianapolis Colts will test their skills against Patriots in a prime-time home game for an AFC conference championship rematch.
Tags Dallas Cowboys Schedule NFL Games NFL Schedule NFL Season Seattle Seahawks Schedule