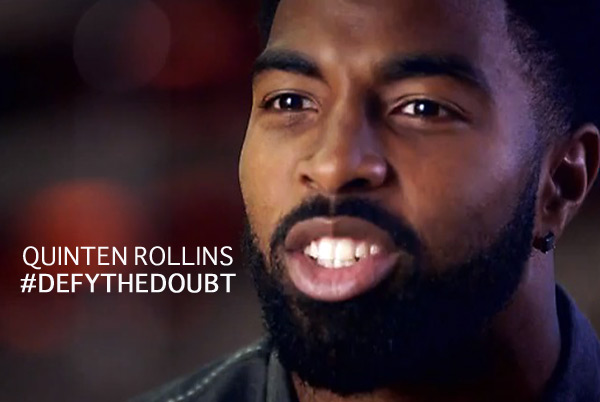 Admit it, you have no doubt had one of those mornings when you woke up and wanted to do something different. We have all been there. This week, NFL draft prospect Quinten Rollins' "change of" fate may well be destined for unexpected professional success just because he wanted to do something different.
You see, Quinten was a star basketball player for three years before deciding to make a pivotal move and become a defensive specialist on the football field for Miami (Ohio). He impressed with 72 tackles and 6 interceptions his first and only year on the field, won the Defensive Player of the Year in his conference (MAC), and played in the Senior Bowl last January. Worth noting, Quinten also has 214 carer steals, 319 career assists, and was a three-time Defensive Player of the Year on the basketball court.
With only one year of college football under his cleats, Quinten is trying to defy the doubt and embark on the journey to become a star cornerback in the National Football League. With the help of Speed Stick, his story of overcoming doubt and finding new opportunities will inspire others to overcome negativity and achieve highly positive results.
We caught up with the 5'11 cornerback right before the draft to discuss how he has been able to transition from basketball to football in such a spectacular way. Our questions were serious and not-so-serious, including what was it like being invited to the coveted NFL Combine and who makes his list of top three cornerbacks of all-time. We even put him on the spot about his choice of eye candy — Kim Kardashian, Amber Rose, or Beyonce. After all, he's moving into the big times and every pro athlete has their arm candy.
We've heard it thousands of times, dare to be different — see how Quinten has stepped up and taken it to heart.
Tam: When was the moment it clicked and you realized it was time to transition from basketball to football?
Quinten: I kind of was searching for schools during basketball season my senior year, so I would say probably around Christmas break when we started conference play was when it really clicked and I knew I was going to be playing.
Tam: What do you anticipate will be your biggest transition from college to the pros?
Quinten: The speed of the game. Like going from high school to college, it'll be the same from college to the pros…getting acclimated to the speed of the game and how the guys move at that level. These are athletes that are the top players in the world, setting acclimated to the speed of the game and then once I get a feel for that, I should be fine.
Tam: You seem to be a very focused young guy. Is there a different mentality that you have as a football player vs. a basketball player?
Quinten: No, not at all, I play basketball and football the same way. I just go out there with a competitive drive that's through the roof and I just want to dominate my opponent. Obviously, you can show more aggression in football than basketball, but I'm still the same person. I desire to win more than anything and then play my best, give it my all, leave nothing to chance. I say that would be me in a nutshell.
Tam: Allen Iverson recently named his top 10 rappers of all time and people were shocked at his list. Give me your top 3 rappers?
Quinten: My top three rappers? Well, Young Jeezy is definitely going to be in there, he's my favorite artist. I'd say Biggie definitely has to be in there and Tupac…I gave you two historic rappers and then my favorite rapper.
Tam: Who's the best eye candy? Kim Kardashian, Amber Rose, or Beyonce?
Quinten: I feel like that's an easy answer: Beyonce. I'm not a fan of Kim Kardashian or Amber Rose, even though they're both pretty.
Tam: Not your type?
Quinten: Beyonce is more natural, so I'd go with her.
Tam: Good choice. If you're in the locker room preparing for the Super Bowl, what song is playing in your headphones?
Quinten: I'm pretty sure there'll be another great song to come out between then and now, but now, either a Lil Boosie 'Like A Man,' or a Young Jeezy track.
Tam: What do you do differently as a football player vs. being a basketball player on game day?
Quinten: Well, as a basketball player I'd always go out, college-wise, I'd go out — listen to music and then go out on the court, put some shots up and just have some fun with the guys before we get really serious when we hit the court. And as a football player, I stay in the locker room the whole time and listen to music. I never went out with the guys and did extra things. I always stayed in the locker room with my music until it was time to hit the field. That was the difference in my preparation.
Tam: If you were stranded on an island for entertainment purposes, who would you prefer to be with Pete Carroll or Rex Ryan?
Quinten: I'd have to go with Pete Carroll.
Tam: Can you talk a little bit about your relationship with Speed Stick Gear and how you got involved in the #DefyTheDoubt campaign?
Quinten: I was fortunate and blessed enough to have an interesting story and Speed Stick wanted to capture it and show my journey from the obstacles and things I've overcome in my life, as well as the transition from football to basketball. Hopefully, there will be more to come if I can continue to grow, which is what I plan on doing. I'm just fortunate enough that Speed Stick thought my story was good enough to share with the world and hopefully we can partner up again in the future.
If people have the opportunity, you can go on to YouTube.com/Speedstick and see kind of a highlight of what Speed Stick and I put together. It's a good piece.
READ: Interview: NASCAR Driver Cole Whitt Talks The Daytona 500, Speed Stick, And Plans To "Defy The Doubt"
Tam: What does Defy the Doubt mean to you?
Quinten: Defy the Doubt to me means just overcoming things, people that doubt you. I've been doubted–it's actually so fitting because that's the caption for it. I've been doubted my whole life. I was that kid growing up that people said I was never going be this or that because I was always in trouble. I was kind of like a troublemaker when I was a kid until I got a grip on things, so I was always being doubted. Then I straightened my act up.
I remember when I got to college, all these people were saying I was gonna be home after one semester because I just couldn't handle being away from home, not realizing that I was always used to kind of teaching myself how to live. Even though I had my mother and my grandmother leading and guiding me, I never had a male figure around, so I was always teaching myself my whole life.
Anything that's come my way, I've always found a way to grow through it, not try to go around it, but find my way through it and learn a lesson from it.
I've been fighting this, defying the doubt all my life. Even when I made the transition from basketball to football, I'm pretty sure people said this kid is not going to be able to do it, what is he thinking. Then I had the season I had and all the sudden people started believing. I'm pretty sure people are gonna have doubts about me making the transition from college to the pros.
It's gonna be another opportunity for me to work hard, put all the negativity to the side and make a positive light out of it, then I guess we'll see in a couple years if I've defied the doubt again.
Tam: Awesome! Who are your top three cornerbacks to ever play the position?
Quinten: Of all time?
Tam: All time.
Quinten: I don't know the history of the game and I don't want to show any disrespect to the great ones that came before me that I'm not aware of, but I'd say Charles Woodson, Darrelle Revis, and my last one, I'd say Patrick Peterson.
Tam: If Pat Riley and John Calipari were NFL coaches, whom would you want to play for?
Quinten: Pat Riley
Tam: Who would you consider the greatest two-sport player of all time?
Quinten: Ooh, I'd say Bo Jackson.
Tam: If you weren't playing football, what would you be doing right now?
Quinten: If I wasn't playing football, that's hard for me to answer because I like to live in the moment. Yeah, that's hard to answer, but I'd still be doing something to try to be successful. That's the only answer I can give you, I don't know because I like to live in the moment. I'm enjoying this path I'm on, so I really haven't thought about that. I know what I want to do after, coaching.
Tam: What would people be surprised to know about Quinten?
Quinten:There's really nothing surprising about me. I'm just a typical guy, honestly, but I can think of something, just give me a minute.
Tam: There has to be something, maybe you like country music or reality TV?
Quinten:I'd say my favorite TV show is Bates Motel. It's a little crazy show, but it's very interesting to me. I'm curious to see what happens in the next episode.
To follow Quinten's journey with Speed Stick, make sure to subscribe to Speed Stick's YouTube channel: YouTube.com/SpeedStick. For more information on Speed Stick Deodorants and Antiperspirants for Men visit SpeedStick.com.
Tags College Basketball Defy The Doubt NFL NFL Cornerback NFL Draft Quinten Rollins Speed Stick