Chances are you've probably heard about the newly launched bourbon, Blade and Bow Whiskey. If you haven't, consider this our favor to you and your special girl. Crafted in Louisville, Kentucky, and heavily influenced by the well-known Stitzel-Weller Distillery, Blade and Bow offers two exciting bourbons. Those two options are The Kentucky Straight Bourbon Whiskey and a 22-year-old limited release version of the Kentucky Straight Bourbon Whiskey.
We know you're always trying to make yourself look knowledgeable and worldly in our eyes. Here's one way you may not have considered. If you want to score points, you'll eventually want to showcase your knowledge of after dinner drinks. And, we are assuming you understand your after dinner drink knowledge should include more than just your favorite beer and your girl's go-to wine. In case you didn't, we got your back. More importantly, the 2015 San Francisco World Spirits Competition Gold medallist and "Best Straight Bourbon" award-winner Blade and Bow Whiskey does as well.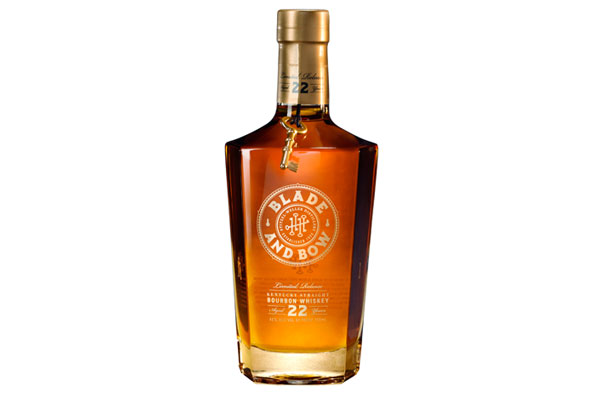 For the novices among you, and to further impress your dinner date, you'll probably want to know that Blade and Bow Whiskey is considered a tribute to the renowned Stitzel-Weller Distillery's five keys of bourbon crafting. What are those keys? Aging, distillation, fermentation, grains and yeast. It's important to note this whiskey is also made with the use of a solera aging system that not only preserves the original stocks, but is then bottled and aged at Stitzler-Wellner's distillery just after being mingled with numerous additional fine whiskeys. A 750mL bottle of the 91-proof bourbon has a suggested retail price of $49.99 and the 92-proof can also be purchased nationally for $149.99.
As an added bonus, you'll finally be able to use your favorite James Bond line. Yes, you not only can enjoy the distinctive flavor of whiskey on the rocks, but you can even have it mixed into any number of different recipes shaken and not stirred.
Named after the two parts of a skeleton key – the blade shaft and the ornate bow handle – part of the iconic Five Keys symbol found throughout the Stitzel-Weller distillery, Blade and Bow represent the five steps of crafting bourbon – grains, yeast, fermentation, distillation and aging. For more information on Blade and Bow Whiskey, be sure to visit BladeandBowWhiskey.com.