Since there's always a reason to celebrate, we love discovering new wines and spirits. TAP Whisky has an ever-growing assortment of delicious blends to mix up your happy hour. Whether you take your whisky neat, on the rocks, shaken or stirred, TAP will help you pour the perfect beverage. Not only are these whiskies smooth to the finish, they're also stylishly packaged. If you have a home bar, dress up your liquor shelf with these beautiful bottles
This spring, sit outside and sip three tasty whiskies from TAP.

TAP 357 Canadian Maple Rye Whisky
TAP 357 is named for an unforgettable blend of cask-aged 3-, 5- and 7-year old rye whiskies. The syrupy sweetness of Canadian maple offers a rustic and authentic rye with a rich, yet subtly sweet maple taste.

TAP RYE Port Finished Canadian Whisky
TAP RYE Port Finished is a complex aged rye whisky with nuances of wood, spice, nutmeg, and cinnamon. Available as a limited edition line extension to the TAP 357 brand, TAP RYE is distilled multiple times and then aged in a combination of hand-selected barrels and port casks with a small amount of port wine before cold filtration.
READ: Bourbon vs. Whisky [Infographic]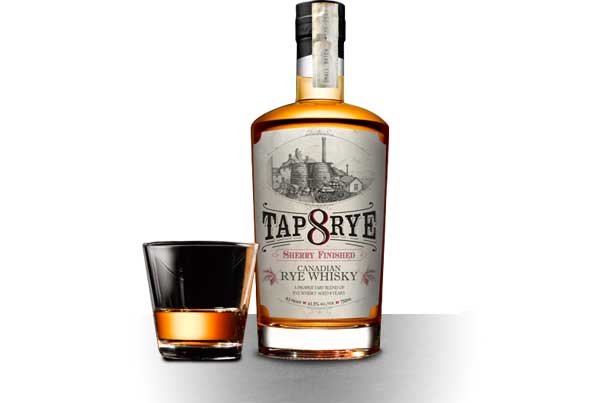 TAP 8 RYE Sherry Finished Whisky
TAP 8 RYE is the newest introduction from the Tap Whisky family. Aged 8 years, this Canadian rye whisky is expertly blended with fine Amontillado Sherry from the Jerez region of Spain. It's distilled multiple times in small batches using a pot still and continuous distillation from a reserve blend of fine rye whisky to create a sophisticated flavor.
If you are looking for the prefect way to get your palette acquainted with TAP Canadian Whisky, we recommend you try the three recipes below.
Bitter Awakening
Created by The Mix Lab
1.5 oz. Apple Brandy (Lairds 7 Year)
.75 oz. Tap 357
.25 oz. Simple Syrup
2 dashes Fees Orange Bitters
2 dashes Fees Old Fashioned Bitters
Preparation: Stir all ingredients with ice and strain over a large chunk of ice in an old fashioned glass.
Sunday Brunch Shooter
Created by Sue Pietoso, T.G.I. Friday's, Princeton, NJ
3/4 oz. TAP 357 Canadian Maple Rye Whisky
1/2 oz. Van Gogh Vanilla Vodka
1/2 oz. Orange Juice
Dash Butterscotch Schnapps
Preparation: Shake ingredients very well with ice and strain into a shot glass.
Don't Ask Rye
Created by Michael Tipps, Fantasies Nightclub, Baltimore, MD
2 oz. Tap 357 Canadian Maple Rye Whisky
1/2 oz. Lemon Juice
1/2 oz. Honey Simple Syrup
Preparation: Add all ingredients to a shaker with ice and shake well. Strain into a chilled martini glass and garnish with a honey comb on the rim.
Whether you like to keep it neat or mix it up, take the jump over to TAP Canadian Whisky's official website www.tapwhisky.com.