When you are invited for bourbon and ice cream, you shouldn't think twice. We didn't. We jumped at the opportunity to sip some flavorful Bulleit Bourbon and savor sweet frozen treats from Coolhause ice cream. Did we say this was all being served inside the Woody?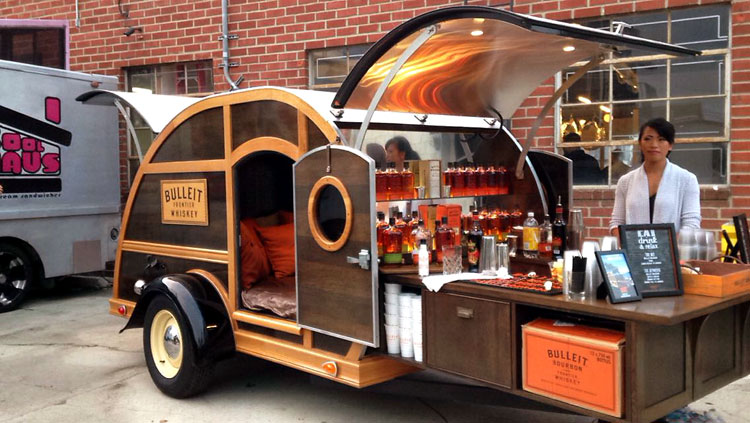 For those of you not familiar with the Woody, it's a $150,000 custom-built trailer originally designed for the 2012 Neiman Marcus Fantasy Gift Guide. If you don't know about the annual gift guide, we suggest you Google it and study up. The guide features some pretty ridiculous, one-of-a-kind fantasy gifts up for grabs for high rollers and big spenders. If you're doing the math and wondering about the $150K, yes, you can buy a Mercedes-Benz G-Class luxury SUV for that price tag. However, even your fanciest luxury automobile won't come with a bar stocked with fine bourbon.
The Woody was created by iconic designer Brad Ford. This modern-day speakeasy on wheels was handcrafted from reclaimed Bulleit Bourbon casks. Made from sturdy American oak, it also has a built-in state-of-the-art Sony® audio-visual entertainment system that really rocks your ride. With a killer sound system and a fully stocked bar, you can sit back and sample all that Bulleit Bourbon has to offer, including Bulleit Rye and 10-Year. This particular party bus is so killer that it's even been featured on The Today Show and CNN.
We had a rather tasty time hanging out with the good folks from Bulleit Bourbon, plus we made some cool new friends from Coolhaus Ice Cream. When someone is serving you Fried Chicken and Waffle ice cream, it's easy to become fast friends. Dessert was delicious. We can't offer you the secret recipe, but we can share some drink recipes served at the gathering. We urge you to try them and let us know what you think.
BLT (Bulleit, Lemon & Tonic)
– 1.3 oz. Bulleit® Bourbon
– 2 lemon wedges
– 3 oz. tonic
Preparation: Build in a rocks glass, serve over ice.
Bulleit Revolver
– 1.33 oz Bulleit Bourbon
– .33 oz Coffee liqueur
– 2 dashes Orange bitters
– Orange peel
Preparation: Add all the ingredients to a mixing glass and fill with ice. Stir until well chilled and strain into a chilled cocktail glass. Garnish with a wide strip of orange peel.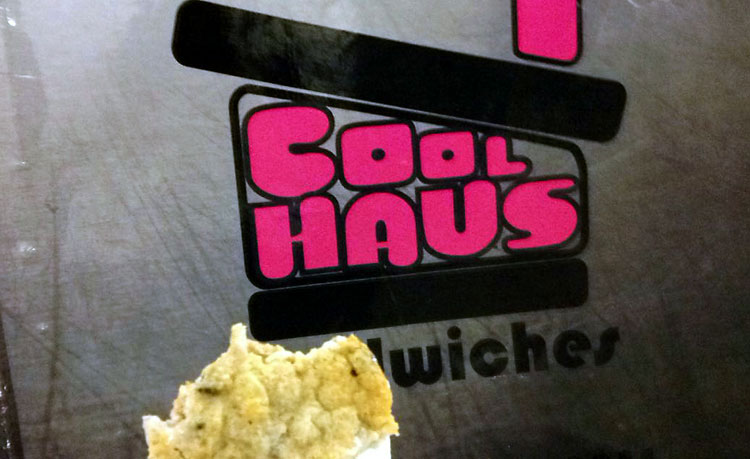 And, because we are now obsessed with the Bourbon and Ice Cream combo, we found this cool recipe you may want to try using Bulleit Bourbon and Coolhaus.
A Very Boozy Adult Root Beer Float
– 2 scoops of Coolhaus "Dexter Vanilla" Ice Cream
– 1 1/2 oz Bulleit Bourbon
– 1 Shot Kahula
– .6 oz of Root Beer
– 1 oz Irish cream
Preparation: Add 2 scoops of Coolhaus Ice Cream. Add Bulleit Bourbon, Root Beer, Kahula, and Irish cream. Top with chilled stout beer. Drizzle top of drink with whip cream and chocolate syrup, if desired.
To learn more about Coolhaus and sample their many tantalizing flavors, head over to their website. www.coolhaus.com. Make sure to head over to www.Bulleit.com for more cool bourbon recipes and follow them on Twitter @BulleitUS. Don't forget to search the hashtag #WheresWoody to see where the Woody will be rocking and rolling to next.
Tags Bourbon Bulleit Bourbon Coolhaus Ice Cream The Woody Whisky