If there are two names we recognize immediately, they have to be AT&T and TOMS. One has obviously been around a lot longer than the other, but they're both brands with solid reputations. With TOMS now celebrating their 10-year anniversary, AT&T is celebrating the remarkable success that Blake Mycoskie and his TOMS team have had in providing shoes to children in need around the world.
AT&T has been with TOMS since its inception, where 10 years ago Blake started it all with 250 pairs of shoes on his apartment floor. Today, that number has grown to more than 60 million pairs of shoes distributed globally to kids who desperately need to have shoes on their feet, one truly bright spot among the other obstacles they may face. AT&T has been at TOMS' side for every remarkable step and is sharing the celebration with us through a new virtual reality experience — A Walk In Their Shoes — a 360-degree story of their impressive partnership.
Video: Experience A Walk In Their Shoes

A Walk In Their Shoes brings us on an actual shoe give trip in Colombia, where you see a child benefitting from TOMS' efforts. This VR (Virtual Reality) experience lets you immerse yourself in their amazing work, thanks to the AT&T network. AT&T works hard to tell the story with technology innovations and mobile devices that allow us to engage like never before, "because to understand what someone goes through, you first need to walk in their shoes."
Visit att.com/TOMS 
and #CelebrateGood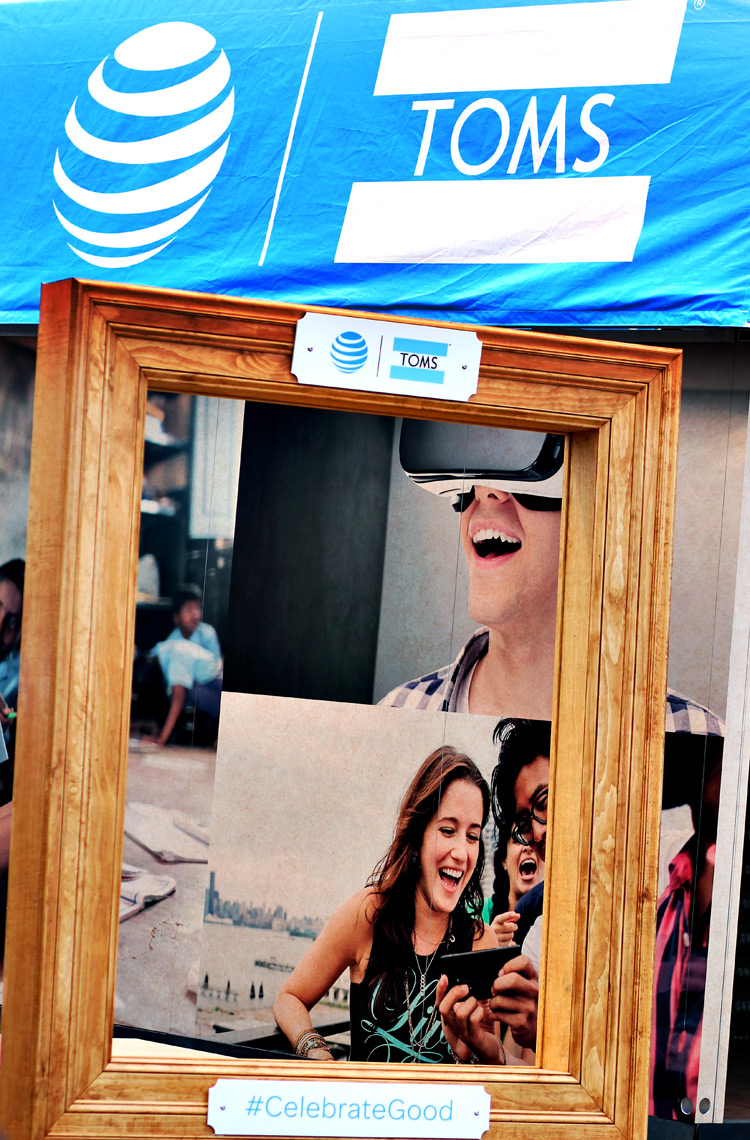 This special VR experience recently launched in Santa Monica with a larger than life shoebox that welcomed fans inside. We know many of you couldn't experience that firsthand, but thanks to AT&T's fast network, the VR experience is also available right from your mobile device. As mentioned, it's available now via 360 on AT&T's YouTube channel. Don't have a VR viewer? Then how about a new pair of shoes? TOMS will include a cardboard viewer with each of 100,000 pairs of shoes sold online…talk about two steps forward! For a personal take, hear Blake tell the story himself at www.facebook.com/ATT.
We love and support this effort and hope you'll take the time to experience it for yourselves. The AT&T Network allows many people to grow their own digital presence, whether they're working in home offices, engaging online from their mobile devices while out and about or while traveling around the globe. There are always new ways to engage with new audiences, family, or friends. Why not take bit of inspiration from AT&T and TOMS — do something to benefit someone else today and join them in celebrating their decade-long partnership…it's a step in the right direction for all of us.
This post is brought to you by AT&T.
Tags AT&T Celebrate Good TOMS VR VR 360 Video