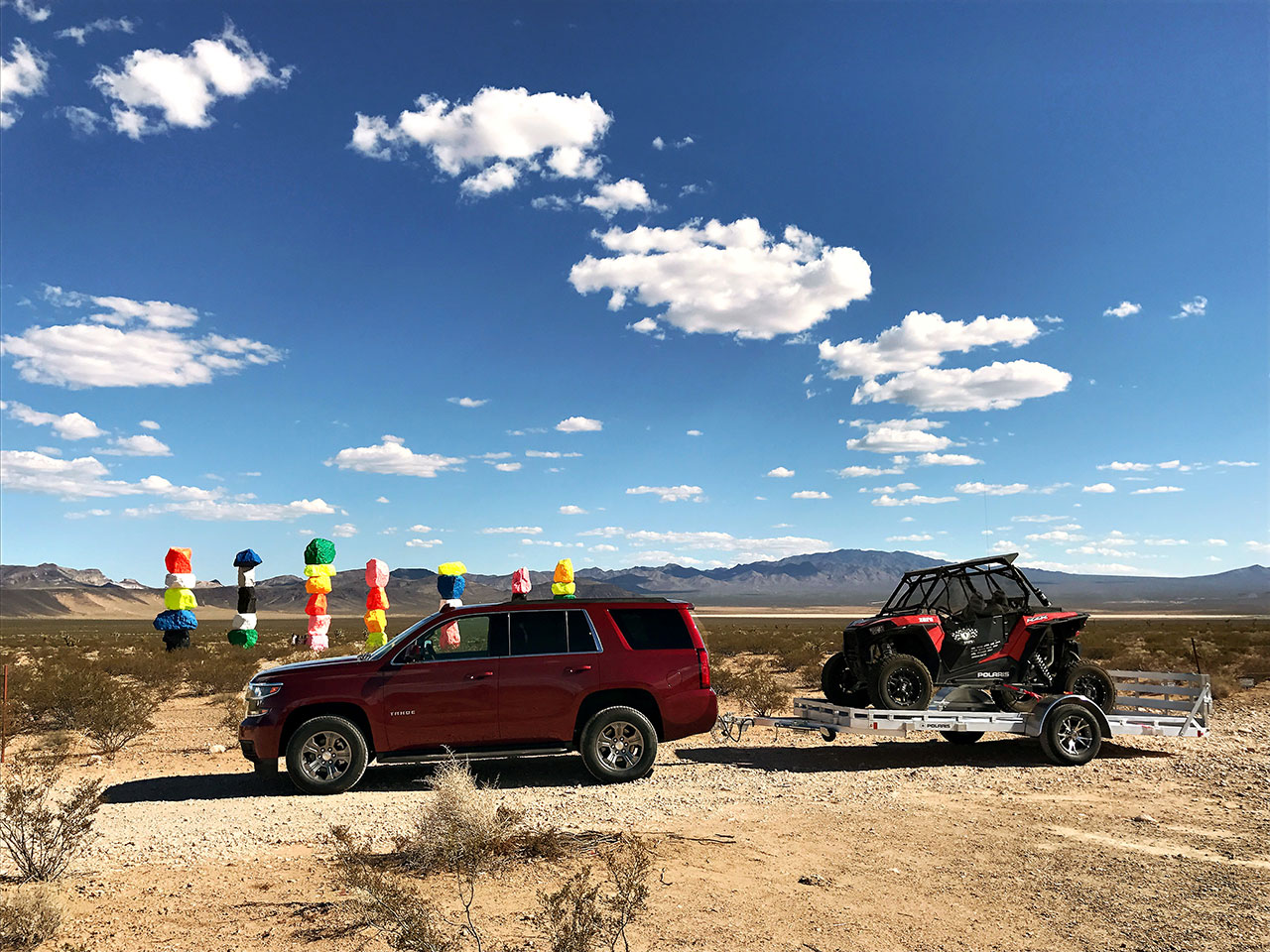 Life is all about adventures. There is no better place for escapades and explorations than Nevada. While there are many things you can do in this desert oasis – from visiting Boulder City, to viewing the masterfully engineered Hoover Dam or exploring the small resort town of Laughlin, Nevada, it is almost certain that many will start their sightseeing journey in Las Vegas–on the Las Vegas strip, to be exact.
Outside of Las Vegas, there are a wide selection of excursions to keep you busy if you are looking for adventure in the desert. On a recent trip to Sin City, we kept it simple and got behind the wheel of a new 2018 Chevy Tahoe Custom and embarked on a short road trip to Goodsprings, an unincorporated community in Clark County, Nevada where the population is less than 300 people. What ensued afterwards was a bunch of fun, sun, dust, and discovery of a ghost town.
Why Fly When You Can Drive
Sure, we could have opted for a helicopter ride over to the Grand Canyon or even a day trip to Lake Mead, Nevada to partake in some water skiing, kayaking, canoeing, or boating (yes, there is water in the desert) to cool off from the heat, but we elected to take a drive and get dirty in the desert. With the help of the good folks at Chevrolet, we hitched a Polaris off-roading vehicle to the back of the new 2018 Chevy Tahoe Custom, the perfect combination for our thrill-seeking adventure into the breathtaking and challenging terrain that awaited us.
VIDEO: Desert Adventures Behind The Wheel of A Chevy Tahoe Custom and a Polaris RZR
6,600+ Pounds of Towing Capacity
Getting behind the wheel of a Chevy Tahoe Custom with a Polaris in tow is not what you may think of as a Las Vegas excursion, but it proved to be one of the best escapes from Sin City we have had. I will share more on our ATVing adventure in a bit, but right now, let me tell you about the unsuspecting ride we took through the desert in a SUV variant.
READ: Adrenaline Junkies Ordering off the Menu in Vegas
The 2018 Chevy Tahoe Custom special edition proved to be the perfect vehicle for our desert adventure. Living up to its legendary towing capability, hauling cargo in the heat while running the air conditioner across the desert roads was a breeze. The 355-hp, 5.3L V-8 engine delivered a flawless driving performance as we made our way down the highway, and at times we even forgot we were in such a large vehicle, thanks to the plush comforts we were afforded in the new Tahoe Custom special edition, which boasts an increased cargo space of 54 cu. ft. behind the second row due to the exclusion of the third-row seat.
At a starting price just shy of $45,000, the new 2018 Chevy Tahoe Custom is all about space, connectivity, and safety. "The Tahoe Custom is a response to strong customer demand for Tahoe, as well as the full-size SUV segment moving upmarket," said Sandor Piszar, Chevrolet Trucks marketing director. Highlights includes Apple CarPlay & Android Auto compatibility, a Wi-Fi hotspot, USB ports, power outlets, an 8-inch color touchscreen radio, standard rear-vision camera, remote start, and an enhanced driver alert package that features Forward Collision Alert, Safety Alert Driver Seat, Lane Keep Assist, Low Speed Forward Automatic Braking. All vehicles come standard with front and side-impact air bags for driver and front passenger for safety. Offered in LS, 2WD and 4WD configurations, the Chevy Tahoe Custom is truly a utility vehicle that offers just a bit more than luxury. It is perfect for day-to-day driving, long hauls, going on adventures, and finding new roads.
Desert Adventures, a Ghost Town, and the Drive of Our Life
We put the notion of finding new roads to the test when we drove our Chevy Tahoe Custom through the Mojave Desert and landed at Zero 1 for an unforgettable drive. We traded riding in comfort to climbing into the driver's seat of a Polaris RZR to navigate through the desert terrain for the ultimate, thrilling, off-road adventure.
For adventurous people looking for a fast, exciting way to explore the wilds of Nevada, we wholeheartedly recommend Zero 1 for a guided tour. We drove, but they guided us on a "pioneer desert adventure" which included a 5-hour scenic Mojave Desert tour.
We were behind the wheel of a Polaris RZR for roughly 3.5 hours driving on a rugged trail and had lunch at the world-famous Pioneer Saloon of Goodsprings, Nevada built in 1913. Rich in history and heritage, the Pioneer Saloon is a staple in the old mining town and has a legendary history in the Hollywood of yesteryears. It is known as the saloon that Clark Gable drank in after he received word of the death of his wife. The Saloon has been featured in countless movies and television shows. What was most impressive to us is that the oldest saloon in Nevada is said to be haunted by ghosts. We didn't see any, but it was a cool adventure nonetheless.
Off-Roading Experience
Admittedly, we didn't know what to expect while driving a Polaris through 100 degrees' weather across the rugged desert terrain. Aside from the exciting commercials we see daily, we did not know much about Polaris — other than it was synonymous with off-roading. Ever since reading all about our good friends over at Apparatus Mag Malibu Hills adventure on the Polaris Slingshotf, we have been "Jonesing" to take the Polaris for a spin. Luckily for us, we are outdoor enthusiasts because hopping on a Polaris is more than a spin — it's an experience.
Zero 1 afforded us an opportunity to hop on several editions of the Polaris RZR, the No. 1-selling recreational Side x Side. We drove the 110 horse-powered RZR XP® 1000 and the 168 horse-powered RZR XP Turbo DYNAMIX edition. The DYNAMIX Active Suspension system is the first and only intelligent suspension system in the world designed for off-road use. It is smart enough to monitor critical driver and vehicle inputs, which was a safety feature we appreciated as first time riders. The suspension system was specifically engineered to offer more control and comfort than any side-by-side on the market; taking extreme performance to a new level. Delivering the best AWD in the industry, the RZR® XP Turbo DYNAMIX also has the ability to continuously adjust each individual shock on-the-fly – a feature that proved to be handy as we made our way through the desert over rocks and twisty sand.
Custom Journeys
The Chevy Tahoe Custom seamlessly integrated into our Las Vegas adventure. Arriving in Las Vegas, we were up for a journey, but we never expected to be towing 1,500 pounds down a Nevada highway. We are glad we had a chance to take it for a ride. The Chevy Tahoe Custom not only looks great, but its towing capacity and luxury car features made for a memorable trip. With an estimated segment-leading 23 mpg, if you are someone that enjoys camping, off-roading, or boating, the Chevy Tahoe Custom special edition should definitely be on your list for consideration if you are in the market for a new truck or SUV.
Tags Chevy Chevy Tahoe Desert Las Vegas Off-Roading Polaris Polaris RZR Tahoe Custom