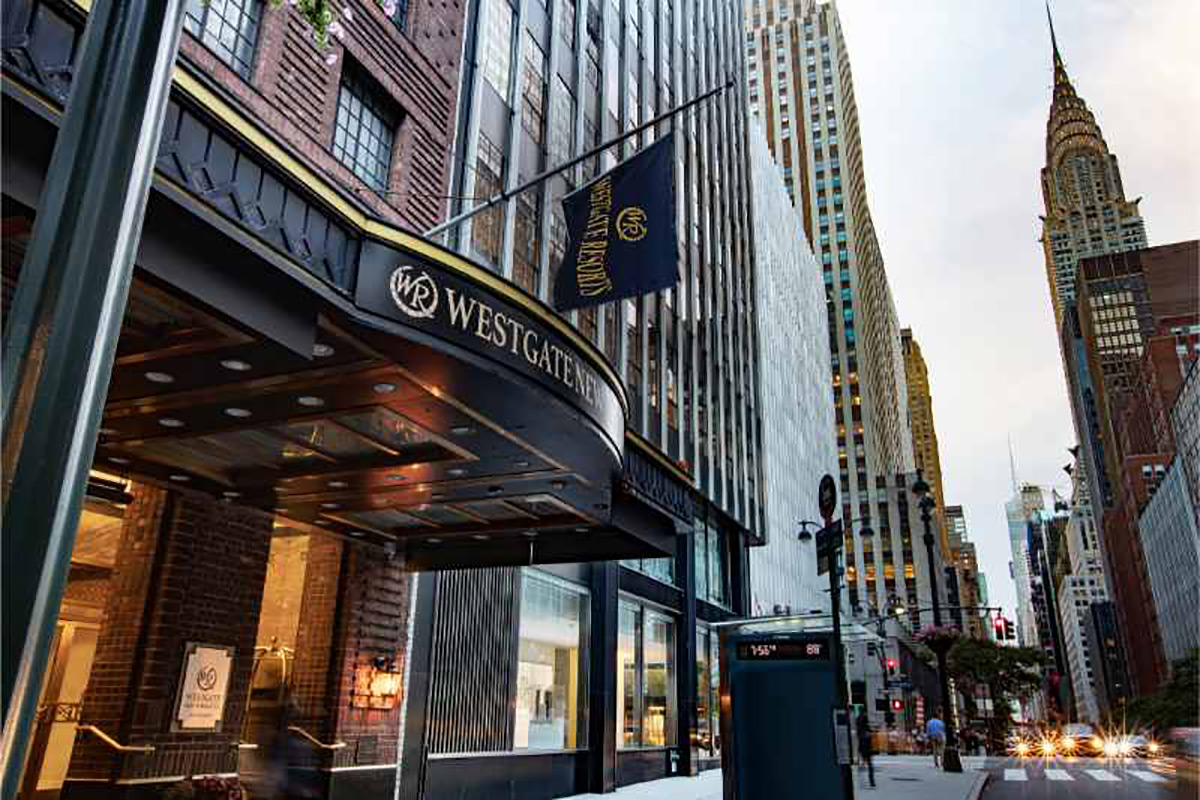 Make no mistake: New York City is big. While well connected thanks to its many famous modes of public transportation, one can't help but ask, "Where's the best place to stay?" Here is a list of hotels that are close to some of the finest places that NYC has to offer.
Westgate New York Grand Central Hotel
The name's no joke: the Westgate NYC Hotel is just a short walking distance from the famous Grand Central Station, making it the perfect place to stay if you're arriving or leaving the city by train. It's located right in the Tudor City area and incredibly close to places like the United Nations Plaza. Rockefeller Center and, of course, Times Square. Those planning on stopping by the Tudor City Marketplace & Tavern would be interested to know that the hotel offers a $20 Food and Beverage Credit for visitors. Go to westgateresorts.com for more information, and have a gander at this NYC hotel location map for a preview of what the area around the hotel has to offer.
McCarren Hotel and Pool
An excellent place for the summer, as its outdoor pool is one of the biggest around. That said, don't feel discouraged if you visit the city during one of the cooler seasons, as the pool is heated: just be ready for the change of temperature once you step out of it. Located in trendy Williamsburg, Brooklyn, the hotel's also right where McCarren Park is, whose Park Pool and Play Center is great for all kinds of sporty activities. Make sure to also walk around the Williamsburg area, which is full of interesting surprises.
The Carlyle, A Rosewood Hotel
While not the least expensive hotel near Central Park, the price is well worth it, thanks to its delicate décor, historic jazz and cabaret venue Café Carlyle, and ample amenities (yes, pets are allowed). You'll have an amazing view of the park itself, and will also be in walking distance of several of the city's best art museums, including MOMA and the Guggenheim.
READ: 3 Day Trips From New York City Worth Your Time
New York Hilton Midtown
Not only is it a block away from MOMA and two from Radio City Music Hall, it's close to just about all the major sights in the Times Square area. The prestigious hotel also has received visits from every U.S. president since the 35th, a.k.a. one John F. Kennedy. It offers just about anything you can ask from a modern hotel, including access to the luxurious Executive Lounge for anyone who chooses to upgrade. If you're unsure about the price, not to worry, as the hotel's official site has a Special Offers page which just might ease the financial burden considerably.
The Paper Factory Hotel
If you've seen most of New York City's major sights, why not visit the Paper Factory Hotel, which is practically a sight itself? It began as an actual paper factory before eventually being turned into a hotel, and is filled with fascinating, unusual décor, including a wall of electric guitars and a telephone booth partly submerged in the floor. There are quite a few interesting places near the hotel to visit as well, such as the Museum of the Moving Image, which is home to the Jim Henson Exhibition and many other fascinating displays related to television and film, as well as digital content. If you're travelling with kids, they'll likely get a huge kick out of Kanga's Indoor Playcenter, which is filled with games, slides, and fun activities.
The International Student Center Youth Hostel
New York can be a pretty pricey place to stay. Enter the International Student Center, the perfect place for those looking to save a little on their trip and meet new people easily. Again, it is a hostel, so amenities are different, favoring interaction among the guests over luxury. Yet, it's still a great place to make friends quickly and has all the basic needs, as well as a small and pleasant garden. Its location is no slouch, as it's right near Central Park West, as well as several affordable places to grab a quick bite.
So make a list of what you want to see in NYC and try to find a hotel that lets you visit those places with ease. Good luck, and happy travels.
Disclaimer: This is a sponsored post.