Photo credit: MysticManBeard / Instagram
Real talk, fellas: beards are cool as hell. Or they can be if they're taken care of properly. Getting that growth under control isn't easy, though, and there's a big difference between Scruffy Basement Dweller look and Rugged Mountain Man. The best way to keep yourself on the right side of the spectrum is by using styling products designed for your whiskers — and the best of those, without a doubt, are made by Mystic Man, fine purveyors of beard oil and beard pomade for bearded men everywhere.
Mystic Man Beard Oil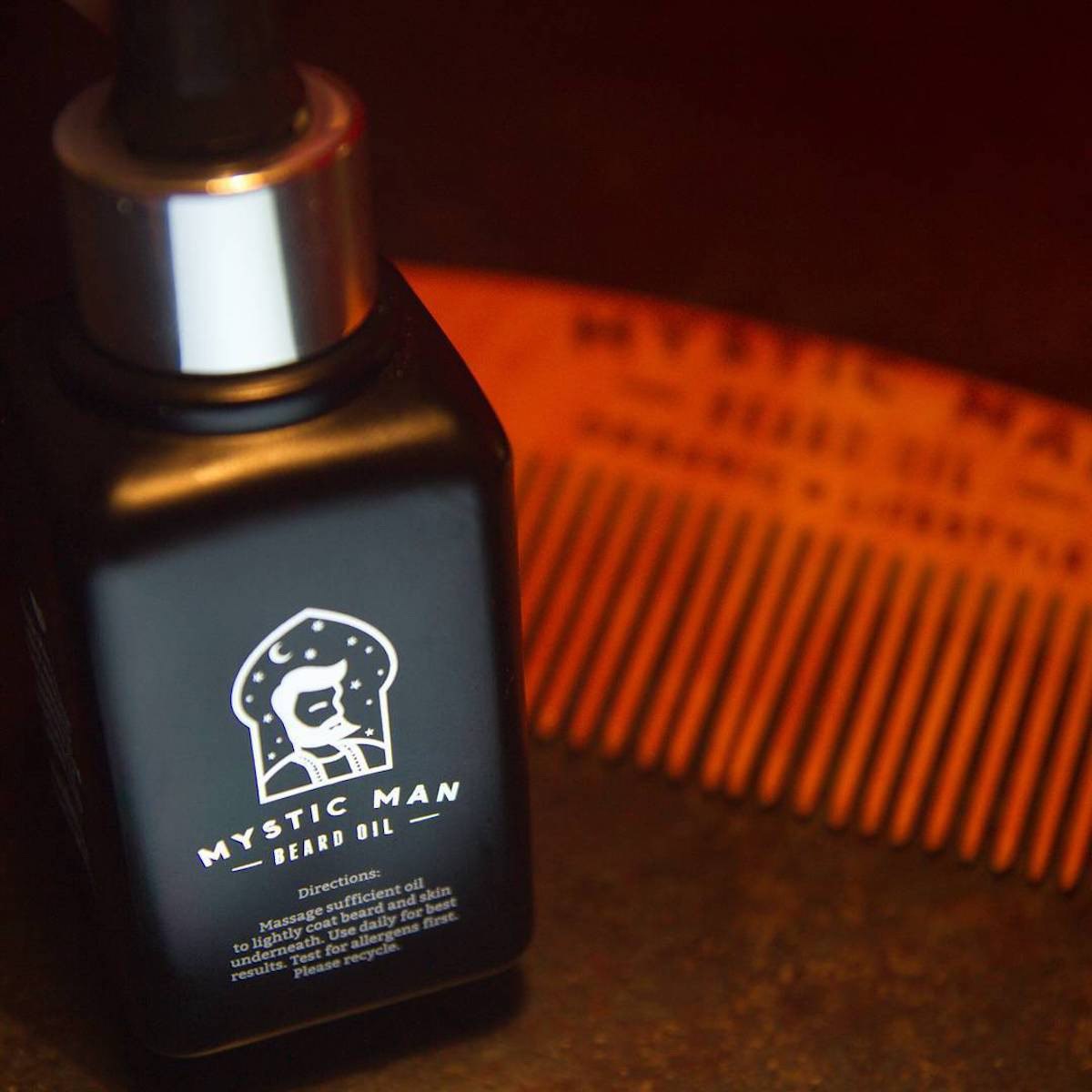 Photo credit: MysticManBeard / Instagram
Made from 100% USDA certified organic oils and making use of esoteric ingredients like sedr extract from the Ziziphus spina-christi tree, Mystic Man Beard Oil is sourced directly from the Mediterranean. Before you ask, yes, that's the tree that some people believe was used to make the crown of thorns for Jesus. If it's good enough for your Lord and Savior, it's good enough for you, dang it! And besides, if there are anywhere with lots of hairy dudes, it's the Mediterranean, right?
More than that, Mystic Man Beard Oil is perfect for conditioning your beard hair and providing it the protection it needs to grow full and luxuriously. It's also only subtly scented, giving off hints of sandalwood and rosemary while it works to reduce beard flaking and soften rough beards. Hypoallergenic and stored in a dark glass bottle to keep sunlight away, it's long-lasting, powerful, and leaves your beard supple and easy to manage.
Mystic Man Beard Pomade
Photo credit: MysticManBeard / Instagram
Mystic Man does more than provide you with organic beard oil. Their organic styling pomade can help you take that tangle of Grizzly Adams fur on your face and leave you looking like some sort of lumberjack god. Mystic Man does this by relying on more Mediterranean goodness, combining sedr extract with coconut oil, olive oil, other essential oils, and organic beeswax to transform your scruff into something sublime.
Providing moisture, control, and shine to not just your beard but any hair you use it on, this pomade is only one step short of completely magical. Just like Mystic Man's beard oil, it's also hypoallergenic and organic, which means you can use it with confidence!
The Final Word on Beard Care
Whether you've been cultivating a new neckbeard for months or you've got a fully-fleshed face of fur, you need to take care of your facial hair. Turn to Mystic Man for the best in beard oil, beard pomade, and more — you won't be disappointed!
Tags Beard Oil Beard Pomade Men's Grooming Men's Grooming Products Mystic Man Mystic Man Beard Oil