Everything is possible in Dubai, even Ferrari World. Opening October 2010, Ferrari World Abu Dhabi is the world's first Ferrari theme park and largest attraction of its kind. Ferrari World Abu Dhabi will pay tribute to the passion, excellence, performance, and technical innovation that Ferrari has established over the years and represents today. Its iconic sleek red roof is directly inspired by the classic double curve side profile of the Ferrari GT body carrying the largest Ferrari logo ever created.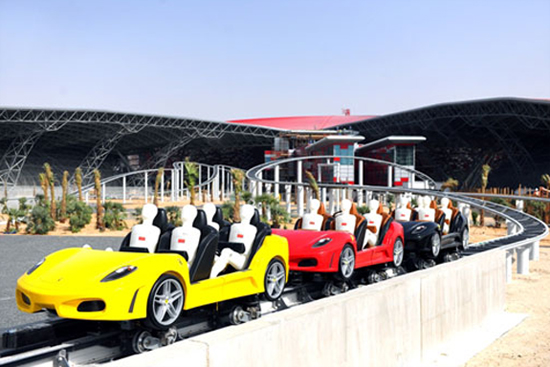 Ferrari World Abu Dhabi will have over 20 rides and attractions. In celebration of the opening date announcement, Ferrari World Abu Dhabi unveiled one of its featured attractions. Officially named "Formula Rossa," this attraction will offer guests a once-in-a-lifetime experience to blast away on the world's fastest roller coaster reaching speeds of up to 240 km/h. Visitors will have an opportunity to enjoy an aerial voyage through Italy following a Ferrari, taking passengers on an adrenaline-pumping ride over 62 mph through the heart of a Ferrari 599 engine.
Ferrari World Abu Dhabi is located 30 minutes away from Abu Dhabi on Yas Island and will open three weeks ahead of the second Formula 1™ Etihad Airways Abu Dhabi Grand Prix.